LCFS ZEV Infrastructure Crediting
Background
The 2018 LCFS amendments added a zero emission vehicle (ZEV) infrastructure crediting provision to the LCFS (section 95486.2) designed to support the deployment of ZEV infrastructure. The ZEV infrastructure provision covers Hydrogen Refueling Infrastructure (HRI) and Direct Current (DC) Fast Charging Infrastructure (FCI). In addition to generating LCFS credit for dispensed fuel, the eligible hydrogen station, or DC fast charger can generate infrastructure credits based on the capacity of the station or charger minus the quantity of dispensed fuel.
Zero Emission Vehicle Infrastructure Crediting Overview (August 19, 2021)
Application Materials and Instructions
Approved HRI and FCI Applications
As of October 23, 2023, there have been a total number of 638 and 70 stations approved under the FCI and HRI provisions, respectively. The number of chargers in the approved stations adds up to a total of 4,045 for FCI provision versus 146 for HRI provision.
Below are maps of all 70 hydrogen stations and 638 fast EV charger sites approved under HRI and FCI, respectively.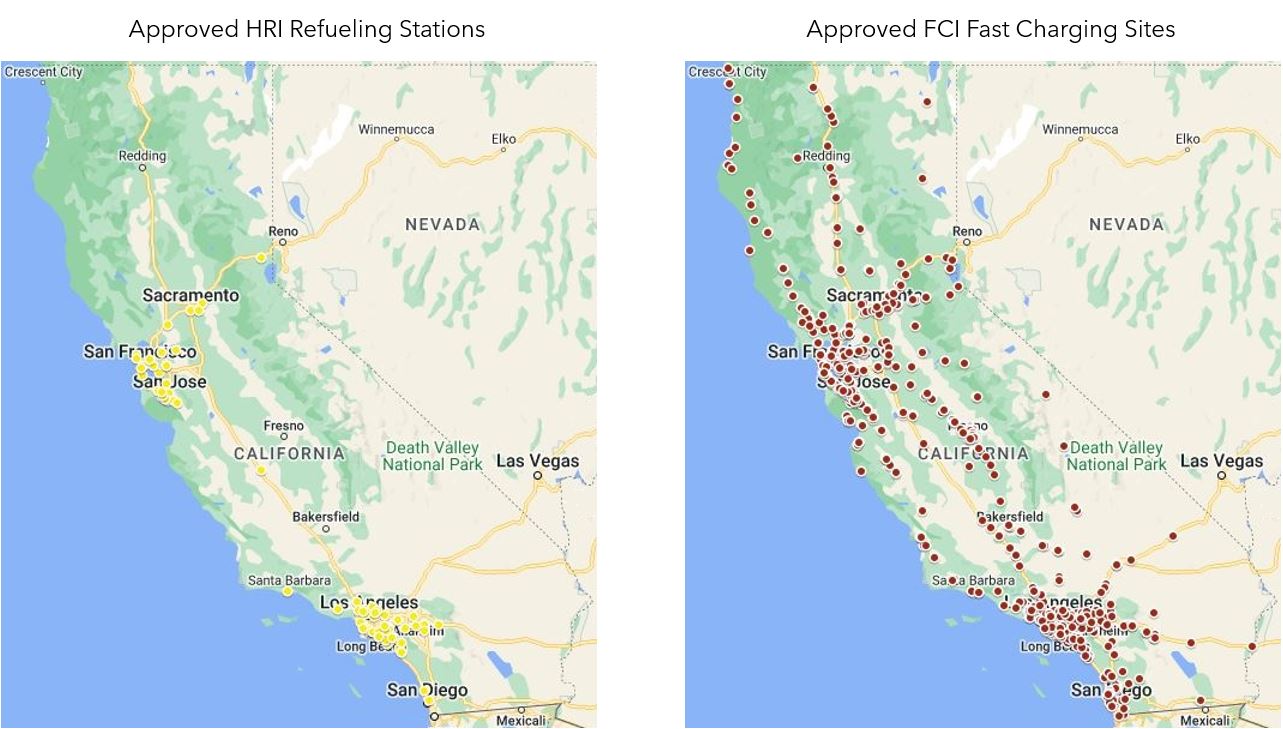 Estimated Potential HRI and FCI Credits
As per the LCFS regulation, the HRI and FCI applications can be approved until estimated potential HRI and FCI credits from all approved applications do not exceed 2.5 percent of deficits in the prior quarter, respectively. The table below shows estimated potential HRI and FCI credits based on prior quarter deficits and will be updated quarterly.
Table updated: November 7, 2023
| | |
| --- | --- |
| Total deficits generated in Q4 2022 | 5,754,900 |
| 2.5% limit based on Q4 2022 deficits | 143,873 |
| Estimated Potential HRI Credits | 61,732 |
| Estimated Potential FCI Credits | 31,384 |
More Information about ZEV Infrastructure