LCTI: Flexible Solutions for Freight Facilities – San Joaquin Valley Zero and Near-Zero Emission Enabling Freight Project
Advanced Technology Demonstration and Pilot Projects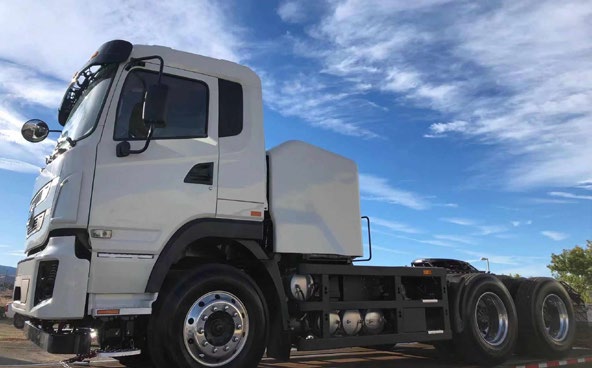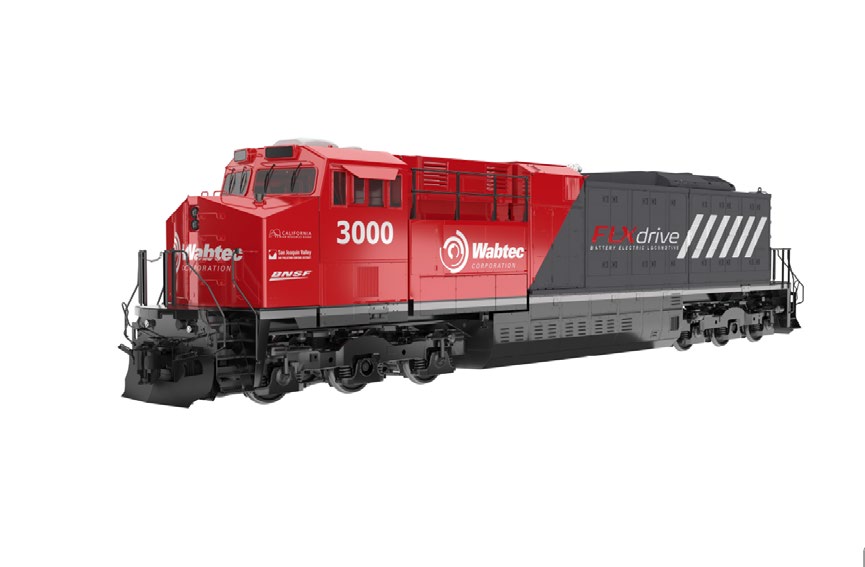 San Joaquin Valley Air Pollution Control District

March 1, 2019 – Fall 2021
Project Details:
Flexible Solutions for Freight Facilities, a BNSF-led project, demonstrated zero and near-zero emission technologies on locomotives and around rail yards. Wabtec designed, manufactured, and commissioned a single Battery Electric Locomotive (BEL) used within a diesel consist [multiple locomotives providing tractive effort] running between Stockton and Barstow in commercial operations. The BEL improved fuel efficiency, which consisted an average of 12% while reducing criteria pollutant and greenhouse gas emissions compared to a conventional diesel.
Zero and near-zero emission equipment was demonstrated at BNSF's Stockton and San Bernardino intermodal yards. Each facility demonstrated a Mi-Jack hybrid-electric rubber-tire gantry crane featuring an advanced battery system that achieved greater than 70% fuel efficiency. The San Bernardino facility also deployed a full-electric side loader built by Taylor Machine Works, Inc. and distributed by Mi-Jack and an electric Class 8 drayage truck built by BYD used for short-haul drayage operations. The project also included electrical infrastructure upgrades and electric vehicle supply equipment.
The project objective was to demonstrate zero and near-zero emission technologies on locomotives and around rail yards. A primary goal of the project was to prove the hybrid consist concept, including the optimization of fuel efficiency of the hybrid consist and determining areas of further development. This demonstration also compared new battery electric technologies around the rail yards in terms of operational utility and efficiency to the existing technology and the evaluation of obstacles to adoption. This demonstration is a key step toward developing a sustainable solution that could translate to greater adoption and innovation of battery-electric technologies for freight applications.
Grantee:
San Joaquin Valley Air Pollution Control District
Partners:
BNSF Railway, Wabtec Corporation (formerly GE Transportation), BYD, Mi-Jack, SH&H Inc., ITS ConGolbal, Southwest Research Institute and Café Coop.
Grant Amount
| | |
| --- | --- |
| CARB Contribution | $22,616,647 |
| Matching Funds | $22,620,673 |
| Project Total | $45,237,320 |
---
Vehicles/Equipment Funded
This project funded five pieces of zero and near-zero equipment/vehicles deployed at BNSF's Stockton and San Bernardino railyards including:
One Wabtec Battery Electric Locomotive (Stockton)

Two Mi-Jack hybrid-electric rubber-tire gantry cranes (Stockton and San Bernardino)

One Taylor Machine Works, Inc. full-electric side loader (San Bernardino)

One BYD all-electric Class 8 drayage truck (San Bernardino)
Infrastructure: This project provided for the accompanying electrical upgrades & EVSE equipment at Stockton and San Bernardino used for charging the equipment:
One wayside charger to recharge the BEL batteries (Stockton)

One RTG EVSE (Stockton)

EVSE for the Class 8 drayage truck and electric side loader (San Bernardino)"
---
Lessons Learned
Early and constant communication with utilities and contractors is key for successful electric charging infrastructure. Meeting onsite up to a year in advance of desired implementation is essential to successful deployment.

Consider a battery energy storage system to take advantage of off-peak charging and provide emergency backup power.

Project partners, not the awarded agency, are responsible to ensure prevailing wage requirements are met.

Provide sub-contractors and vendors the milestone descriptions and deliverables from the start of the project to ensure accurate invoicing and reporting.

Equipment operators were initially hesitant to use the new technology due to various factors, such as early reliability issues, but increased usage after time. This should be taken into consideration when determining the data collection period.

Future BEL development will focus on addressing the limitations of this demonstration and building a unit that is a drop-in replacement for a diesel locomotive. The single largest advancement needed for development is the increase in energy storage.
---
Status Updates
BEL completed eighteen round trips between Barstow and Stockton during a three-month demonstration period. The BEL has since returned to Erie, PA for further testing by Wabtec.

The hybrid electric RTG cranes, electric drayage truck, and electric side loader completed the demonstration period and continue operating at the rail yards.

Electrical infrastructure and EVSE have been completed.

Data has been collected for all project equipment.

Draft Final Report has been submitted to CARB for review.
---
Additional Resources
---