---
Funding Opportunities for Tribes
Currently Open
Register for August 31st Workshop
A workshop for tribal nations to discuss California's Approach under EPA's Climate Pollution Reduction Grant Program (CPRG Program) will be hosted by the California Air Resources Board on Thursday, August 31, 2023, from 9:00 to 11:00 AM. Please register for the workshop at this link: https://us06web.zoom.us/j/86481458157?pwd=ZjRHazllVjlEK2JBTnFFZ2U0dTluZz09  Once you register, you will receive a Zoom link to join the workshop.
The CPRG Program was made possible by the Inflation Reduction Act  and is being administered by the U.S. Environmental Protection Agency (EPA). The program offers federal funding to support climate projects that either reduce greenhouse gas emissions or help sequester carbon. The program has two phases. In the first, states, large metropolitan areas, tribes, and territories across the U.S. were offered the opportunity to secure grants to create three climate plans over four years. These climate plans include a Priority Climate Action Plan (due in March 2024), a Comprehensive Climate Action Plan (due in mid-2025), and a Status Report (due in 2027). All the climate actions in any Priority Climate Action Plan can compete for $4.6 billion in federal funding. This competition is the second phase of the CPRG Program. 
Some tribal nations have worked to secure their own planning grants under the CPRG Program and will draft their own Priority Climate Action Plan. The State of California and nine metropolitan areas will as well. CARB serves as the lead agency for the State of California.
Even if a tribe does not have a planning grant, they can still work with the State to make sure their highest priority climate actions become eligible to compete for funding under the CPRG Program. It is important to the State to hear and include in our Priority Climate Action Plan any expertise, perspectives, and suggestions that tribal nations might want to share.  
On behalf of California, CARB will host a workshop dedicated to tribal nations about the State's Priority Climate Action Plan. This workshop will offer information on the CPRG Program and the State's plans under it. We will then use most of the time to answer questions and hear comments from tribal representatives. 
If you have any questions or concerns, please feel free to reach out to Tracey Harper, CARB's Tribal Liaison, at Tracey.Harper@arb.ca.gov. 
CARB is available for consultations with any tribal nations that wish to discuss the CPRG Program and how to coordinate under it to bring the greatest climate and local benefits to the State and to tribal nations. 
Apply for Funding
You are invited to apply for funding through Planning and Capacity Building (Planning), Clean Mobility in Schools (CMIS), and the Sustainable Transportation Equity Project (STEP). The California Air Resources Board (CARB) has $32.65 million available to fund planning, clean transportation, and supporting projects for multiple grantees across the State.
Community-based organizations, local governments (including public school districts), and Tribal governments may apply. This Request for Applications is a two-phase process. Concept Phase applications must be received by CARB no later than 11:59 pm (Pacific Time) on September 8, 2023. For Applicants that are invited back to apply to the Full Phase, Full Phase applications must be received by CARB no later than 11:59 pm (Pacific Time) on November 3, 2023. Applicants must apply to the Concept Phase to be eligible for the Full Phase.
CARB will host two Question & Answer (Q&A) sessions in each application phase. The Concept Phase Q&A sessions are scheduled forAugust 10, 2023, and August 29, 2023. The Full Phase Q&A sessions are scheduled for October 12, 2023, and October 24, 2023. The final schedule, meeting links, and notes from each session will be available on CARB's website.
---
Overview of CARB Programs
CARB participates in the CalEPA Tribal Advisory Committee (TAC) meetings. Each meeting pertains to a specific theme. Below are the dates, presentations, and themes for each meeting:
---
Tribal Consultation Policy
CARB released its draft Tribal Consultation Policy in 2018 to guide CARB in its daily operations to work with tribes in a knowledgeable, sensitive, and respectful manner. The Tribal Consultation Policy details how CARB will continue to work to improve and strengthen its relationships with tribal governments and communities.
Contact
Tracey Harper
Tribal Affairs Liaison and Community Engagement Specialist
California Air Resources Board
1001 I Street, 6th Fl, Sacramento, CA 95814
(279) 216-0415
---
What's New
Zero-Emission Truck Regulation—Advanced Clean Fleets—Opportunity to Share Your Thoughts
The California Air Resources Board (CARB or Board) continues its work cutting emissions from polluting trucks, especially those that run through neighborhoods. At its October 27, 2022 public hearing, the Board considered staff's proposed Advanced Clean Fleets regulation, which would accelerate the widespread addition of zero-emission vehicles, including medium- and heavy-duty vehicles and light-duty package delivery vehicles. CARB invites everyone interested in the proposed Advanced Clean Fleets regulation to read and comment on the latest proposed changes—which are available on the Regulatory Documents page under the "Hearing Action and Supplemental 15 Day Notices" section. The comment period ends on April 7 and the Board will consider final approval of this proposal at its public hearing on April 27-28, 2023.The proposed regulation would require certain fleets to add zero-emission vehicles starting in 2024 and would set a date for an end to the sale of medium- and heavy-duty internal combustion engine vehicles in California, like those that run on diesel or gasoline. 
At the October public hearing, the Board directed CARB's Executive Officer to consider and seek public comment on any other needed changes to the proposed regulation. Staff will respond in writing to comments received during the formal comment period.
Zero-emission vehicles include battery-electric and fuel cell electric vehicles; these vehicles produce no tailpipe emissions, reduce brake wear, and, in general, have lower life cycle greenhouse gas emissions compared to diesel and other combustion fuels. In contrast, in 2021, medium- and heavy-duty diesel trucks contributed 72 percent of the state's on-road vehicle oxides of nitrogen (NOx) emissions which are major contributors to smog-causing, ground-level ozone pollution in California, and 21 percent of statewide mobile source greenhouse gas emissions, while making up only 6 percent of all the vehicles on the road.
The proposed Advanced Clean Fleets regulation would help reduce air pollution emissions that pose acute health risks to the local communities where heavy-duty trucks and other vehicles commonly operate, and would help achieve CARB's climate change emissions reduction goals.
The Board looks forward to hearing from all who are interested in the proposed Advanced Clean Fleets regulation. You can read more about this proposed regulation on the Advanced Clean Fleets program webpage, and you can find the latest changes to the proposal and a link to where you can comment on the regulatory documents webpage.  A summary of the newly proposed changes can be found in the 15-Day Notice. Also, check out the factsheets that summarize the regulation, and stay informed about upcoming events by subscribing to CARB's ZEV Fleet GovDelivery email list. You can access the April 27-28, 2023, Board hearing by webcast or you can attend in person in Sacramento. Click here for more information about this or other Board hearings.
Final 2022 Scoping Plan
The 2022 Scoping Plan for Achieving Carbon Neutrality (2022 Scoping Plan) lays out a path to achieve targets for carbon neutrality and reduce anthropogenic greenhouse gas (GHG) emissions by 85 percent below 1990 levels no later than 2045, as directed by Assembly Bill 1279. The actions and outcomes in the plan will achieve: significant reductions in fossil fuel combustion by deploying clean technologies and fuels, further reductions in short-lived climate pollutants, support for sustainable development, increased action on natural and working lands to reduce emissions and sequester carbon, and the capture and storage of carbon.
The Final 2022 Scoping Plan and its appendices are available on CARB's website.
Draft Program Guidelines for the 2021-2022 Greenhouse Gas Reduction Fund (GGRF) Woodsmoke Reduction Program Available for Public Review and Comment
Residential wood smoke is an issue in many tribal communities.  As part of the California Climate Investments Woodsmoke Reduction Program, CARB will provide incentives for voluntary replacement of old wood-burning stoves with cleaner and more efficient home heating alternatives. The Program, administered by CARB, is implemented by the California Air Pollution Control Officers Association in coordination with local air pollution control districts or air quality management districts (Districts).  Not all Districts will elect to participate in the 2021-2022 round of funding, but households residing on tribal lands within the jurisdiction of participating Districts will qualify for incentives.  CARB is accepting comments on the Draft Guidelines for the 2021-2022 Woodsmoke Reduction Program through December 8, 2022. Comments can be submitted to the electronic docket or via email.
---
Fact Sheets
CARB's Transportation and Toxics Division would like to share several fact sheets related to our recent and upcoming regulations. We are happy to make ourselves available to answer any questions you may have.
The Draft Proposed Amendments to the Commercial Harbor Craft Regulation; New Control Measure for Ocean-Going Vessels At Berth and In-Use Locomotive Regulation Concepts are some of CARB's regulatory efforts for ports and freight.
CARB's Air Toxics Program  and Chrome Plating and Chromic Acid Anodizing Operations explain more about CARB's regulatory efforts in regards to air toxics
For more information please contact: Lynsay Carmichael.
---
Local Air Districts
Tribes may interact with California's 35 local air districts, which are responsible for promulgating rules and regulations for stationary sources in the local areas. CARB interacts with air districts through support and oversight. The below links provide information on district rules, district maps, a directory of key personnel at each district, and the District Rules Log Database showing district rulemaking activity:
---
State Implementation Plans
Federal clean air laws require areas with unhealthy levels of ozone, inhalable particulate matter, carbon monoxide, nitrogen dioxide, and sulfur dioxide to develop plans, known as State Implementation Plans (SIPs). SIPs are comprehensive plans that describe how an area will attain national ambient air quality standards (NAAQS). The 1990 amendment to the federal Clean Air Act set deadlines for attainment based on the severity of an area's air pollution problem.
SIPs are not single documents. They are a compilation of new and previously submitted plans, programs (such as monitoring, modeling, permitting, etc.), district rules, state regulations and federal controls. Many of California's SIPs rely on the same core set of control strategies, including emission standards for cars and heavy trucks, fuel regulations and limits on emissions from consumer products. State law makes CARB the lead agency for all purposes related to the SIP. Local air districts and other agencies prepare SIP elements and submit them to CARB for review and approval. CARB forwards SIP revisions to the U.S. Environmental Protection Agency (U.S. EPA) for approval and publication in the Federal Register. The Code of Federal Regulations Title 40, Chapter I, Part 52, Subpart F, Section 52.220 lists all of the items which are included in the California SIP. At any one time, several California submittals are pending U.S. EPA approval.
Each SIP goes before the Board at different times. The most current Board meeting schedule, agenda, and a link for submitting comments can be found here.
---
Supplemental Environmental Projects
Do you have a project idea to help clean the air in your community?  If so, you can apply for project funding through California Air Resources Board's (CARB) settlement of enforcement cases. This funding comes from a program called the Supplemental Environmental Projects (SEP) Program.  Nonprofit organizations, tribal governments, local agencies, governments, businesses, and more can apply to be funded through this program. The program's goal is to improve public health, reduce pollution, increase environmental compliance, and raise public awareness through education.
Sometimes when regulated industries break air pollution control rules in California, they get a chance to directly help clean the air in local communities by funding SEP projects. Projects need to fall into certain categories, such as pollution prevention or reduction, environmental restoration and protection, environmental education and compliance training, community monitoring, and transboundary projects (which are projects that provide a direct benefit to Californians in and around California's border).
Through the SEP program, funds have been committed to over 30 SEP projects worth over 11 million dollars between 2017 and 2019 in communities across California, and is hoping to fund many more in the coming years. 
There are no deadlines for submitting your proposal, so apply today, tomorrow, or any day you brainstorm a great idea to educate your community and help make your community's air a little cleaner! 
If you are interested in learning more about the SEP program or if you have any questions you may contact us at SEP@arb.ca.gov. 
---
Funding Opportunities
The programs listed below have hundreds of millions of dollars available over the next several years to reduce air pollution across the State. Tribes may apply for funds from these programs to reduce air pollution on tribal lands. While CARB oversees these funding programs overall, some of these programs (such as the Carl Moyer Program) are implemented in partnership with local air districts.
Grants, Incentives, and Credit Programs
Supplemental Environmental Projects
CARB is pleased to announce that the application period has been extended for the Community Air Grants Program (Air Grants Program). CARB invites you to participate in a remote-access (Zoom) public workshop Air Grants Program request for applications which is extended to April 24, 2023.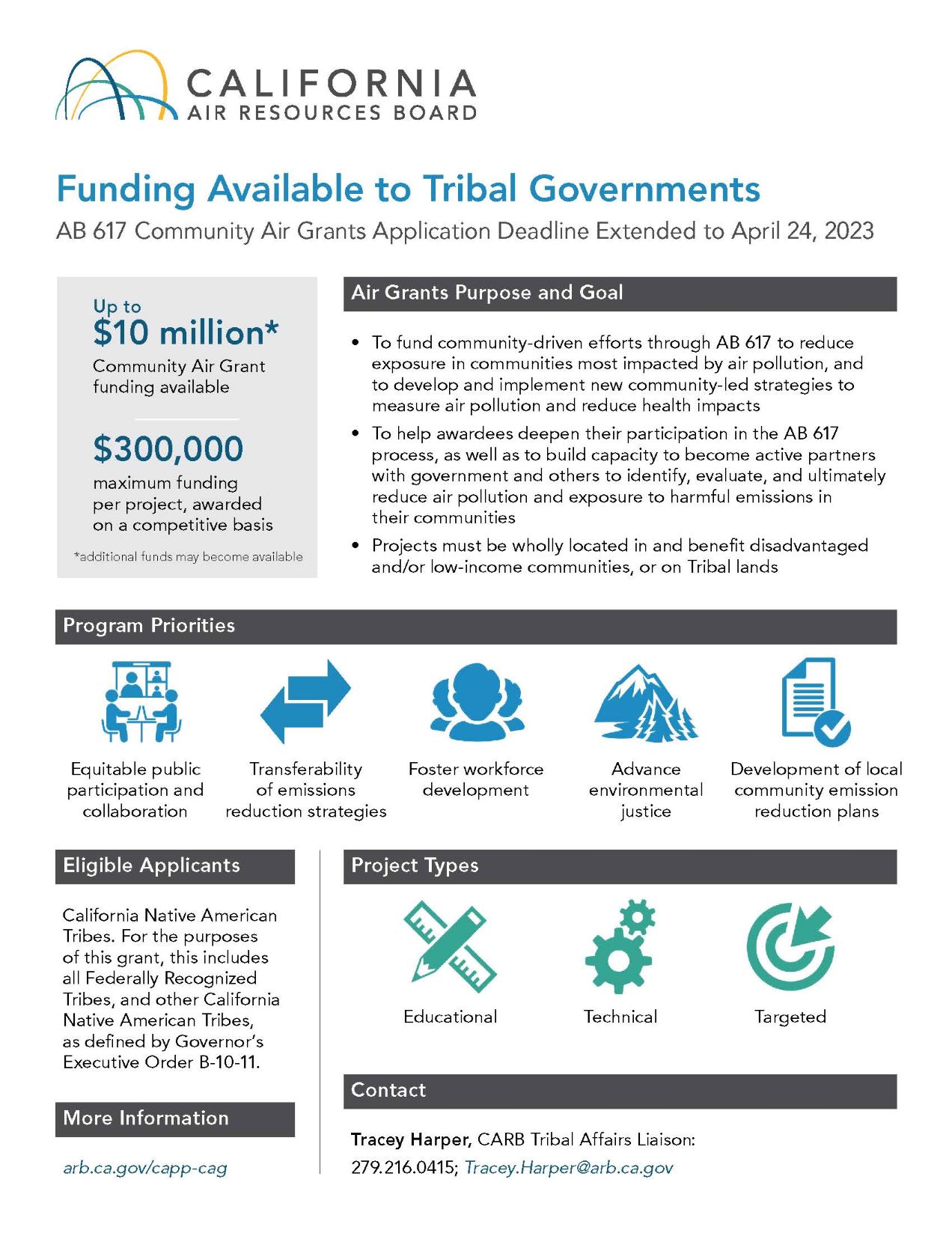 Sustainable Transportation Equity Project
California Climate Investments is a statewide initiative that puts billions of Cap-and-Trade dollars to work reducing greenhouse gas emissions, strengthening the economy, and improving public health and the environment — particularly in disadvantaged communities. Tribal governments can receive funds to help fight climate change while addressing community needs for clean transportation, clean air, land conservation, agricultural equipment, and more. Visit our new webpage  to easily find California Climate Investments Programs that Tribal Governments are eligible to receive funding from. To learn more about funding opportunities and to hear about helpful resources and project success stories, visit our webinar announcement webpage.  Stay up to date on future planned webinars, including an upcoming webinar focused on funding opportunities for tribal governments.
The Clean Mobility Options Voucher Pilot Program (CMO) provides voucher-based funding in support of small-scale clean mobility projects, such as electric carsharing, bikesharing, vanpooling, and other clean mobility options, as well as community transportation needs assessment projects in disadvantaged communities and eligible low-income and tribal communities. Funds can be used to purchase or lease new or used vehicles, bicycles, scooters, and other clean mobility options along with associated equipment, infrastructure, and operating costs to implement clean mobility services. CMO is administered by a team that provides comprehensive training, technical assistance, learning tools, and information-sharing opportunities to build the capacity of under-resourced organizations to enhance mobility access in their communities.
---
Cap-and-Trade Compliance Offset Program and Tribes
CARB's Cap-and-Trade Regulation is a set of rules that establishes a limit on greenhouse gas (GHG) emissions from the state's biggest sources of GHGs. Tribes can voluntarily participate in the Cap-and-Trade program to generate offset credits, which can then be sold on the market.  Tribes participate in Cap-and-Trade through the Compliance Offset Program by submitting a forest offset project.  Because of their unique status as sovereign nations, to participate in the program, tribes must include a limited waiver of sovereign immunity that is legally binding under the tribe's laws before any offset project located on tribal land can be listed.  More information can be found at:   
Compliance Offset Protocol for U.S. Forest Projects