AB 617 Statewide Strategy Summary - Q1-2021 Archive
During recent years, the California Air Resources Board (CARB) has adopted multiple plans and measures that will lead to development and adoption of a number of statewide regulatory measures to reduce emissions and exposure from a variety of sources. Assembly Bill 617 requires new, community-focused actions that utilize statewide and regional strategies to reduce high cumulative exposure in California's disadvantaged communities. Many of these strategies include CARB's upcoming regulatory measures. This section provides an update on CARB regulatory actions included in community emissions reduction programs to achieve targets set forth by community steering committees.
Current updates to this information can be found in our Community Hub.
---
Progress Dashboard: 2021-Q1
In February 2020, the California Air Resources Board met to consider recommendations for the selection of new communities for participation in the AB 617 program:
Arvin, Lamont – San Joaquin Valley APCD (CAMP and CERP)
South Los Angeles – South Coast AQMD (CAMP and CERP)
Richmond, San Pablo – Bay Area AQMD (CERP)
From January through March of 2021, California Air Resources Board (CARB) staff, community members, and air districts have continued to develop new regulatory actions and work towards existing regulatory goals.  The table below summarizes the current status of statewide measures in community emissions reduction programs, and provides links to events and public notices. Key highlights include:
In January, CARB announced the appointment of Chanell Fletcher as Deputy Executive Officer of Environmental Justice, overseeing CARB's Environmental Justice and Community Air Protection Programs, effective February 1. Also on Feb 1, Deldi Reyes joined CARB as the Director of the Office of Community Air Protection.
In February, CARB's Board selected two new communities, Arvin-Lamont and South Los Angeles, for development of community air monitoring and emissions reduction plans. The community of Richmond-San Pablo transitioned from development of an air monitoring plan towards a community emissions reduction plan. 
In March, the Commercial Harbor Craft program held a public workshop to discuss the revised draft regulation (video and presentation slides in both English and Spanish can be found on the website).
---
Last updated: March 2021
* Planned events and the schedule of consideration of items at Board are subject to change. Please check the Board meetings page for more information on agenda items.  
1 The Organic Waste Methane Emissions Reductions regulations are primarily implemented by the California's Department of Resources Recycling and Recovery (CalRecycle), in consultation with CARB.
---
Statewide measures in Community Emissions Reduction Programs
Community emissions reduction programs for year 2018 communities include a diverse portfolio of strategies to reduce cumulative exposure burden. The table below provides an overview of specific CARB actions and regulations identified in the year 2018 community emissions reduction programs. It highlights some of the common priorities across AB617 communities, such as reducing emissions from heavy-duty mobile sources. The page number references for these measures in each plan document is also provided.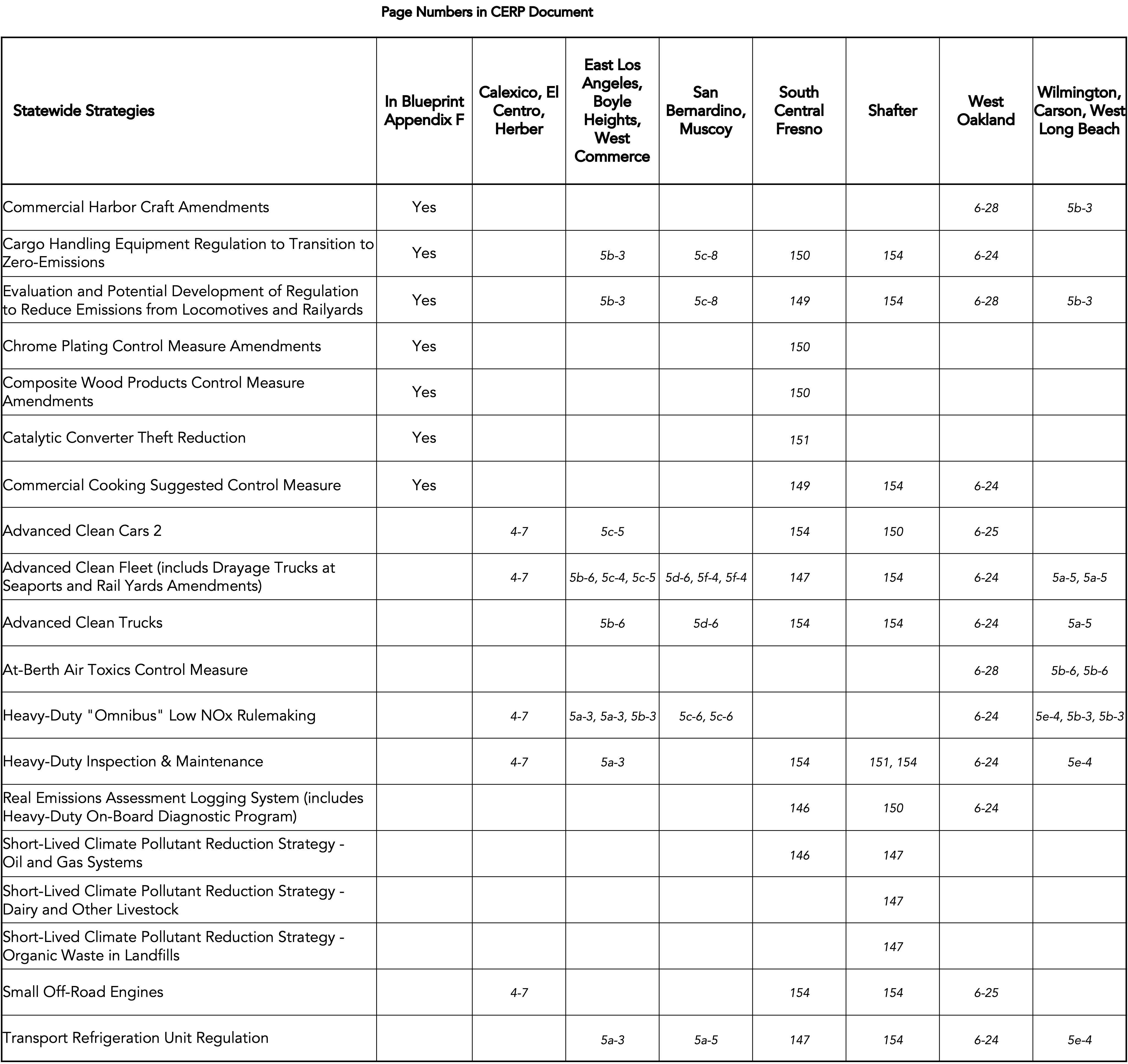 ---
Upcoming Activities
CARB continues to develop and implement new measures to support reducing exposure to pollution, particularly in disadvantage communities and communities identified through AB 617. Over the coming months, CARB staff will continue to develop new measures to support reducing exposure in communities statewide:
Follow the individual program pages for the latest updates on upcoming events.
---
You can find prior versions of this dashboard archived here.