Heavy-Duty Vehicle Research
Real-world emissions and operation of heavy-duty vehicles
Heavy-duty vehicles include line-haul trucks, vocational trucks, drayage trucks and buses, to name a few. They are an important part of the economy and perform a wide variety of revenue services which is reflected in the large range of vehicle sizes and operational characteristics. The complexity of this vehicle category presents a challenge in reducing greenhouse gases and criteria pollutants which requires a large effort on researching various aspects of heavy-duty vehicles including their operation, their in-use emissions and the effectiveness of aftertreatment devices. Below is a list of recent and current projects related to heavy-duty vehicles.
Activity Data Collection Projects
Tractor-Trailer Aerodynamic Study
The Tractor-Trailer Greenhouse Gas Regulation requires that box type trailers 53 feet or longer be equipped with approved aerodynamic devices and low-rolling resistance tires. These requirements have been shown to result in a significant fuel savings which impacts their GHG emissions. However, other types of trailers including curtainside, container-chassis, tanker and flatbed have not been studied extensively and should be examined to understand whether their typical operational behavior includes extensive high speed driving and large cumulative vehicle miles traveled (VMT) per year. At higher speeds aerodynamic devices induce a more significant fuel savings. In this project a survey was sent out to fleet operators which utilized curtainside, flatbed, tanker and container-chassis type trailers. Fleets within California with tractors pulling tanker, flatbed and container-chassis were also logged for at least a month to study their operational behavior. It was found through both survey results and vehicle activity logging that tankers, container chassis and flatbeds tended to spend a significant portion of their VMT at speeds greater than 45 mph and had large mileages per year. This behavior was not affected specifically by the type of trailer, but rather by other factors such as location and activity type. The results of this study will be used to inform future regulatory activities related to the Tractor-Trailer Greenhouse Gas Regulation.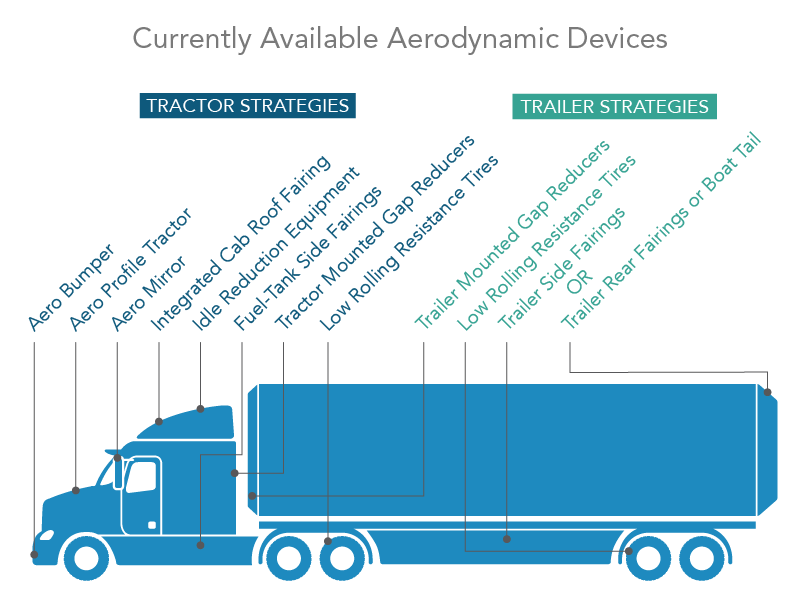 Diagram of a typical heavy duty truck with various aerodynamic devices installed
More information on CARB Contract 14-302, including the final report and the seminar.
Emissions Characterization Projects
Heavy-Duty Inspection and Maintenance Program Effectiveness and Impact on Emissions
The implementation of an enhanced heavy-duty (HD) Inspection and Maintenance (I/M) program could be a critical element to ensure the emissions performance of HD vehicles over their full useful life. The objective of this study is to evaluate and assess alternatives for a more comprehensive HD I/M program that could be implemented in California and to estimate the impact and cost of such a program. A 50 vehicle pilot study was conducted where emissions were measured before and after repair. The pilot study showed substantial reductions for NOX after repair, although no significant PM reductions were observed due to low pre-repair emission levels. Results will help CARB establish a more comprehensive HD I/M program. 
More information on CARB Contract 15RD022, including the final report and the seminar.
Characterizing MAC Refrigerant Emission from Heavy-duty On- and Off-road Vehicles in California
The predominant refrigerant used in air conditioning (AC) systems in heavy-duty on- and off-road vehicles, HFC-134a, is a potent greenhouse gas (GHG) with a global warming impact 1,300 that of carbon dioxide (CO2). HFC-134a emissions from the AC systems occur during normal operation and standstill conditions ("regular leakage") or due to accident, stone hit, or component failure ("irregular loss"). HFC-134a losses may also occur when AC systems are serviced or dismantled at the end of their useful lives. In order to establish an emission inventory and to develop effective mitigation strategies for this subsector, CARB needs the HFC-134a emission rate from real-world vehicle operation. This study used a gravimetric method to measure HFC-134a leak rate from the AC systems of heavy-duty on- and off-road vehicles operating in California. The study also surveyed transit bus fleet operators, in order to estimate overall HFC-134a emission rates for large buses. The average regular leakage of HFC-134a from the 66 gravimetrically tested heavy-duty on- and off-road vehicles were 257 grams/year, with a few high emitters having a disproportionate impact. The average overall emissions (regular leakage + irregular loss + service loss) for the large buses of the surveyed transit bus fleets were 1,340 grams/year/bus. The results from this study have informed HFC-134a emission inventory for this subsector, and have contributed to the establishment of a credit incentive scheme for the use of climate friendly refrigerants for this subsector.
More information on CARB Contract 06-342, including the final report and the seminar.
Certification and In-Use Compliance Testing for Heavy-Duty Diesel Engines to Understand High In-Use NOX Emissions
Background
Considerable reduction in nitrogen oxides (NOx) emissions is needed for the State of California to meet ambient air quality standards for ozone and particulate matter. To achieve some of the reduction, the Board adopted a NOx emission standard for model year 2010 and later heavy-duty on-road engines of 0.20 g/bhp-hr. This represents a 90 percent reduction compared to the pre-2010 standard. To meet the standard, most diesel engine manufacturers are using selective catalytic reduction (SCR) aftertreatment systems. SCR requires adequate temperatures in the exhaust to function effectively. It is known that engine emissions will exceed certification emissions when the engines are cold. However, it has been observed during many in-use test programs that emissions from in-use vehicles exceed emission levels expected based on the engine certification standards, even when the engines are fully warmed up. This discrepancy affects the accuracy of SIP planning and affects the effectiveness of potential rules to further lower emission standards. The cause of this discrepancy is unknown.
The objective of this research is to understand why in-use NOx emission rates from warmed-up, SCR-equipped vehicles in normal use exceed the emission rates engine-certification emission rates. Possible sources of the discrepancy include: certifications engines are pampered special engines compared to in-use engines; engines respond differently to certification test equipment than to in-use test equipment; and, certification test cycles are not representative of in-use test cycles. For more information on this project visit the contract page for this project.
Conference Presentations
Evaluating Technologies and Methods to Lower Nitrogen Oxide Emissions from Heavy Duty Vehicles
Background
Recently introduced 2010 emission standards for heavy-duty engines have established a limit for oxides of nitrogen (NOx) emissions of 0.20 g/bhp-hr, a 90% reduction from the previous emission standards. However, it is projected that even when the entire on-road fleet of heavy-duty vehicles operating in California is compliant with the 2010 emission standards, the upcoming National Ambient Air Quality Standards (NAAQS) requirements for ambient particulate matter and ozone will not be achieved in California without further significant reductions in NOx emissions from the heavy duty vehicle fleet. There is currently little incentive for manufacturers to pursue emission reductions beyond the current standards, and so the potential for further reductions is unclear. To address this lack of information, CARB is funding a research program to explore and investigate the feasibility of significantly reducing NOx emissions below today's standard.
Objective
This study is to investigate the feasibility of achieving NOx emissions significantly lower than the current engine standard. We are evaluating improved engine emission control calibration, enhanced aftertreatment technology choices and configurations, improved and more efficient catalyst, improved aftertreatment thermal management, urea dosing strategies, and engine management practices for two heavy-duty engines: one natural gas engine with a three-way catalyst (TWC); and one diesel engine with a diesel particulate filter (DPF) and selective catalytic reduction (SCR). The target NOx emission rate for this project over the heavy-duty Federal Test Procedure (FTP) is 0.02 g/bhp-hr.
Project Plan
The project team refines a research plan identifying specific engines, test cycles, and aftertreatment technologies for consideration in the screening and final demonstration efforts.
The project team characterizes the emission performance of the two stock engines using procedures following Title 40, Code of Federal Regulations, Part 1065 (40 CFR 1065), determines stock engine characteristics for cold starts, hot starts, normal operation, and low-load-low-temperature operation, and defines possible engine control strategies.
Based on the engine performance and engine control strategies, the project team selects candidate aftertreatment technologies and engine control strategies for screening. The candidate emission reduction strategies will be screened using low-cost exhaust emission sources and test benches. The best emission reduction strategy will be identified for the final system demonstration.
Finally, the project team performs engine dynamometer tests following reference methods specified in 40 CFR 1065 for the selected emission reduction strategies. The tests will measure performance over the heavy-duty FTP, World Harmonized Transient Cycle (WHTC), ramped mode cycle (RMC), extended Idle, and three low-load-low-temperature cycles such as the Orange County Transit Authority (OCTA) bus cycle, New York bus cycle (NYBC), and CARB Creep cycle.
Project deliverables are a final report and emission test data sets. The report will describe NOx emission reduction strategies, test methods, and test results, as well as summaries of data and findings from the research. The data sets will be in spreadsheet or database format and will include second-by-second test data from the demonstration testing, data tables reporting integrated emissions and other key parameters from each individual test, and tables summarizing overall test results.
Program Advisory Group
CARB invited representatives from heavy-duty engine and aftertreatment industries, and from federal, state, and local governmental agencies to form a Low NOx Advisory Group. The representatives are able to speak for their organizations and to coordinate the comments, suggestions, and advice of their members. Representatives from the following organizations accepted the invitation and have served as an advisory panel for the study.
The Truck and Engine Manufacturers Association (EMA) and their members
The Manufacturers of Emission Controls Association (MECA)
Environmental Protection Agency (EPA)
Department of Energy (DOE)
Oak Ridge National Laboratory (ORNL)
South Coast Air Quality Management District (SCAQMD)
California Energy Commission (CEC)
Results
Christopher A. Sharp, Cynthia C. Webb, Gary D. Neely, and Ian Smith. Evaluating Technologies and Methods to Lower Nitrogen Oxide Emissions from Heavy-Duty Vehicles. CARB Sponsored Study (Contract 13-312) Final Report
Peer-Reviewed Publications
Measurement of Emissions from both Active and Parked Regenerations of a Diesel Particulate Filter from Heavy Duty Trucks
Diesel Particulate Filters (DPFs) prevent almost all particulate matter (PM) emitted by a truck's engine during normal operation, but they must be regenerated periodically and PM emissions during these events are not as well characterized. A series of 11 regenerations were performed on 2 DPFs in which emissions were quantified, and the total mass lost from the DPF was measured gravimetrically. Nearly all of the mass lost from the DPF was oxidized to CO2, and the small amount emitted was primarily sulfate. The results indicate that DPFs are working as intended, and are serving a crucial role in meeting California's Diesel Risk Reduction Plan.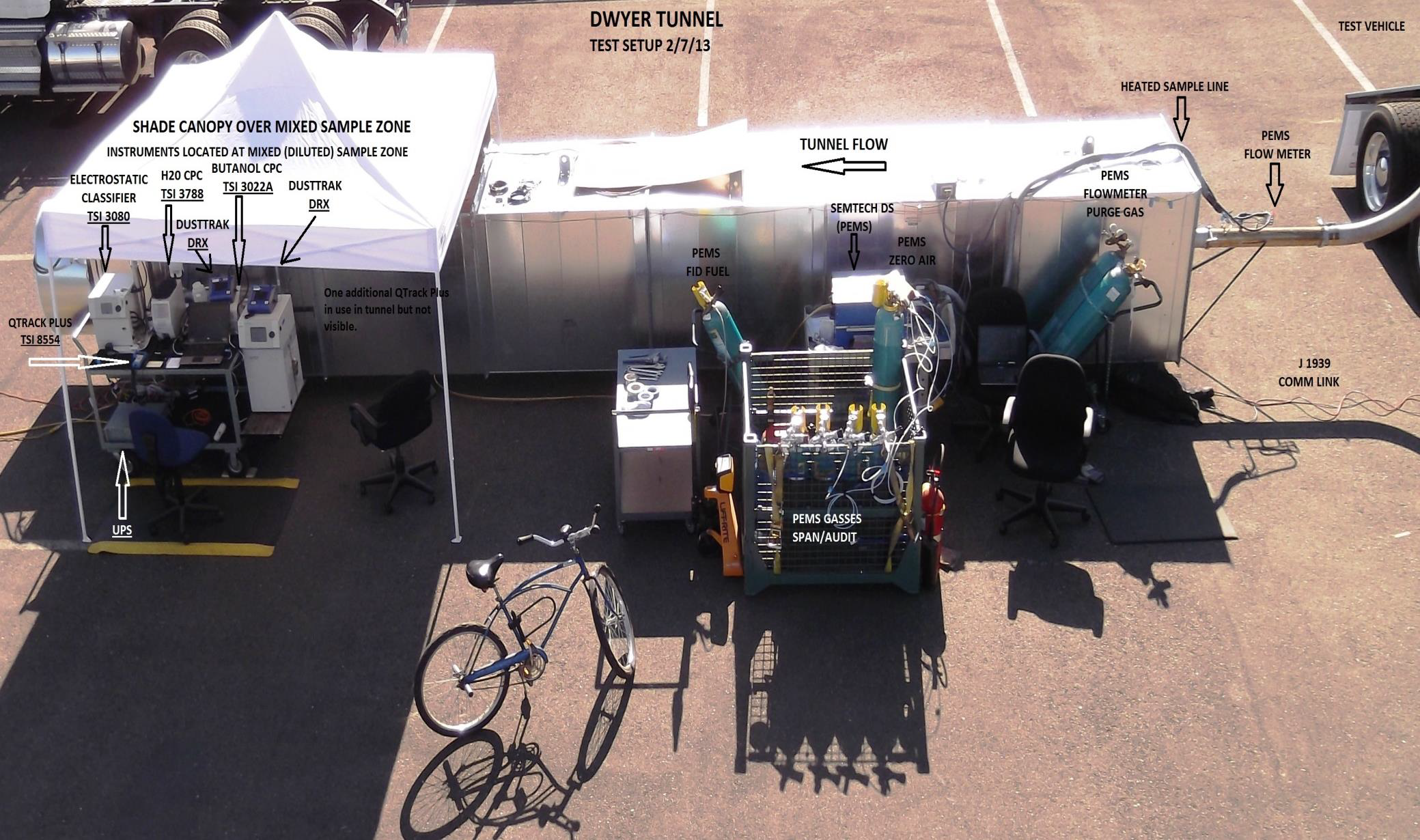 Results
Peer-Reviewed Publications
Conference Presentations
Other Projects