Clean Truck Check (HD I/M)
DMV Registration Notice with CARB Non-Compliant Vehicle Warning -
You may have accessed this webpage due to a Notice of Incomplete Renewal from DMV as shown below. If you received this or a similar notice that says you're out of compliance – please visit the TruckStop DMV page.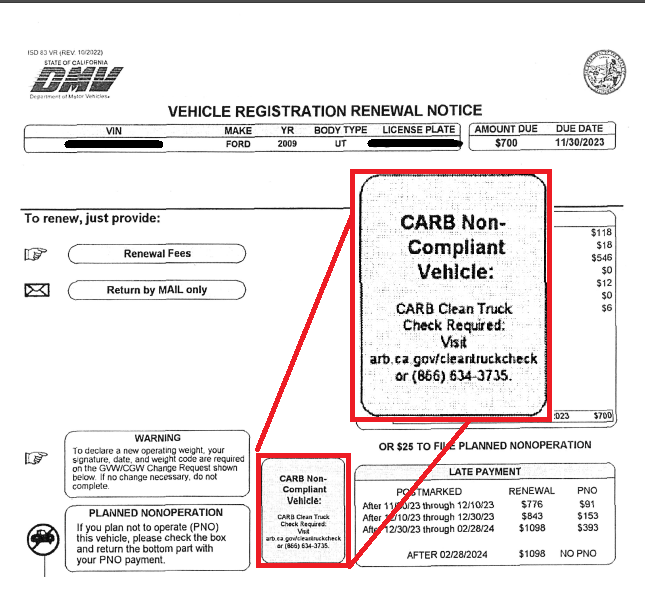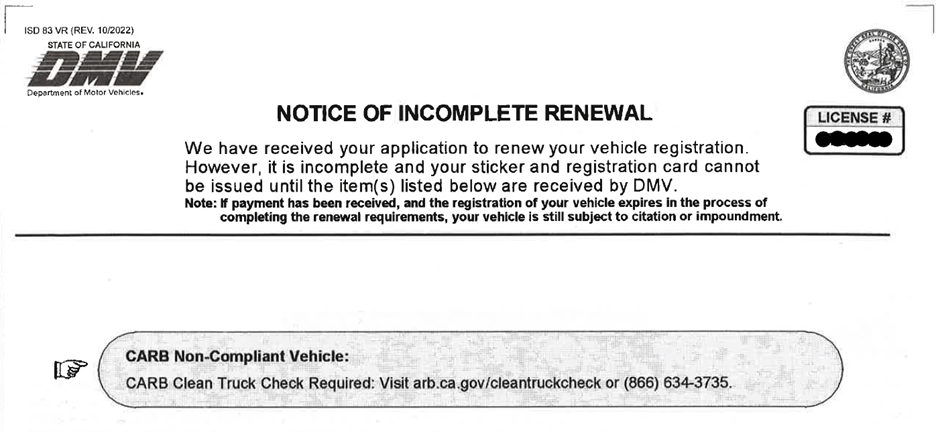 ---
Clean Truck Check-Vehicle Inspection System (CTC-VIS) Reporting Training Webinars
The California Air Resources Board (CARB) staff invite you to participate in one of four public online reporting training webinars on the new Clean Truck Check-Vehicle Inspection System (CTC-VIS) reporting database. The November 3, November 16 and December 18 sessions will be hosted in English. The session on December 5, 2023, will be hosted in Spanish.
Clean Truck Check: Meetings & Workshops
In December 2021, the California Air Resources Board approved the Heavy-Duty Inspection and Maintenance (HD I/M) Program, now known as Clean Truck Check, in an ongoing effort to meet air quality standards by ensuring heavy-duty vehicle emissions control systems operate properly throughout the life of the vehicle. The program requirements include reporting in the Clean Truck Check database (coming soon), per vehicle compliance fees, and periodic testing.
Clean Truck Check Regulation Timeline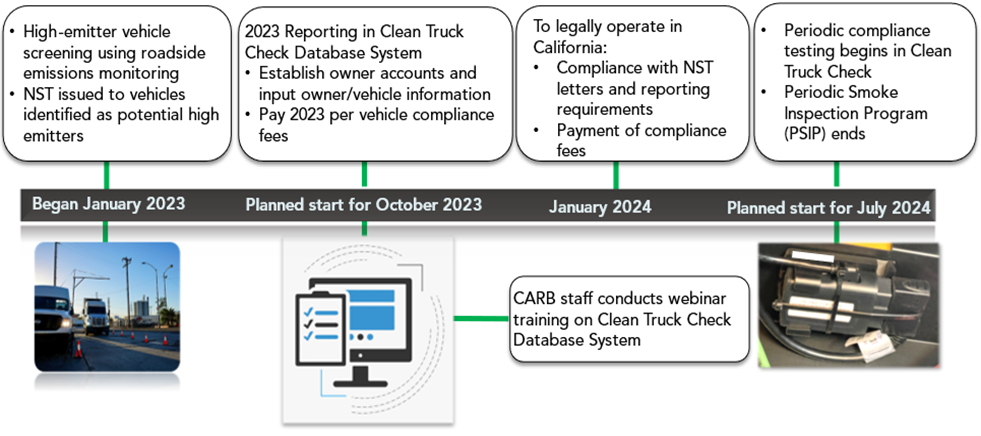 *NST: Notice to submit to testing
CARB plans to implement a three-month open reporting season projected to run from October 1 to December 31, 2023. By December 31, 2023, vehicle owners need to complete reporting of their vehicles in the Clean Truck Check database and pay a $30 per vehicle 2023 annual compliance fee. CARB estimates that periodic testing requirements will start in July 2024. This means that a passing compliance test would be required to be submitted to CARB for vehicles with compliance deadlines on or after July 1, 2024.
Ways to prepare for upcoming Clean Truck Check Requirements
Watch the upcoming Reporting Webinars
Verify which vehicles in your fleet

are subject to

the Clean Truck Check

program

.

Prepare

to

report affected

vehicles and pay the annual $30 compliance fee to CARB

by December 31, 2023

.

Prepare

for

compliance testing.

Subscribe to email notifications

and select

Clean Truck Check (

Heavy Duty Vehicle Inspection and Maintenance

)

to receive emails about program updates.
Overview Video
Live Zoom and in-person training opportunities available. For upcoming dates and times visit TruckStop Training and Events.  
Clean Truck Check (HD I/M) Regulation Timeline.
Clean Truck Check Applicability and Exemptions
Clean Truck Check requires non-gasoline (diesel, alternative fuel, and hybrid) trucks, buses, and other heavy-duty vehicles, such as California-registered motorhomes, with a gross vehicle weight rating (GVWR) over 14,000 pounds that operate in California to undergo emissions testing. Clean Truck Check applies to most vehicles that operate in California, regardless of where they are registered. The purpose of the program is to ensure all emissions related equipment is functioning properly for the life of the vehicle.
The Clean Truck Check Program does not apply to: 
Zero-emission trucks

Military tactical vehicles

Authorized emergency vehicles

Motorhomes registered outside of California

Vehicles operating under an experimental permit

Historical vehicles

Gasoline vehicles
Compliance Demonstration Requirements
Vehicle owners must demonstrate that affected vehicles comply with Clean Truck Check requirements to legally operate in California. DMV may block registration on California-based vehicles that have not demonstrated compliance.
At full implementation, an affected vehicle will be deemed compliant when: 
There are no outstanding enforcement actions on the vehicle.

  

There are no outstanding emissions or on-board diagnostics (OBD

)

related recalls on the vehicle.

  

The owner has paid an annual compliance fee to CARB

.

The owner has reported owner and vehicle information to CARB.

The owner has demonstrated compliance with the periodic vehicle emission testing requirements by submitting a passing compliance test to CARB

.
Notice to Submit to Testing
As of January 2023, Roadside Emissions Monitoring Devices (REMD) are being used throughout California to screen for potential high emitting vehicles. Owners of vehicles identified as potential high emitters are issued a Notice to Submit to Testing (NST) letter and have 30 days to submit a passing emissions test to CARB. Failure to submit a passing test may result in an enforcement violation. Enforcement staff are also conducting roadside inspections now to verify compliance.
If you receive a NST letter, please visit If You Receive A Notice to Submit to Testing (NST) Letter. 
Reporting Requirements

 
Vehicle reporting is proposed to open October 1, 2023, and must be completed by December 31, 2023, and annually thereafter. During this time, vehicle owners will be required to use the Clean Truck Check database system to report vehicle and owner information and submit an annual $30 per vehicle compliance fee.  
 To successfully complete the process, owners will need to provide essential company/fleet information, including the entity name, company contact details, and U.S. Department of Transportation (U.S. DOT) number. Owners will also be required to indicate ownership for each vehicle within the fleet by providing the corresponding Vehicle Identification Number (VIN). The $30 per vehicle compliance fee would be payable directly through the database system using traditional payment methods such as major credit cards, debit cards, and electronic fund transfers.
Be prepared with the required information to make reporting easy once the Clean Truck Check database becomes available.
CARB staff will offer training webinars and instruction videos to educate vehicle owners on how to use the database system and what information must be reported into the system. 
Periodic Testing Requirements
Periodic Smoke Inspection Program (PSIP) testing is required for in-state fleets until full implementation of the Clean Truck Check. For information on PSIP visit Clean Truck Check (HD I/M) & Periodic Smoke Inspection Programs. At full implementation of Clean Truck Check, the periodic testing requirements will be:
2013+ Model Year (MY) engines: On-Board Diagnostics (OBD) equipped vehicles 
OBD test submission: twice per year

OBD test submission increases to four times per year after 3 years of two times

 per year testing

 

CA Motorhomes: once per year

 

On-Road Agricultural (AG) Vehicles: once per year

 
Pre-2013 MY engines: Non-OBD equipped vehicles 
Opacity test submission (for diesel vehicles) and visual/functional 

inspection (all fuel types): twice per year

 

CA Motorhomes: once per year

 

On-Road Agricultural (AG) Vehicles: twice per year

 
Submit passing test within 90 days before compliance test deadlines 
CA registered vehicles: based on DMV registration date*

 

Out-of-state registered vehicles

, California exempt-plated vehicles

 (state and local public agency vehicles), and federal government

vehicles

: based on last number of VIN**
* Example of periodic compliance dates for a CA registered vehicle: If the vehicle's DMV registration date is March 31, then the vehicle's periodic submission deadlines would be March 31 and September 30 (6 months later) for a given year.
**Example of periodic testing compliance dates for an out-of-state registered vehicle, California exempt-plated vehicle, or a federal government vehicle:
VIN ending in "5" has compliance deadline of March 31 and a second compliance deadline on September 30 (6 months later). Compliance deadlines are based on the following chart:  
| | | | | | | | | | | |
| --- | --- | --- | --- | --- | --- | --- | --- | --- | --- | --- |
| Last Number of VIN  | 0  | 1  | 2  | 3  | 4  | 5  | 6  | 7  | 8  | 9  |
| Month  | Oct  | Nov  | Dec  | Jan  | Feb  | March  | April  | May  | June  | July  |
Emissions Testing Methods
The testing method is dependent on whether the vehicle has standardized OBD or not.  
OBD-equipped vehicles include the following vehicles: 
Vehicles equipped with a 2013 MY and newer diesel or diesel hybrid engine. Vehicles equipped with a 2018 MY or newer alternative fuel or alternative fuel hybrid engine. 
Non-OBD vehicles are equipped with 2012 or older engines 
Below are the methods for OBD and non-OBD vehicles:
OBD vehicles must have an OBD test performed and submitted by either of the following methods:
A telematics service provider device that meets CARB's data format submission requirements

 

Hand-held scan tools and plug-in dongles that meet CARB's data

  

submission requirements
Testing must be performed by a credentialed tester with an approved OBD device. CARB maintains a list of approved OBD devices that is updated as more devices become available. 
Non-OBD 
Diesel vehicles must pass the SAE J-1667 opacity test

Performed with opacity testing equipment that meet the SAE

 J1667 specifications

 

Alternative fuel

vehicles are exempt from the opacity test.

All

non-OBD

vehicles must

also

pass a visual/functional inspection

 

of the vehicle's emissions control components to check for tampering.

Testing must be performed by a credentialed tester.

 
Credentialed Clean Truck Check Tester
To ensure consistency, the Clean Truck Check program requires that all non-telematics emissions testing and reporting is performed by credentialed testers. Any individual from any state, Canada, or Mexico is eligible to complete CARB training to become a credentialed tester. Credentialed testers will need to renew their credentials every two years. The free, online credentialed tester training course is available now.  
The online training includes the following training modules and an exam: 
Regulatory requirements

 

Smoke opacity compliance testing

 

OBD compliance testing

 

Vehicle emissions control inspections

 
Freight Contractor, Broker, and Applicable Freight Facility Requirements
Applicable freight facilities (Seaport Facilities and Intermodal Railyards) 

must check that only compliant vehicles enter/operate on their properties 

or maintain records of non-compliant vehicles

entering or operating on 

their properties. 

Freight contractors and brokers must check for compliance documents

 and retain records.

 
Additional Information
More detailed information can be found on the Clean Truck Check program page.
Fact Sheets & FAQs provide further details on program requirements such as vehicle applicability, compliance testing requirements, and allowable testing equipment. For a complete list of printable TruckStop resources, visit Printable Materials.
To receive notification when the Clean Truck Check database system is available, reporting training, and to receive other important Clean Truck Check updates, please subscribe.
If you have questions regarding Clean Truck Check, please email Clean Truck Check staff at hdim@arb.ca.gov.