Overview
CARB distributes allowances to the Cap-and-Trade Program market through two primary mechanisms: direct allocation to regulated entities and sale at auction to all market participants.  This webpage provides information about direct allocation to regulated entities, including industrial entities, electrical distribution utilities (EDUs), natural gas suppliers, and other entities.
CARB allocates allowances for a given year by October 24 of the preceding year.  As depicted in the vintage 2022 allocation chart and summary table below, EDU allocation accounted for approximately 50% of the vintage 2022 total direct allocation to entities, natural gas supplier allocation accounted for approximately 26%, and industrial allocation accounted for approximately 23% of the total.
Vintage 2022 Allowance Allocation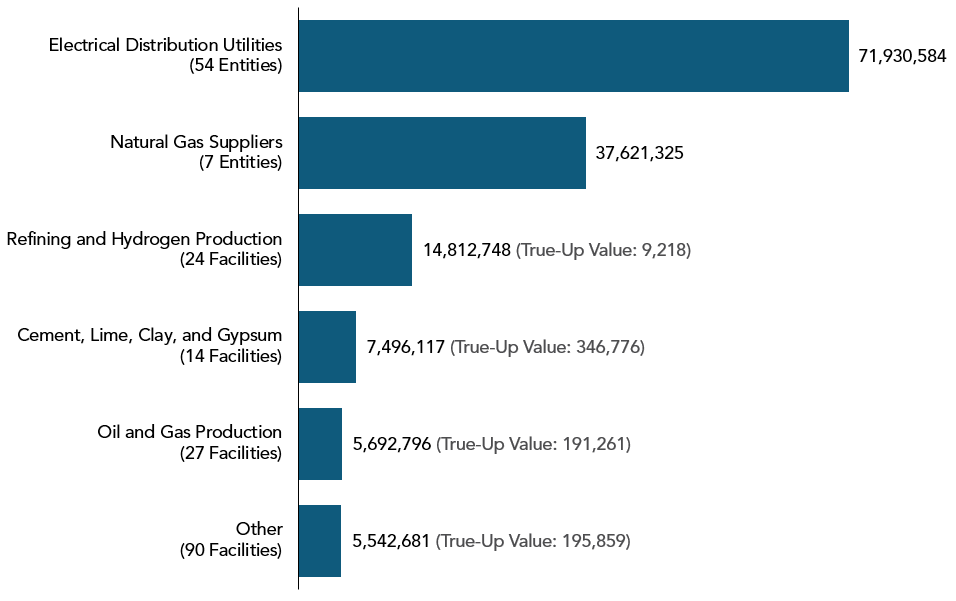 | Sector | Vintage 2022 Allocated Allowances | Total True-Up Value | Total Facilities | Percent of Total |
| --- | --- | --- | --- | --- |
| Electrical Distribution Utilities | 71,930,584 |   | 54 | 50% |
| Natural Gas Suppliers | 37,621,325 |   | 7 | 26% |
| Refining and Hydrogen Production | 14,812,748 | 9,218 | 24 | 10% |
| Cement, Lime, Clay, Gypsum | 7,496,117 | 346,776 | 14 | 5% |
| Oil and Gas Production | 5,692,796 | 191,261 | 27 | 4% |
| Other1 | 5,542,681 | 195,859 | 90 | 4% |
| Total | 143,096,251 | 743,114 | 216 | 100% |
1 Other includes all industrial sectors listed in the Vintage 2022 Allowance Allocation Summary not otherwise listed in this table, plus legacy contract generators, universities, public service facilities, public wholesale water agencies, and waste-to-energy facilities.
See the Cap-and-Trade Program Data webpage for allowance allocation annual summaries.  For industrial and natural gas supplier allocation, the summaries provide sector-level allocation totals and list the facilities within each sector that received allocation.  EDU allocation is specified for each EDU annually through vintage 2030.
Allowance Allocation to Electrical Distribution Utilities and Natural Gas Suppliers
CARB allocates allowances to electrical distribution utilities and natural gas suppliers for the benefit of their ratepayers consistent with the goals of AB 32.  The Cap-and-Trade Regulation specifies how these entities can use their allocated allowances and the proceeds from selling them at auction.  The requirements depend on the type of entity, but broadly speaking the allowable uses include:
Climate credits for ratepayers
Energy efficiency programs
Renewable energy
Building and transportation electrification
Building decarbonization programs
Compliance (for some entities) 
See the Electrical Distribution Utility and Natural Gas Supplier Allocation webpage for more information.
Allowance Allocation to Industrial Facilities
CARB allocates allowances to covered industrial facilities for two reasons:
To minimize industrial emissions leakage, where industrial emissions reductions in California are counterbalanced by emissions increases outside the State
To provide transition assistance to smooth the change to an economy with GHG costs.
Industrial allocation preserves incentives to maintain efficient production within California. Industrial facilities do not receive all the allowances they need to comply with the Program through allocation—facilities must continue to assess the best approach for their circumstances to reduce onsite emissions, acquire additional compliance instruments, or a combination of these actions. One of the factors used to calculate industrial allowance allocation is the cap adjustment factor, which declines each year in proportion to the annual decline in the overall cap.  The chart below illustrates the cap adjustment factor (green line and right axis) during the period 2013-2030 and how industrial allowance allocation compares to industrial emissions for a hypothetical facility (blue bars and left axis) if its industrial output and emissions efficiency stay constant over time.
Allowance Allocation as a Percentage* of Emissions for a Hypothetical Industrial Facility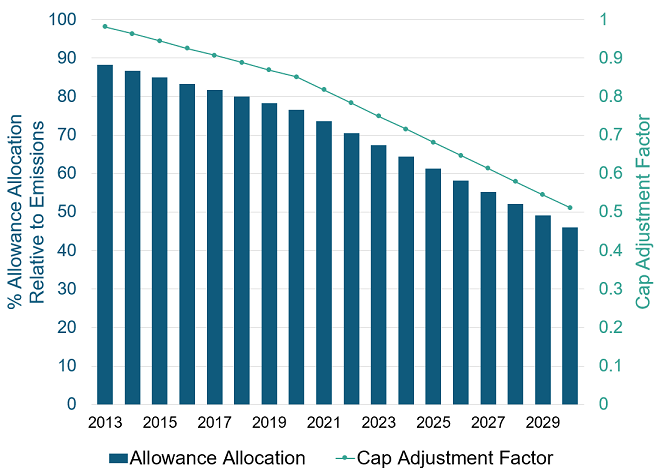 * Percent allowance allocation relative to emissions for the hypothetical facility assumes constant production and emissions efficiency over time.
See the Industrial Allocation webpage for more information.
Other Types of Allowance Allocation
CARB allocates allowances to other types of facilities for transition assistance and ratepayer protection, including:
Eligible legacy contract generators for transition assistance
Universities and public service facilities to provide transition assistance and to recognize early actions to reduce GHG emissions
Public wholesale water agencies for protection of water ratepayers
Waste-to-energy facilities for transition assistance
See the Other Allocation webpage for more information.