Project Status
The satellite partnership will be a game-changer in mitigating methane worldwide. Carbon Mapper, in collaboration with its public and private partners, is developing the satellite constellation in phases. Launch of two demonstration satellites will take place in 2023, and expansion to a full constellation, with tens of satellites, is envisioned for 2025.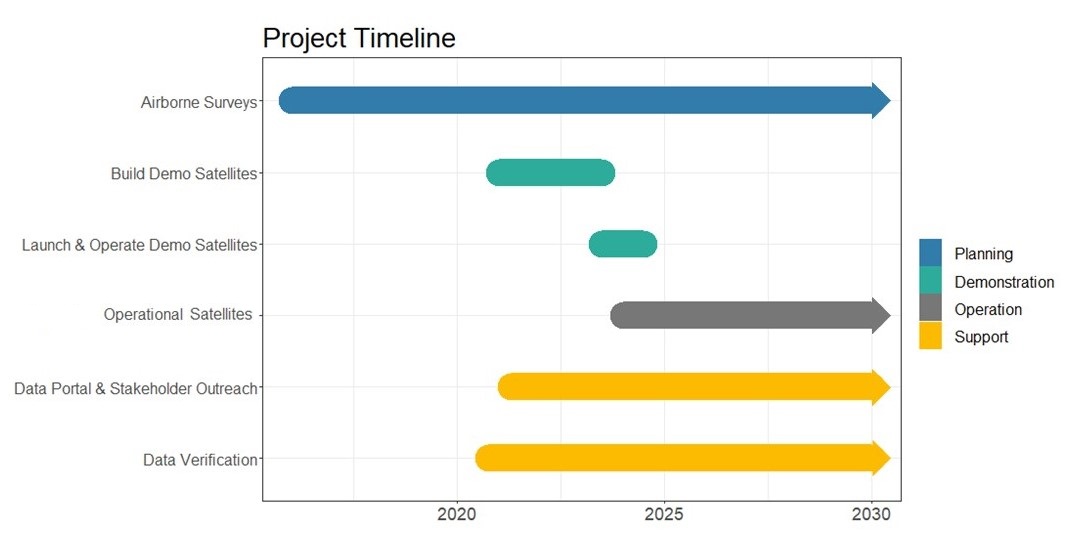 Surveys:
Airborne surveys, where imaging spectrometers have been placed in planes, have informed the need for persistent observations of methane plumes both in the US and specifically in California:
California Methane Survey: The California Satellite effort builds upon the

success of the California Methane Survey, a ground-breaking research project conducted from 2016-2018 that was aimed to help identify and quantify the occurrence of large emission sources of methane using advanced research-grade technologies. The survey found, as other surveys have found elsewhere, that an important fraction of total methane emissions occur as individual large leaks. and 

while individual plumes are intermittent, their numbers and emissions are relatively steady system-wide.

If mitigated, these emission reductions could meaningfully reduce the climate burden of atmospheric methane.

Fall 

Campaign: In 2020, CARB, NASA/JPL and the University of

 Arizona conducted another airborne campaign as a 'dry-run' to prepare the data pipeline and mitigation program for the potential satellite observational platform. CARB worked

with industry partners (oil

and gas, utilities, and waste operators) to share information on large methane leaks with the operators in near-real-time, and  the industry partners deployed boots on the ground to investigate the identified methane plumes, mitigate observed leaks, and report back to CARB on their findings. The final report for this effort is available here. 
System Construction and Development:
The initial study phase is complete and included two years of preliminary engineering development and manufacturing.

Construction of the core elements of the space-worthy instrument began in the middle of 2019. The silicon wafers needed have been 'grown' and are now being assembled and tested into the focal plane arrays that constitute the core of the instrument. It will detect methane and carbon dioxide, along with several other land-use products.

Phase 1 is underway and includes development of the

first two satellites by

Planet and NASA JPL, accompanying

data processing platforms, and ongoing cooperative methane mitigation pilot projects using aircraft in California and other US states.
Program Development:
CARB staff and the Carbon Mapper team continue to work on other elements of the science and programming to improve the quality of the data and reduce the time it takes to get results and collaborate with other jurisdictions beyond California to use the data. This includes:
Developing capacity within CARB to be able to handle and validate data stream

Working on infrastructure database and infrastructure owners

Working on models to help optimize satellite targeting (where it looks) to maximize the mitigation potential of the data and to identify methane plumes in communities that live next to major pollution sources

Carbon Mapper, in collaboration with CARB, is also developing a public portal to make the data available for use by industry, governments, and private citizens to improve greenhouse gas accounting, expedite repair of leaks, support disaster response, improve environmental resilience, and identify methane plumes occurring in California communities.
Launch:
Phase 1

 

launch of the first satellite is expected in  2023

Phase 2, which is in development, would encompass the expansion to an operational multi-satellite constellation starting in 2025.