California Satellite Partnership
About
The Partnership 

The State of California has partnered with Carbon Mapper, Planet, NASA's Jet Propulsion Laboratory (NASA JPL), the University of Arizona, Arizona State University (ASU), RMI , and several philanthropic entities, including the High Tide Foundation and Bloomberg Philanthropies, and other donors on the deployment of satellites using ground-breaking hyperspectral technology. This technology can pinpoint and identify large, localized sources of methane emissions, as well as other environmental indicators.  This partnership is separate from the State's Satellite Data Purchase Program. 
 
The Satellites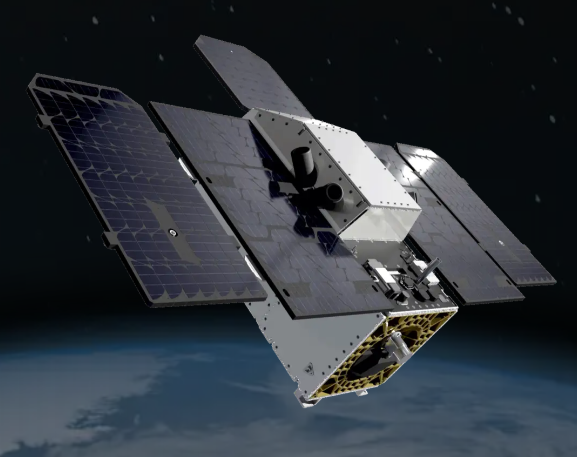 Image Credit: Planet 
The Carbon Mapper Partnership is on track to launch two satellites in late 2023/early 2024, enabling quicker detection, quantification, and visualization of high-emitting methane sources. The goal of the partnership is to establish sufficient satellite capacity in low earth orbit to provide sustained regular, complete, precise, and timely measurement of methane source level emissions as well as other environmental indicators for the public good.  For its role in the partnership, CARB will receive a portion of all methane data collected over California for free.  
The satellite constellation name, Tanager, comes from a colorful and diverse family of birds in the Americas. Once launched and commissioned, these satellites will be in a low-earth orbit (I.e., polar orbit), enabling global observations. The expected spatial resolution from these satellites is 30 x 30 meters, with the ability to regularly detect methane emissions down to 100 kilograms per hour (and lower, in some cases). These satellites need to be "tasked", that is, told where to look, and cannot continuously scan the whole earth. CARB is working with the partnership on appropriately tasking the satellites over the state. 
The groundwork for these satellites was laid by past and current California administrations. In 2019, Governor Newson, along with Michael Bloomberg and Planet, announced the Satellite for Climate Action Project at Climate Week, a collaboration that included exploring the development of a next generational observational system for scanning methane emission plumes worldwide using satellites. This part of the Newsom – Bloomberg – Planet project built upon Governor Brown's vision that California launch its own satellite (Global Climate Action Summit, San Francisco, CA; 2018). 
CARB's Mission  
CARB is committed to reducing greenhouse gas emissions and will continue to explore how best to use this new information to mitigate emissions even further. CARB will continue to work with other jurisdictions to successfully reduce methane emissions through policy and new data sources such as satellite-based observations. 
Related webpages: 
Media: