Getting Stockton to Zero Emissions: Clean Air for Our Community
Clean Mobility in Schools Pilot Project
Stockton Unified School District | 

Getting Stockton to Zero Emissions: Clean Air for Our Community 
    
May 2020 – June 2024
Project Details
The Getting Stockton to Zero Emissions: Clean Air for Our Community pilot project will help Stockton Unified School District (SUSD or the District) pursue its goal of becoming California's first zero-emission school district. Through this effort, the Center for Transportation and the Environment and SUSD will develop a Master Plan for the entire school district while deploying pilot vehicles on a small scale for testing. The results of these small-scale pilots will inform future adjustments to the district's Master Plan which will be implemented in phases with the goal of fully transitioning the District to zero-emission technologies in the most effective way possible. The project will provide significant positive community health impacts and dramatically reduce the use of fossil fuels while providing opportunities to communicate these results to the community and the District's students.
Project Highlights
Leveraged funds with California Energy Commission and local air district for additional zero-emission school buses 
Second largest zero-emission school bus fleet in California  
Coordinates with Stockton AB 617 Committee on joint projects 
Student-led energy education campaign 
Developing a zero-net energy long-term plan 
Funding Details
Grant Amount & Project Total: $7,309,777
By the Numbers
Services, Vehicles & Equipment Funded
8 Blue Bird battery electric school buses

4 Micro Bird battery electric school buses

20 BTC AC (level 2) chargers

4 ABB DC fast (level 3) chargers

8 John Deer gators for maintenance crew

3 Mean Green ride-on lawn mowers
Estimated Quantifiable Benefits
GHG emission reductions: 2,977 MTCO2e
Diesel PM reductions: 37 lbs
NOx reductions: 16,411 lbs
PM2.5 reductions: 739 lbs
ROG reductions: 752 lbs
Fossil fuel-based transportation fuel use reductions: 65,172 gallons 
Direct jobs: 19
Indirect jobs: 7
Induced jobs: 17
---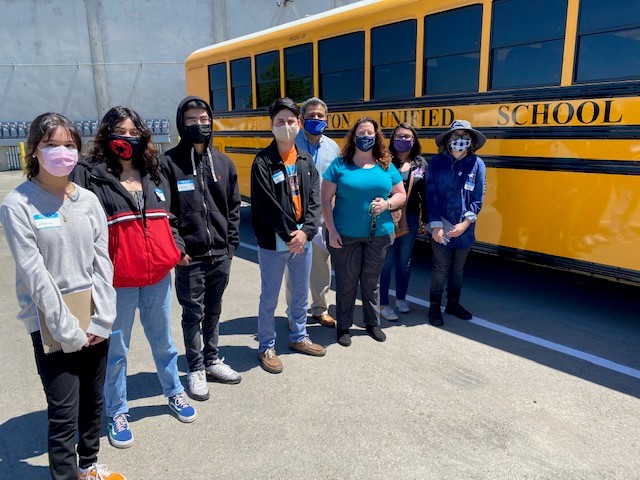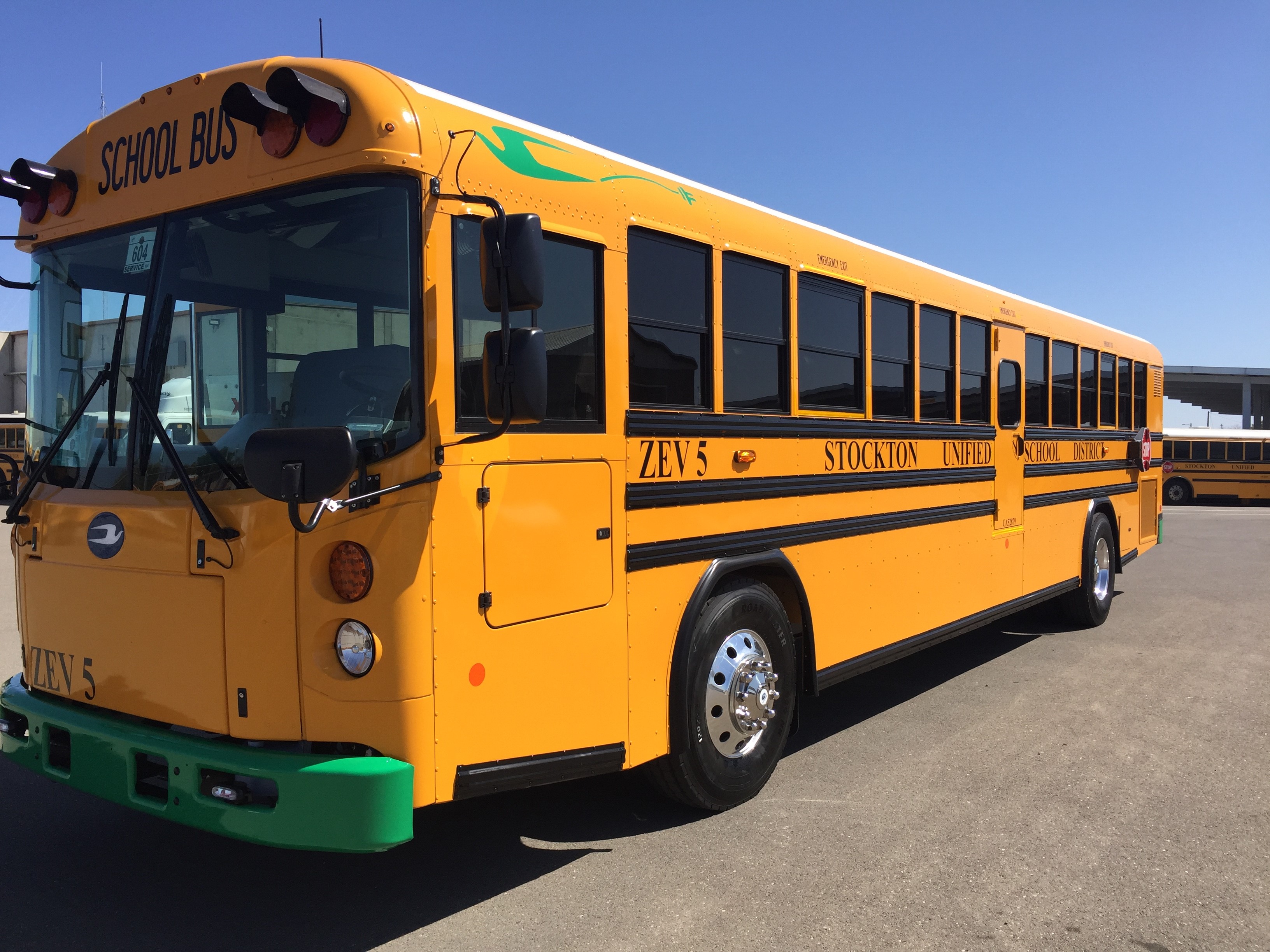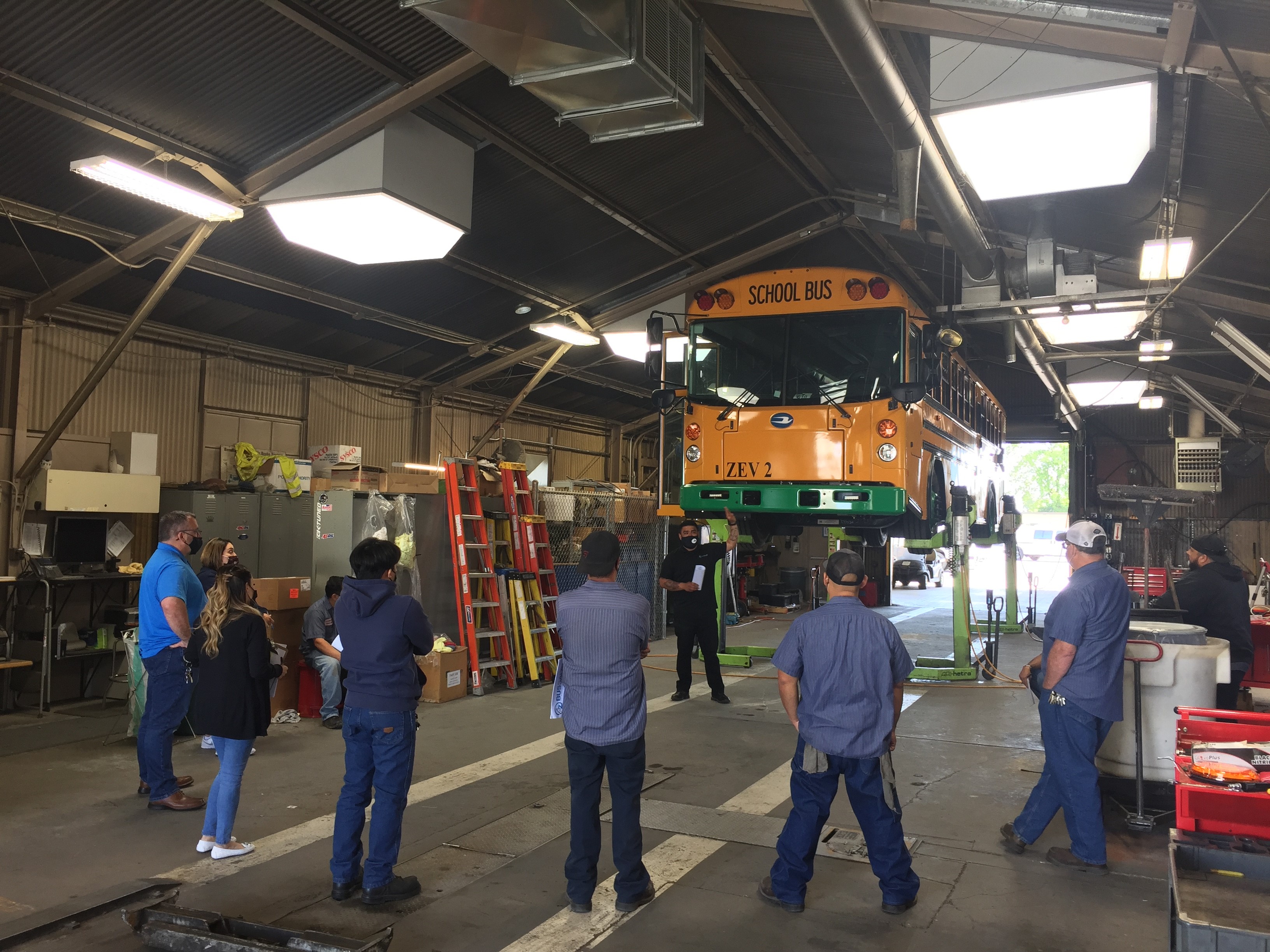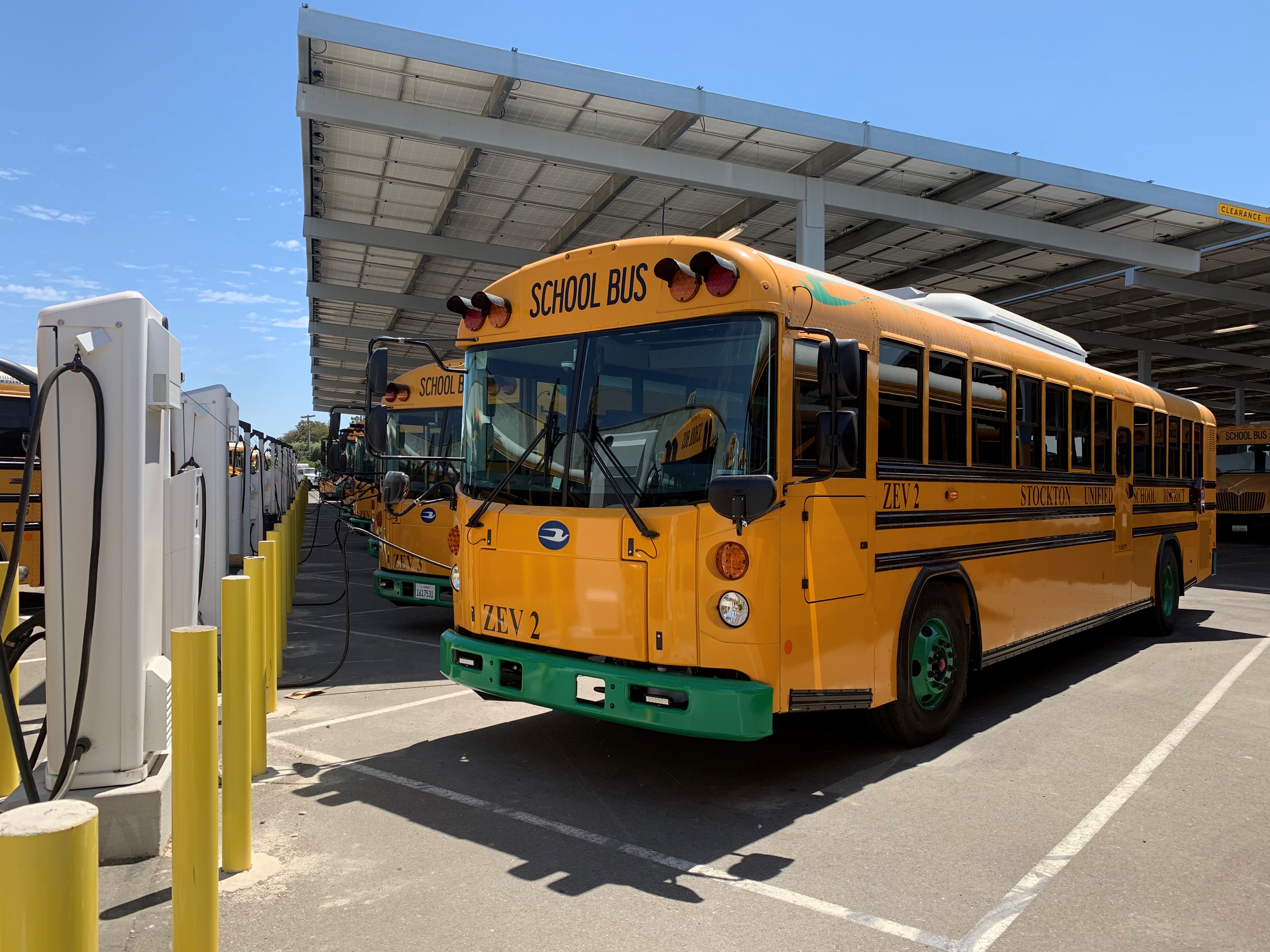 ---
Community Details
SUSD, the 15th largest public school district in California, serves over 41,000 students in 55 schools throughout the city of Stockton, California. Of the students enrolled with SUSD, 82% are considered to be socioeconomically disadvantaged (California Department of Education). One in six children in the San Joaquin Valley have asthma. Approximately 3.5% of SUSD students travel to and from school on diesel fueled school buses. 46 of SUSD's 55 schools are located within disadvantaged community boundaries. In 2019, Stockton was added to CARB's Community Air Protection Program.
Demographics of Community Served by Project
44% Hispanic or Latino, 21% Asian, 19% White, 12% Black or African American, and 4% Other
Median Household Income: $44,841  
Community Benefits
The battery electric school buses will operate almost exclusively in disadvantaged communities as identified through the CalEnviroScreen 4.0. Removing old, polluting diesel buses from the road will improve local air quality and eliminate the GHG emissions they produce. The school buses will also provide an opportunity for students to interact directly with a technology that will be instrumental in moving SUSD towards zero-emission operations. SUSD will leverage electric school buses and other zero-emission technologies into peer-led educational programs and materials for students, faculty, staff, and community members.
Outreach & Engagement Strategies
Culturally appropriate education materials 
Materials in English and Spanish
Web-based materials 
Social media
Public meetings
Educational Energy Patrol videos 
School curriculum centering around sustainability and energy
Surveys
Target Populations
Students in grades K-12
Parents 
District staff 
Community members
Low-income
English learners
Non-English speakers
---
Partnership Structure
Grantee
The Stockton Unified School District (SUSD) serves over 41,000 students in 55 schools throughout the Stockton, California. SUSD has an annual budget of $585 million used to provide high-quality instruction for each student. The district focuses heavily on student achievement through education, equity and ensuring all students finish high school and are college, career, and community ready. SUSD has a proven history of innovation especially related to sustainability practices, and an unparalleled commitment to its students, staff, and community. Stockton's battery electric school bus fleet has gained national attention because they were able to design and construct charging infrastructure - along with purchase and delivery of 6 school buses - in less than 11 months.
Project Partners
---
Contacts
Katie Baggese, Director of Transportation | (209) 933-7145 Ext. 2668 | SUSD
Savannah Gupton | CTE