Lincoln High School Clean Mobility in Schools Pilot
Clean Mobility in Schools Pilot Project
    
May 2020 - March 2024
Project Details
The Lincoln High School Clean Mobility in Schools Pilot Project (Pilot) takes place in the San Diego Unified School District. The Pilot creates transformative emissions reduction strategies for school transportation options and improves air quality. The Pilot benefits the entire Lincoln Cluster of schools that includes the high school and its 13 surrounding elementary and middle schools.  The goal is to increase the visibility of and access to zero-emission transportation options by placing commercially available zero-emission technologies and supporting charging infrastructure in the school. The project includes battery electric food delivery vehicles; a variety of zero-emission landscape and custodial equipment; zero-emission carshare vehicles; battery electric school buses with managed charging stations; a robust public education effort to support behavior changes for students, parents, and staff; electric bicycle sharing projects for senior students and teachers; and a replicable template for other districts to use for implementing similar projects.
Highlights
Piloting an electric bicycle lending library and education program at the high school.
Piloting battery electric food service and delivery trucks to expand district services.
Active transportation education programs specific to grade levels.
Battery energy storage projects at 2 school sites will reduce energy costs and support zero-emission battery electric vehicles and equipment.
Data collection and analysis is focused on vehicle performance, usage, and user surveys on both baseline vehicles and their new zero-emission countertypes purchased through the grant.
Lessons Learned
Location for infrastructure and battery energy storage projects should be flexible to accommodate site assessments and usage data. Alternative approaches and locations may be a better fit and reduce more greenhouse gases or vehicle miles travelled than initial recommendations.
Bicycle safety information should be flexible to accommodate various grade levels. Mentorships creates good stewardship of school equipment when offered at no cost.
Funding Details
Grant Amount: 

$9,775,349   

Resource Contributions: $176,600
Project Total: 

$9,951,549 
By the Numbers
Services, Vehicles & Equipment Funded
13 Battery electric school buses 

13 Level 2 chargers 

3 Level 3 (fast) chargers 

2 Zero-emission vehicles for school faculty carsharing and vanpooling 

2 E-bike-share programs for high school staff and students

30 E-bikes

1 Electric food delivery truck for the student food delivery program

1 Electric community event RV for safety officers to provide safety programs 

1

ENGIE battery-based energy storage system
Estimated Quantifiable Benefits
GHG emission reductions: 45,383 MTCO2e
Diesel PM reductions: 60 lbs
NOx reductions: 104,155 lbs
PM2.5 reductions: 2,313 lbs
ROG reductions: 1,667 lbs
Travel cost savings: $465,720
Fossil fuel-based transportation fuel use reductions: 478,772 gallons 
Direct jobs: 30
Indirect jobs: 13
Induced jobs: 21
---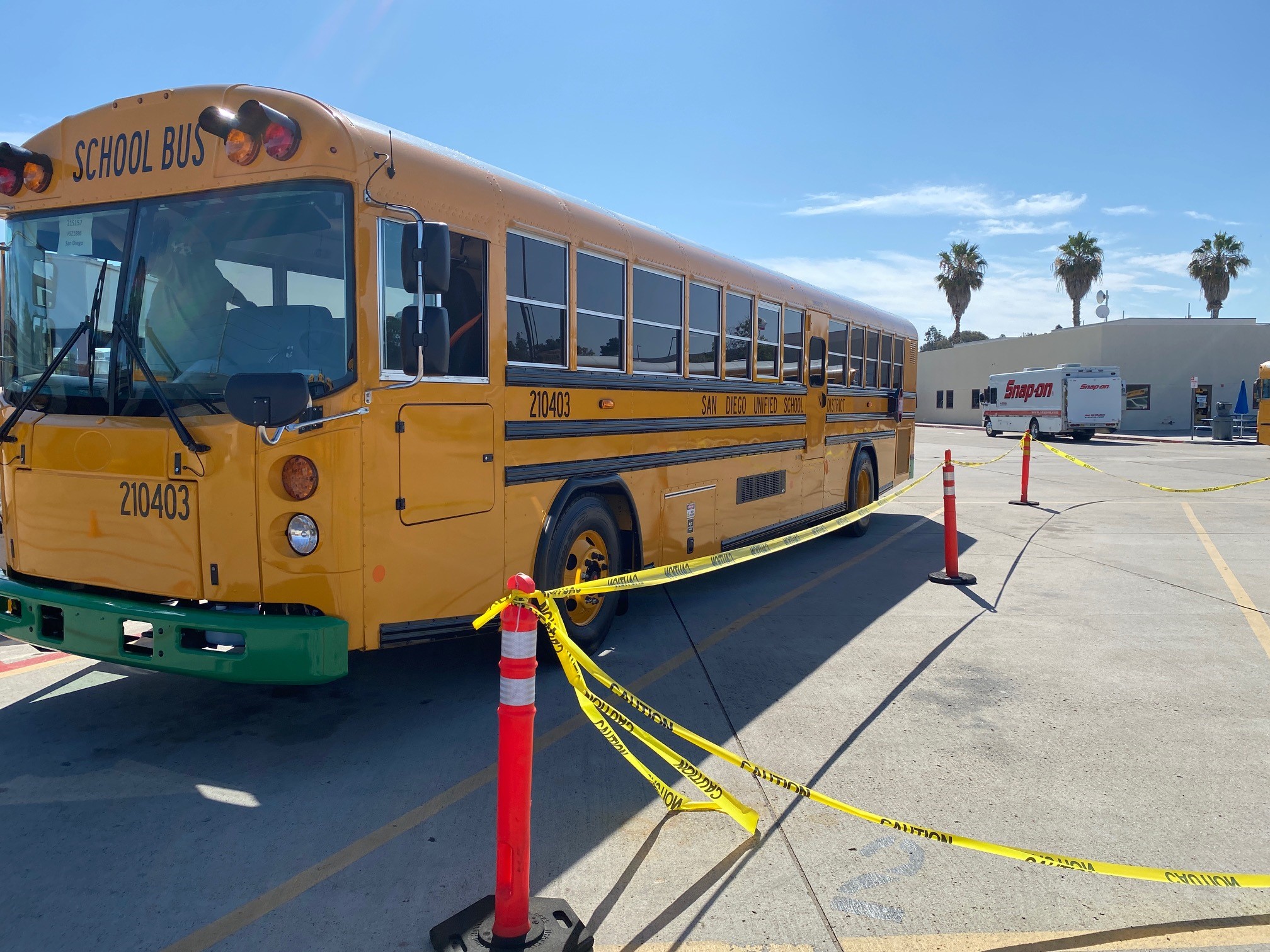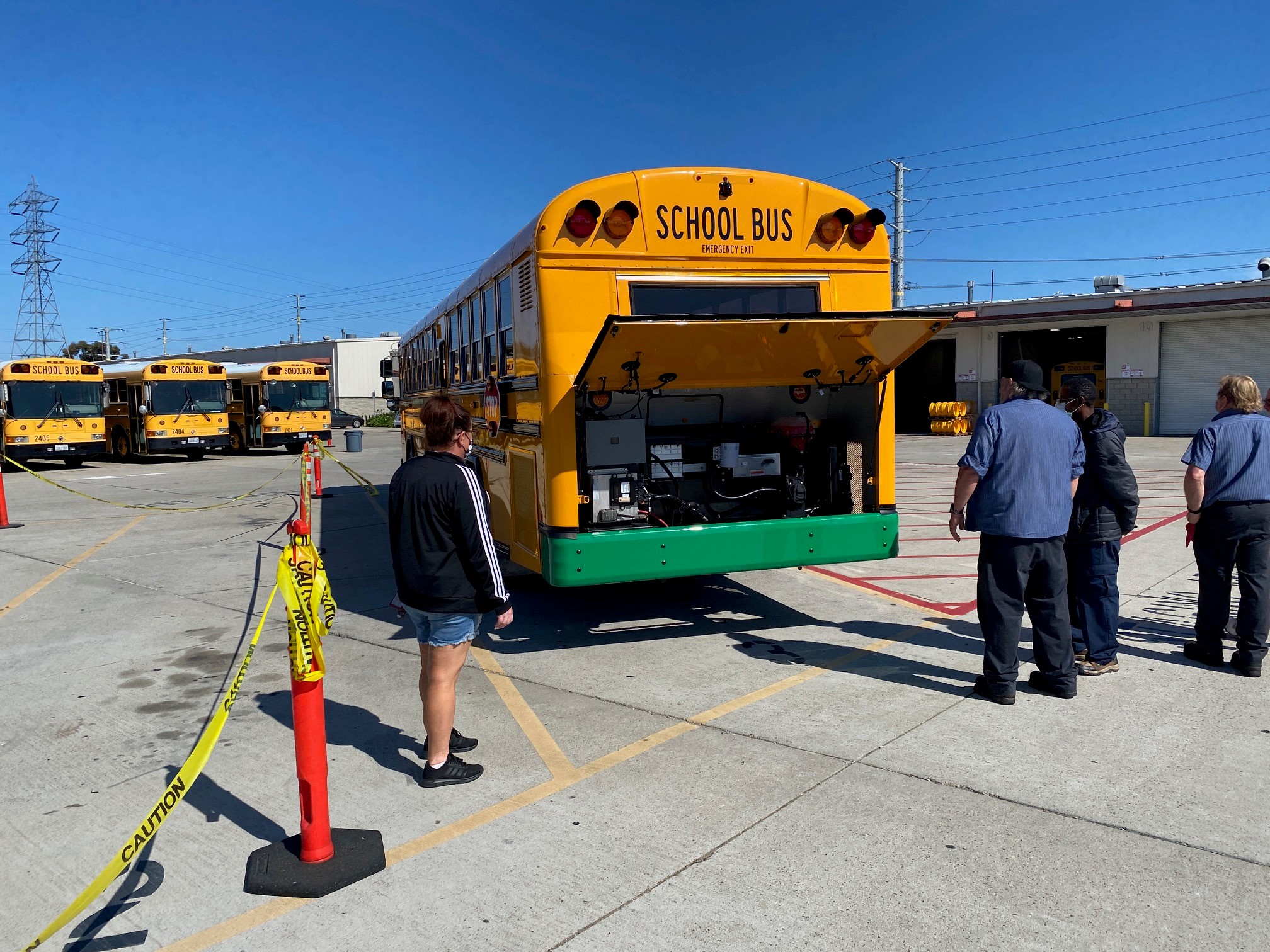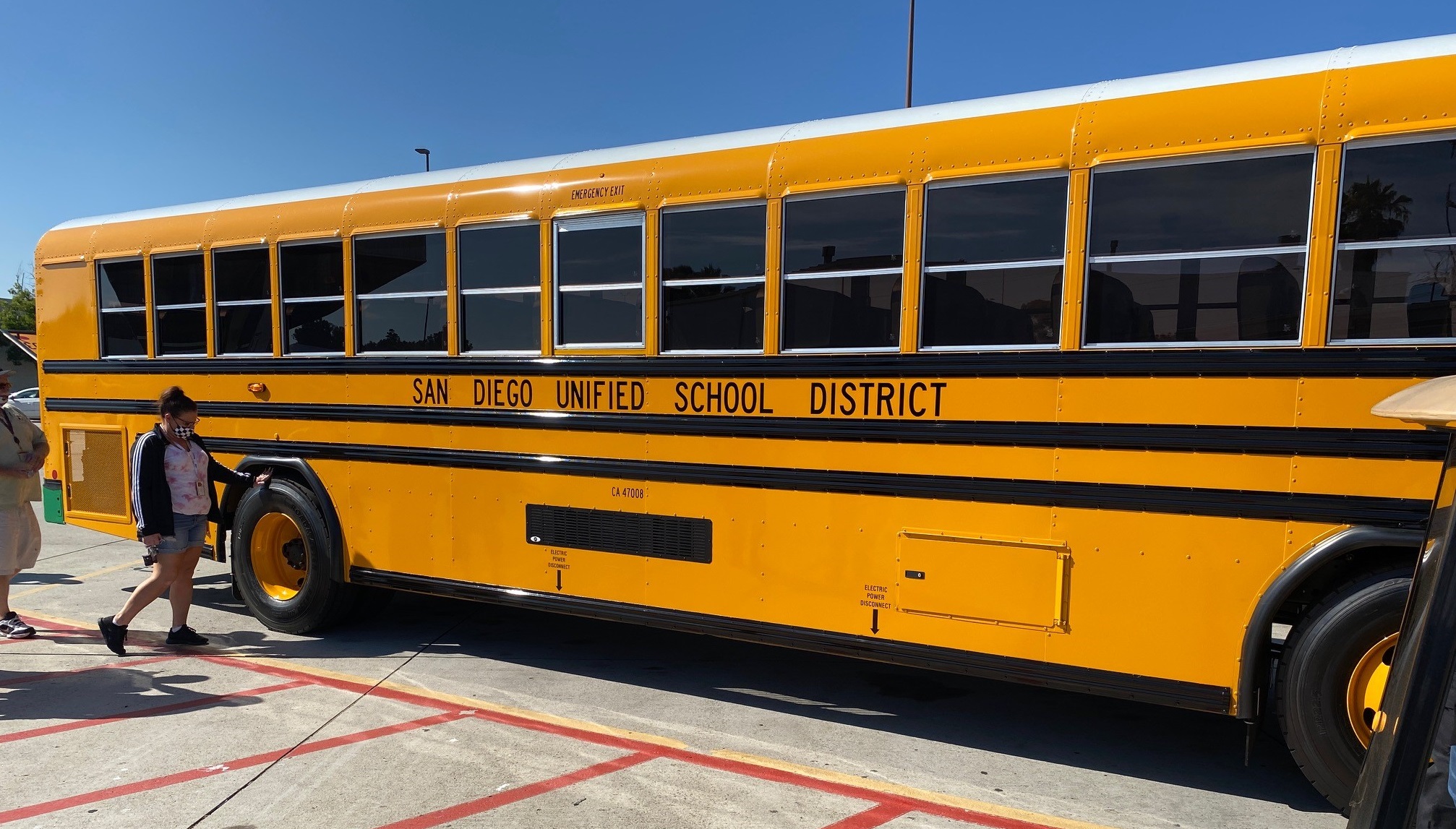 ---
Community Details
The San Diego Unified School District's Lincoln High School is located within a disadvantaged community near the Port of San Diego, an area with San Diego County's worst air quality. The minority student population is 99%, 76% higher than the state average.
Demographics of Community Served by Project 
53% Hispanic or Latino, 22% White, 11% Asian, 9% Black or African American, and 5% Other
Median Household Income: $42,449  
Community Benefits
The Lincoln High School Clean Mobility in Schools Pilot Project will increase the visibility of and access to zero-emission transportation. It replaces diesel school buses with zero-emission buses, as well as gasoline vehicles and equipment with zero-emission options. The Pilot is not only transformational in reducing emissions and galvanizing a community, but it will increase student attendance by providing exciting new programs focused on innovation. It will also benefit Lincoln High School's feeder elementary and middle schools, located within this disadvantaged community. 
Outreach & Engagement Strategies
Culturally appropriate education materials 
Materials in English and Spanish
Web-based materials 
Social media
Public meetings
Surveys

Zero-emission vehicle workforce training to high school and college students

Community workshops

Community event attendance
Target Populations
Students in grades K-12
Parents 
District staff 
Community members
Low-income
English learners
Non-English speakers
---
Partnership Structure
Grantee
San Diego Unified School District (SDUSD) is a K-12 school district. It is the second largest school district in California with an enrollment of 117,000 students. Project implementation through the SDUSD will provide a format to introduce equity and climate goals in other high schools throughout California.
Project Partners
---
Contacts