Carl Moyer Program: Case-by-Case Determinations
An air district may request CARB approval of a project or other Carl Moyer Program (CMP) element that varies from the requirements of the CMP Guidelines on a case-by-case (CBC) basis. CARB may approve such a project or other program element if this approval would not adversely impact achievement of real, surplus, quantifiable, enforceable, permanent, and cost-effective emission reductions, would not significantly reduce program transparency, and is not prohibited by statute.
These case-by-case decisions are based on CMP Guidelines and supplementary guidance (including emails and mail-outs) in effect on the date of the decision. Please also note that projects must consider all supplementary guidance issued as of the fully executed contract date. Therefore, future supplementary guidance issued prior to contract execution that would change the eligibility or funding amount for a project will supersede these case-by-case decisions.
These decisions are posted for transparency and to assist districts in preparing future case by case requests. These decisions are project specific and may not be applicable to other projects. Districts should seek the guidance of CARB staff for each determination that is not addressed in the CMP Guidelines and supplemental materials.
For more information on case-by-case decisions, refer to the Carl Moyer Program 2017 Guidelines, (Chapter 3, Section U).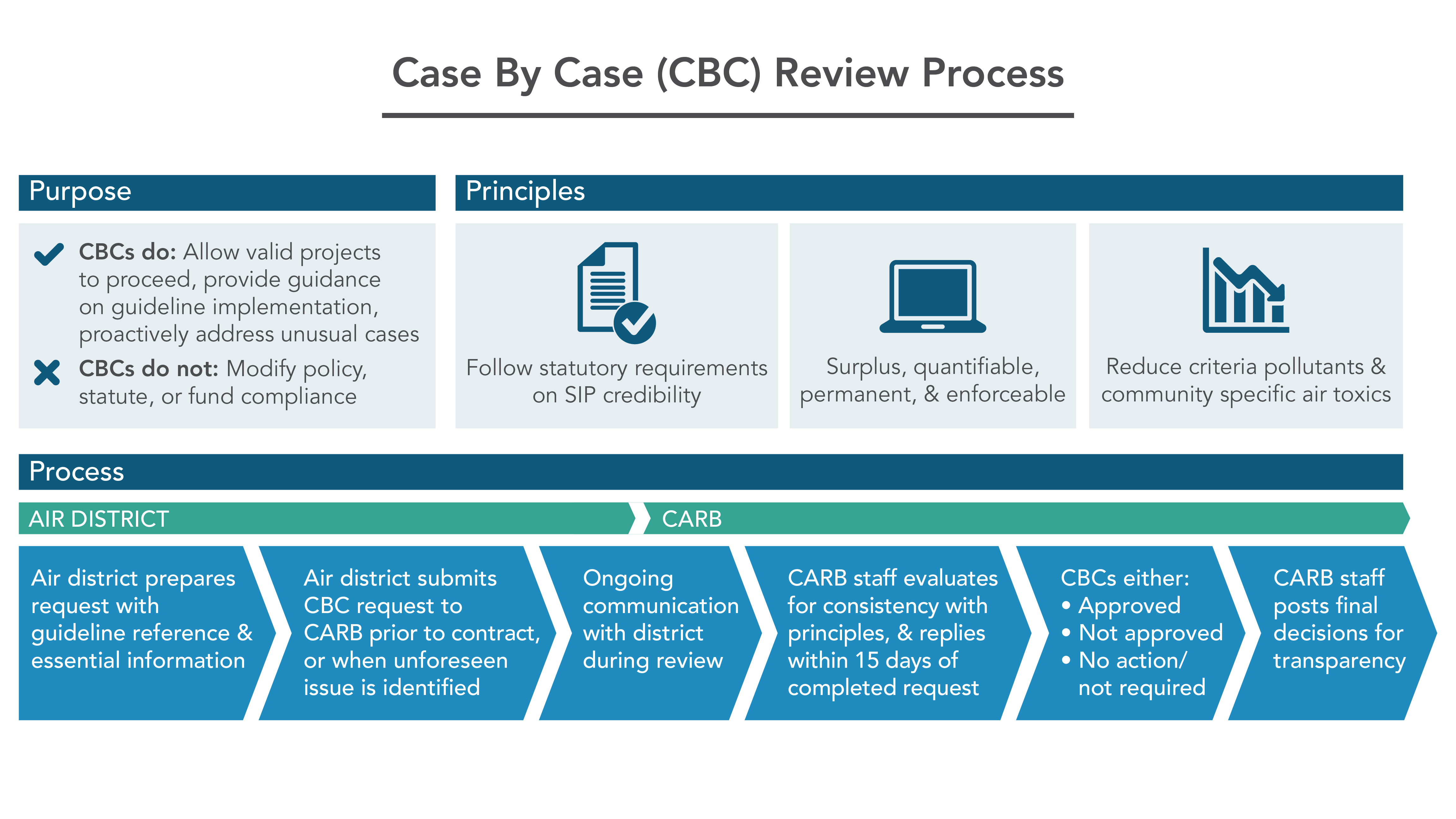 | Project Type | Total Number | Last Updated |
| --- | --- | --- |
| Program Administration |         9 | May 8, 2023 |
| Project Co-Funding |        19 | November 27, 2023 |
| On-Road Heavy-Duty Vehicles |        64 | November 14, 2023 |
| Emergency Vehicles |         7 | November 22, 2019 |
| Off-Road Equipment |        104 | November 14, 2023 |
| Portable and Stationary Agricultural Sources  |        45 | May 24, 2016 |
| Locomotives |        29 | August 11, 2023 |
| Marine Vessels |        76 | October 12, 2023 |
| Light-Duty Vehicles |         2 | November 21, 2013 |
| Lawn and Garden Equipment Replacement |         1 | September 6, 2012 |
| Infrastructure |         14 | November 16, 2023 |
For information on case-by-case decisions for the Lower-Emission School Bus Program, refer to the Lower-Emission School Bus Program Case-by-Case Determinations