Aliso Canyon Natural Gas Leak - Infrared Camera Images and Videos
This page last reviewed February 16, 2021
While methane is invisible to the naked eye, it can be seen using infrared cameras. On Thursday, February 11, 2016 an infrared camera was set up and pointed toward the top of the leaking well.  This camera took video of the top of the well during the period when SoCal Gas used a relief well to intercept the leaking well deep underground and pump mud and fluids to prevent gas from traveling up the leaking well. The video recording started at 6:35am in the morning and continued until 9:25 am.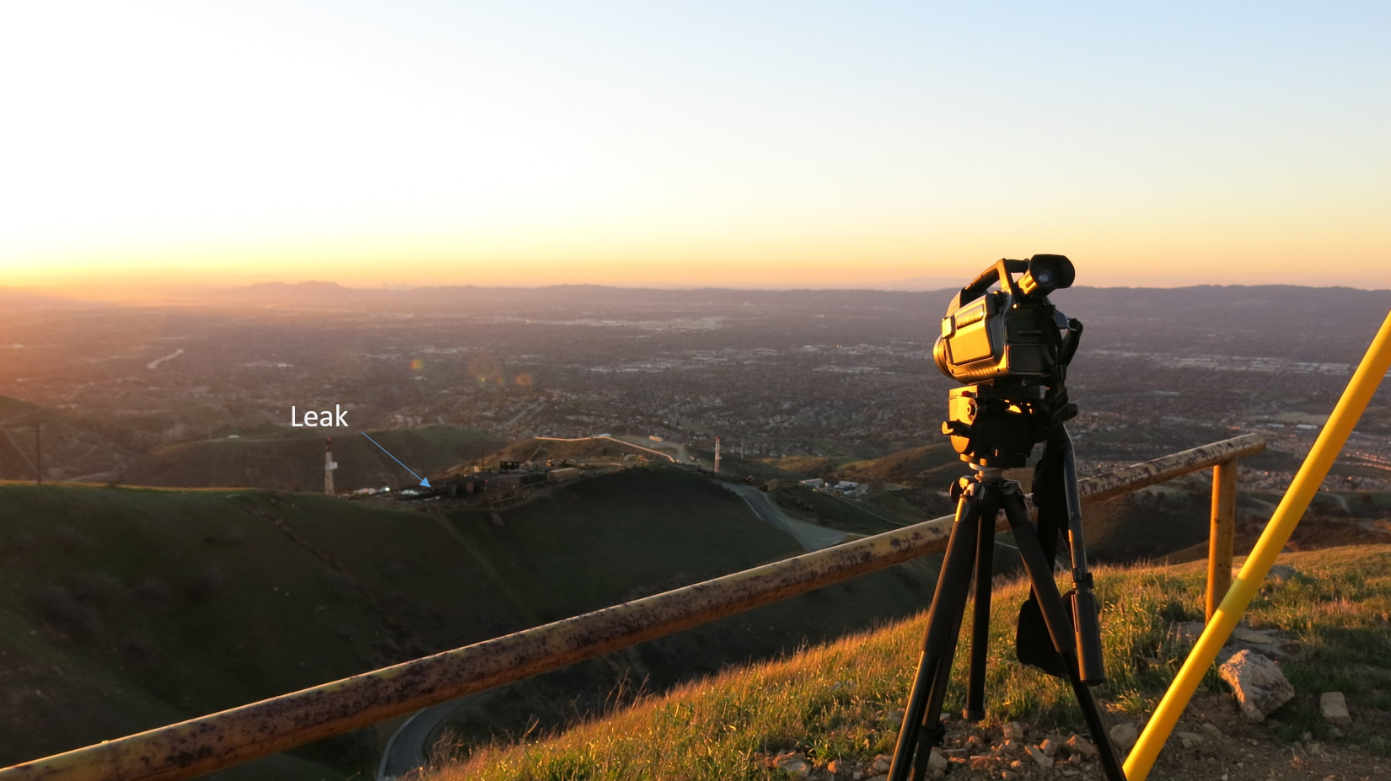 The video demonstrates that the flow of methane from the site of the leaking well  was halted at approximately 7:45 am, and did not reappear for the duration of the video recording.   Additional video was taken at 3:50 pm and confirms the initial control of the well leak. As of Thursday, February 18, the well was permanently sealed.  For more information regarding the seal, please see the following information by the California Department of Conservation.
The above video clip has been trimmed to showcase the methane plume being stopped on February 11, 2016. The full-length video (.mp4 format) can be downloaded from CARB's server. Subsequent videos can be accessed sequentially below. 
CARB continues to visit the site and take confirmatory IR images to confirm no natural gas is visibly leaking.
---
Images and Video Footage:
Dates and Links
Infrared Image

February 11, 2016, 7:40 am

Methane can be seen as a gray plume starting from the well and being blown to the right in the image by the wind.

February 11, 2016, 7:45 am

The gray plume is no longer visible.

February 11, 2016, 3:48 pm

Monitoring of well shows no discernable sign of leak

February 12, 2016, around 3:30 pm

Monitoring of well shows no discernable sign of leak

February 13, 2016, around 11:35 am

Monitoring of well shows no discernable sign of leak

February 14, 2016, around 11:00 am

Monitoring of well shows no discernable sign of leak

February 15, 2016, around 9:00 am

Monitoring of well shows no discernable sign of leak

February 16, 2016, around 12:30 pm

Monitoring of well shows no discernable sign of leak, camera and video are from a different point, Site SS1.

Video: .wmv file, 8 minutes length

 

February 17, 2016, around 11:30 am

Monitoring of well shows no discernable sign of leak

February 18, 2016, around 11:40 am

Monitoring of well shows no discernable sign of leak
Return to Aliso Canyon Main Page