Outcomes and Results for Truck Loan Assistance Program
Project Statistics
As of July 31, 2023, approximately $260 million in contributions to the program had been leveraged to provide $3.1 billion in financing for the purchase of over 45,000 cleaner trucks, exhaust retrofits, and trailers. Loan enrollments had been increasing over most years of the program and have remained mostly steady since 2018, except for an increase in calendar year 2021 as shown below, which shows activity by calendar year.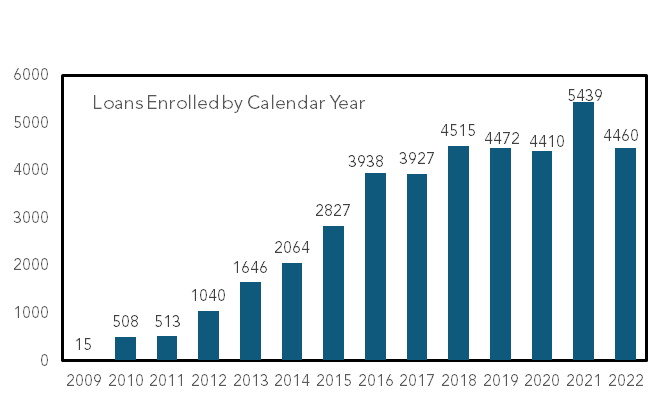 Staff use a number of methods to evaluate whether the Truck Loan Assistance Program achieved its goals. CARB directed CPCFA to perform three of more annual audits of participating lenders' loan program portfolios. The audits provide insight for how each participating lender conducted their business and whether they are adhered to CARB and CPCFA regulations. CPCFA also provides monthly reports to CARB on all loans enrolled in the program. The audit reports and loan data from CPCFA provide documentation to help CARB monitor the program.
The program benefitted small business fleet operators that were unable to qualify for traditional financing at reasonable rates. Though the program had an interest rate limit of 20 percent, data provided by CPCFA shows the average interest rate of the loans in the program was 13 percent. About 96 percent of enrolled loans had been issued to fleet owners with 10 or fewer employees and about 45 percent of enrolled loans had been issued to owner operators with one truck. The loan program successfully leveraged public funds into private financing, having leveraged $260 million in contributions into $3.1 billion in private financing.
Almost half of the Truck Loan Assistance Program funding has been spent within and benefiting individuals living in low-income and disadvantaged communities. The program had broad statewide appeal including in rural regions.
Project Reports
Biennial Reports to the Legislature on the AB 118 Air Quality Improvement Program