MEDIA ADVISORY: Clean air, climate luminaries to present breakthrough solutions, research at CARB's Southern California Headquarters
Contacts
Melanie Turner
California Air Resources Board
Lynda Lambert
California Air Resources Board
RIVERSIDE – The California Air Resources Board's Clean Air Leadership Talks, featuring presentations on the work of the six recipients of the 2020-21 Haagen-Smit Clean Air Award, are set to take place between 2:00 p.m. and 3:30 p.m. Friday, May 20. Presented by giants in the field of air quality and climate science, and environmental policy and environmental justice, the talks feature breakthrough solutions and research on subjects ranging from the harmful health impacts of diesel particulate pollution to lifetime efforts to build alliances to reduce air pollution and to address air pollution inequalities. The California Air Resources Board will officially present the Haagen-Smit Clean Air Awards earlier that same day, at 9 a.m. during CARB's regular board meeting.
Four winners are attending the talks in person, traveling from as far as Germany and Croatia, and two others (Kunsheng Li and Richard C. J. Somerville, Ph.D.) have sent pre-recorded presentations.
CARB has, since 2001, annually bestowed the distinguished Haagen-Smit Clean Air Awards to extraordinary individuals to recognize significant career accomplishments in air quality and climate science. Due to the hiatus in awards by the pandemic, this set of prizes is for the combined years of 2020 and 2021.
When: 2:00-3:30 PM, Friday, May 20, 2022
Where: CARB's new Southern California Headquarters – Mary D. Nichols Campus, 4001 Iowa Ave, Riverside, CA. Parking is available. The talks also will be livestreamed and available for viewing later on CARB's YouTube channel, and accessible from the Haagen-Smit Award Recipients webpage.
---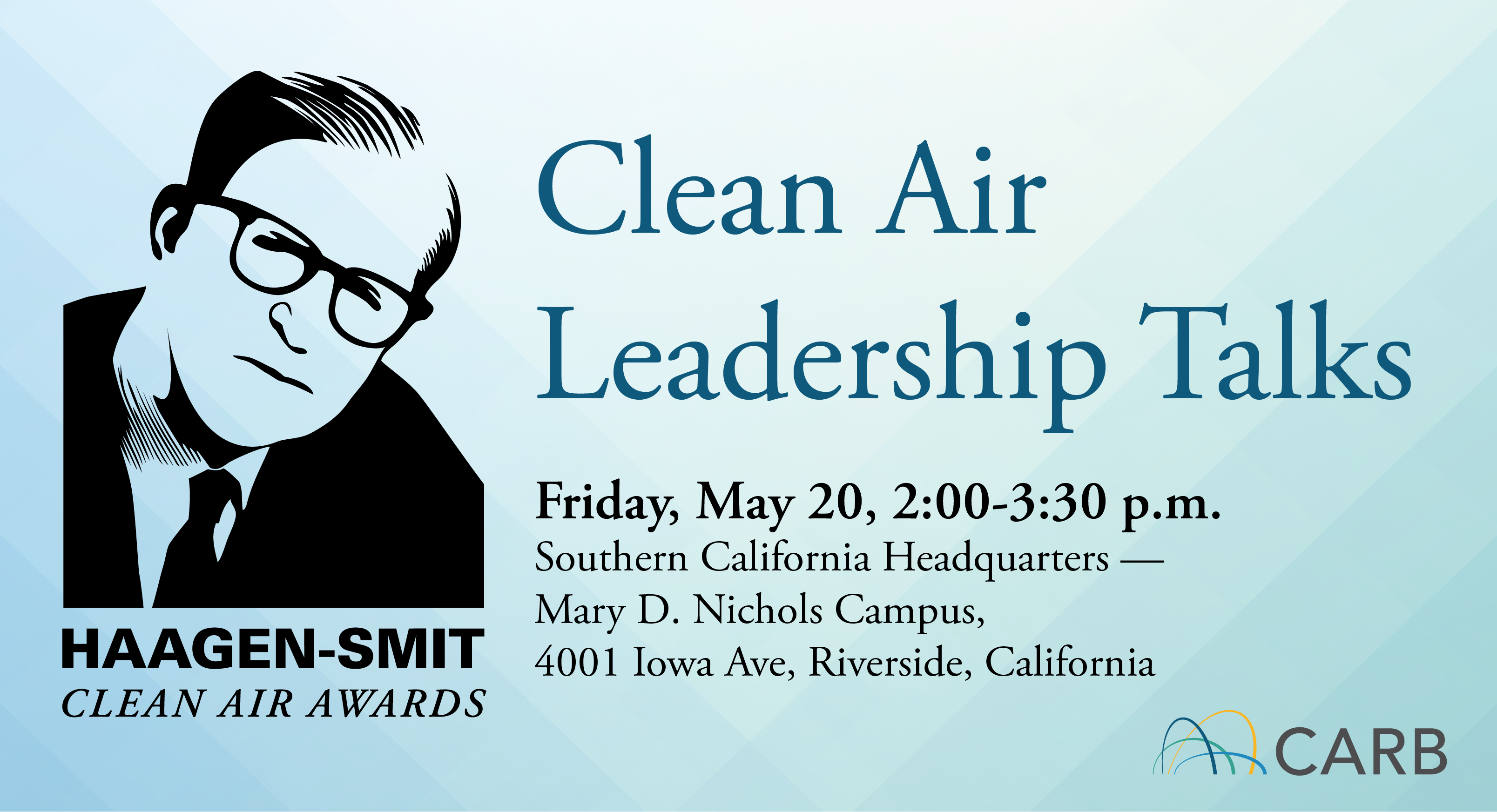 ---
Clean Air Leadership Talks
The Clean Air Leadership Talks feature a 10-minute overview by each of the 2020-21 Haagen-Smit Clean Air Award recipients.
About the 2020-21 Haagen-Smit Award Winners
David Kittelson, Ph.D., Frank B. Rowley Distinguished Professor, Mechanical Engineering, University of Minnesota
Air Quality Science / Technology
Professor David Kittelson is considered "the" world leader and pioneer of diesel emission research. Very early on, in the 1970s, Professor Kittelson began lecturing auto manufacturers and agencies on the human health impacts of diesel particulate pollution and the need for mitigation. His research, at the frontier of combustion engine emission studies, provided the fundamental foundational knowledge of diesel particle formation that enabled today's current stringent regulations. He has also worked tirelessly on technologies to reduce emissions from engines while also improving performance. Professor Kittelson has been a professor at the University of Minnesota since 1980.
Kunsheng Li, Director of Vehicle Emission Management Division, Beijing Ecology and Environment Bureau, China
International Air Quality Leadership
Mr. Kunsheng Li has worked for more than 20 years on the management of vehicle emissions in China, with a focus on Beijing. Similar to the leading role on air quality that California has played for other parts of the U.S., Beijing has led the way toward greatly improved air quality for China. Mr. Kunsheng Li steadily promoted and implemented numerous mobile source emission control measures and coordinated legislation that significantly contributed to the improvement of Beijing's atmospheric environmental quality, with Beijing becoming China's leading city on mobile source emissions control.  He is also a Senior Engineer and Vice Chairman of the Automotive Engineering Society of China, and a member of the Oil Produce Application and Development Professional Committee of China's Petroleum Society.
Paul M. Ong, Ph.D., Research Professor and Director, Center for Neighborhood Knowledge, University of California Los Angeles
Air Quality Community Service / Environmental Justice
Professor Paul M. Ong has engaged in a lifetime career of multifaceted commitment to air quality and community service. Specifically, he has worked for more than three decades as a scientist and educator on interdisciplinary social science and environmental teaching, policy-focused research, and community engagement. He is now the Director of the Center for Neighborhood Knowledge at the University of California Los Angeles that works to contribute to positive social change through information from applied research at regional and local scales. Professor Ong's more than 100 publications addressing racial inequalities have had an outsized influence on concerns for environmental justice. Professor Ong is also a Research Professor at the UCLA Luskin School of Public Affairs.
Stephen E. Schwartz, Ph.D., Senior Scientist Emeritus, Brookhaven National Laboratory
Air Quality Research
Dr. Stephen E. Schwartz is a recognized expert in atmospheric chemistry, radiative forcing of climate change, and the response of climate to anthropogenic factors. His research specialty includes the influences of energy related emissions on climate, with a focus on the role of atmospheric aerosols. For example, he developed now widely used approaches to characterize the rate and extent of acid-forming reactions in clouds. Several of Dr. Schwartz's publications have been highly influential research milestones and have impacted important policies including the Clean Air Act. Trained as a chemist with specialization in physical chemistry and chemical kinetics, Dr. Schwartz has been on the scientific staff at Brookhaven National Laboratory since 1975.
Richard C. J. Somerville, Ph.D., Distinguished Professor Emeritus, Scripps Institution of Oceanography, University of California San Diego
Climate Change Science
Professor Richard C. J. Somerville is an internationally recognized climate scientist and an expert on communicating clearly to the public what scientists have learned about climate change. His research has led to many important innovations in climate computer models, and he has copiously published research on myriad climate science topics including geophysical fluid dynamics, thermal convection, and radiative transfer, to name just a few. Professor Somerville has been a professor at Scripps Institution of Oceanography at the University of California San Diego since 1979.
Jürgen Resch, Executive Director of Environmental Action Germany (Deutsche Umwelthilfe)
Environmental Policy
Mr. Jürgen Resch has worked tirelessly to create broad alliances across nongovernmental, scientific, and industrial organizations to bring forward available technology to reduce air pollution. Mr. Resch also has persistently championed the need for the legal jurisdiction of environmental rights, regulatory legislation, and strong market surveillance — and has not hesitated to uncover fraud. For example, he took action in Germany on the automaker diesel scandal by providing solid data on real-world emissions and taking legal action to get access to relevant information. Mr. Resch is currently an Executive Director of Environmental Action Germany, one of the most active nongovernmental organizations in Germany for clean air policy.

Special Recognition for Haagen-Smit Clean Air Award Nominee
As part of Friday's Clean Air Leadership Talks, CARB will provide special posthumous recognition for Haagen-Smit Clean Air Award nominee Martin Williams, Ph.D. for his long and distinguished career in air quality. 
Martin Williams, Ph.D. (1947–2020), Former Professor, Environmental Research Group at King's College London, UK
Posthumous Recognition for Outstanding Contributions to Air Quality
The late Professor Martin Williams' leading work on air pollution science and policy started in the late 1970s. He became a significant presence in the field and was the guiding force in almost all major international negotiations on air pollution in recent decades.
About the Haagen-Smit Clean Air Awards
The prestigious Haagen-Smit awards are given annually to those who have made outstanding contributions in the fields of clean air, climate change, technology and related policies. Considered to be California's premier air quality award, it is named for CARB's first chairman, the late Dr. Arie Haagen-Smit — best known for linking the smog in Southern California to automobiles. The award recognizes those who have followed in his footsteps in pursuit of clean air. The Haagen-Smit Clean Air Awards have been presented since 2001. Winners have ranged from research scientists to educators to public agency administrators.
CARB's mission is to promote and protect public health, welfare, and ecological resources through effective reduction of air pollutants while recognizing and considering effects on the economy. CARB is the lead agency for climate change programs and oversees all air pollution control efforts in California to attain and maintain health-based air quality standards.