Governor Newsom announces climate pollution continues to drop below 2020 target while state's economy grows
Latest California greenhouse gas inventory shows alternative energy surpasses fossil-powered electricity
SACRAMENTO – Governor Gavin Newsom today announced that greenhouse gas (GHG) emissions in California continued to fall ahead of schedule in 2017 as the state's economy grew ahead of the national average, according to the California Air Resources Board's latest state inventory of climate-changing emissions.
The data also shows that for the first time since California started to track GHG emissions, the state power grid used more energy from zero-GHG sources like solar and wind power than from electrical generation powered by fossil fuels. In addition, the data demonstrates that emissions from the transportation sector did not rise as fast as in previous years.
"California is proving that smart climate policies are good for our economy and good for the planet," said Governor Newsom. "As the Trump Administration attempts to obliterate national climate protections, California will continue advancing the cause of American climate leadership."
In 2017, the California economy grew at 3.6 percent – 1.4 percent above the national average, according to the state Department of Finance. 2017 was also the second year in a row in which GHG emissions fell below the 2020 reduction target of 431 million metric tons established by the Global Warming Solutions Act of 2006 (Assembly Bill 32). GHG emissions came in at 424 million metric tons of CO2 equivalent in 2017, a decrease of five million metric tons from 2016.
"This is further evidence that California's groundbreaking climate regulations are helping to deliver the greenhouse gas reductions needed to meet our 2020 target – and give us a running start at our even more ambitious 2030 target, too," said California Air Resources Board Chair Mary D. Nichols.
---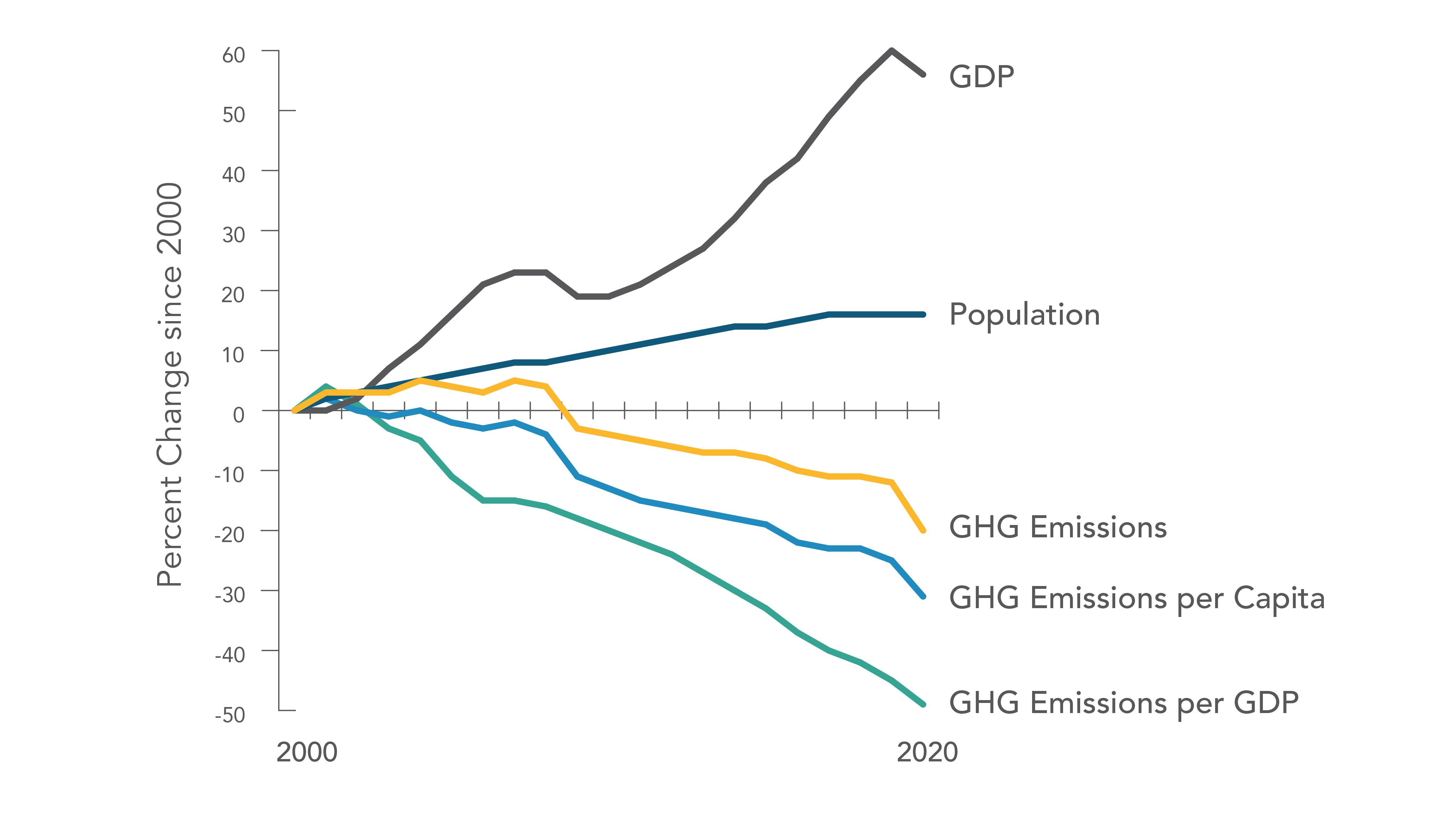 ---
In addition, the carbon intensity of the state's economy (the amount of carbon pollution produced per million dollars of economic output) also continued its decline, by 4.5 percent since 2016, and the per capita emissions continued to drop, by 2 percent to 10.7 tons of carbon dioxide equivalent per person (the national average is 19.9 tons of carbon dioxide equivalent per person.) This year's full GHG Emissions Inventory has complete details, but highlights include:
Electricity
Emissions from electricity generation made up about 15 percent of 2017 statewide greenhouse gas emissions. In 2017, those emissions fell nine percent from 2016, the largest decline of any economic sector. A large increase in zero-emission energy resources drove the reduction. Those clean sources powered 52 percent of all California's electricity consumed in 2017.
Transportation
Vehicle tailpipe emissions accounted for 37 percent of California's 2017 GHG emissions. Those emissions rose, but showed signs of leveling off. The 2017 increase was 0.7 percent, down from two percent the preceding year. Most of the greenhouse gas emissions increase came from passenger vehicles.
Industry
Industrial emissions over multiple sectors showed a slight reduction or remained flat. California's industrial sectors generated 21 percent of state GHGs in 2017. Oil & gas refineries and hydrogen production were responsible for one-third of those emissions. The rest came mostly from oil & gas extraction, cement plants, glass manufacturers and large food processors.
Agriculture
Livestock emit more than 50 percent of the methane in California. Methane has up to 25 times the heat-trapping capacity of CO2 and is the most common short-lived climate pollutant (super pollutant) in the state.
The California Department of Food and Agriculture is implementing programs that include incentivizing dairy manure digesters to reduce emissions from industrial dairies by replacing open waste lagoons. The digesters enable dairy operators to capture manure methane and either use it for onsite power generation or inject this renewable natural gas into a pipeline for use as transportation fuel.
Though some dairy methane emissions have declined, small annual increases in overall methane emissions have continued. Therefore, California has gone beyond just dairy digesters. CARB has adopted a regulation to reduce methane emissions from oil and gas production, processing and storage facilities, as well as regulating methane emissions from landfills and emissions of hydrofluorocarbons from commercial refrigeration equipment.
Super Pollutants
Emissions continued to rise from other super pollutants, such as refrigerants used in automobile, commercial and residential air conditioners, as well as methane. This group of gases captures heat at many times the level of carbon dioxide, the most common climate pollutant.
Super pollutants provide an opportunity, too. They reach the atmosphere in small amounts compared to CO2, but because they can have such a dramatic warming impact, reducing them can provide a proportionately larger benefit in the short term, giving us additional time to control the sources of carbon dioxide.
Background
The state GHG Emissions Inventory compiles data on GHG emissions, including carbon dioxide and climate super pollutants. The inventory helps to track emissions across all major sectors of the economy. Due to the schedules of various government agencies that supply data needed for estimating GHG emissions, the GHG inventory is generally updated 18 months after the end of each calendar year. 
AB 32 set a GHG reduction target of a return to 1990 levels by 2020. The state reached that goal in 2016. Senate Bill 32, signed into law in 2016, set a 2030 emissions reduction target 40 percent below 1990 levels. The state currently reduces GHG emissions through an integrated set of regulations and programs designed to address sources from every sector, including the cap-and-trade program; the Low Carbon Fuel Standard (LCFS) and the zero-emission vehicle (ZEV) program.
California's long-term goal is to become carbon neutral by 2045 following an Executive Order by Governor Jerry Brown and passage of Senate Bill 100 (DeLeon, 2018). In order to keep the rise in global average temperatures below 2 degrees Celsius and avoid the worst impacts of climate change, scientists agree that emissions and sinks of carbon emission must be net zero by the second half of the century.
CARB is the lead agency in California for cleaning up the air and fighting climate change to attain and maintain health-based air quality standards. Its mission is to promote and protect public health, welfare, and ecological resources through the effective reduction of air and climate pollutants while recognizing and considering effects on the economy.