Five luminaries receive special 50th Anniversary edition of California's premier air quality award
CARB honors former Governor Arnold Schwarzenegger, former U.S. EPA Administrator Gina McCarthy, world-renowned scientist Mario Molina, and influential policymakers David Hawkins and Henry Waxman
SACRAMENTO - The California Air Resources Board today honored five recipients of the Haagen-Smit Legacy Awards, California's premier award recognizing individuals who have made outstanding contributions to improving air quality. The contributions of this year's award winners will have lasting impacts not only for air quality and climate goals in California, but on an international scale.
In honor of the California Air Resources Board's 50th anniversary, the state's clean-air agency recognized the outstanding contributions that each of the five winners made during a specific decade since the inception of the California Air Resources Board. The agency was created when Governor Ronald Reagan approved the Mulford-Carrell Act in 1967, and the first Board meeting was held Feb. 8, 1968 — 50 years ago today.
"Our honorees span the past 50 years of progress toward clean air. Each played a leading role in this struggle for clean air and a healthy economy," CARB Chair Mary D. Nichols said. "Individually our honorees have conducted ground-breaking research or shaped pioneering clean-air policies. Together, these five remarkable individuals are being recognized for their leadership, courage, and innovation. Californians owe them a debt of gratitude for their contribution to improved public health in California, across our nation, and throughout the world."
Considered the "Nobel Prize" in air quality and climate change achievements, the Haagen-Smit Clean Air Awards are given annually to individuals who have made significant lifetime contributions toward improving air quality and climate change science, technology and policy, furthering the protection of public health. In honor of the 50th Anniversary, this year's awards are named the Haagen-Smit Legacy Awards.
---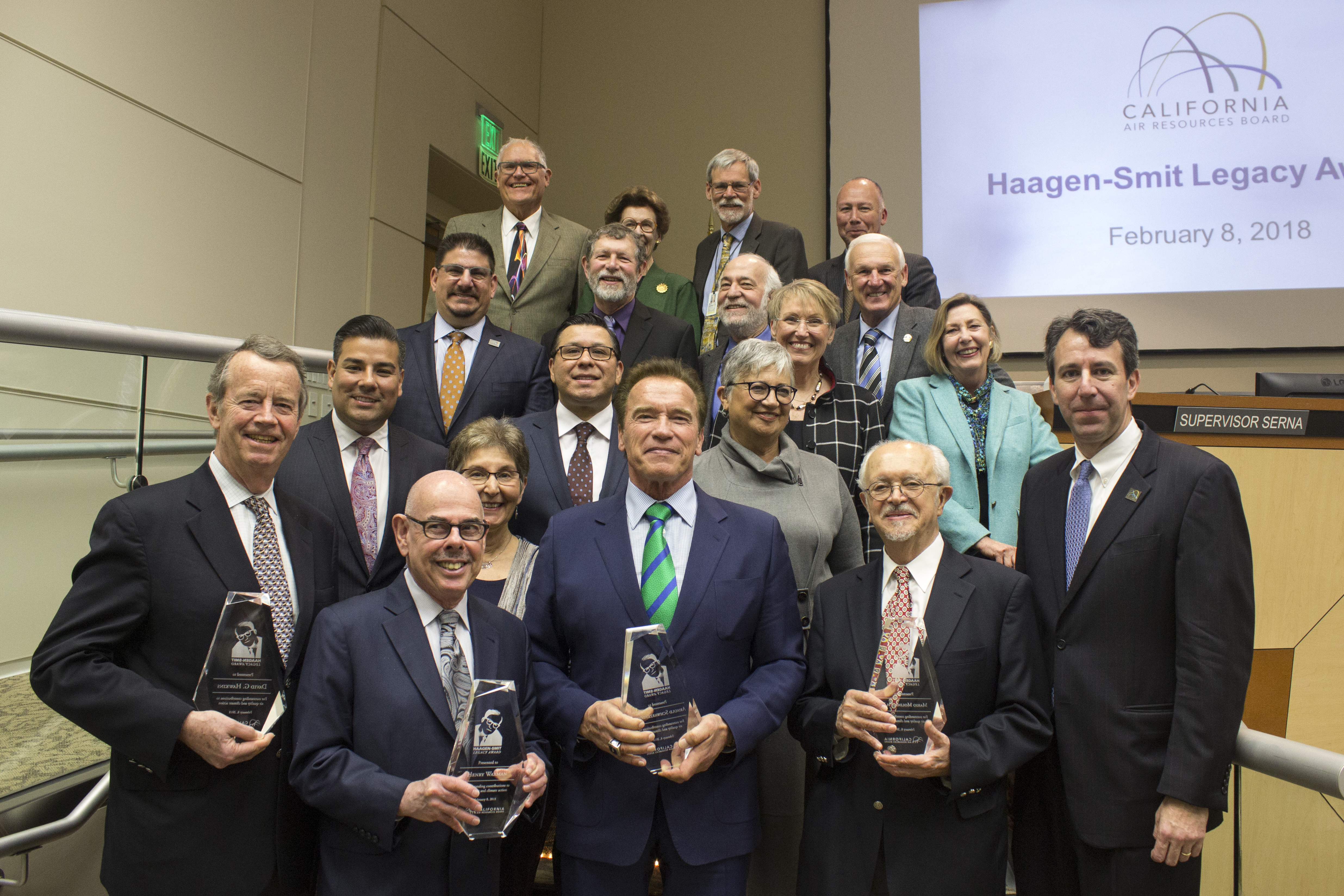 ---
---

---
The Legacy Award Recipients
David G. Hawkins, Director, Natural Resources Defense Council's Climate Center
David Hawkins was one of the Natural Resources Defense Council's first staff members in 1971. He is a leader in the development, advocacy and implementation of sustainable and science-based clean air policies, notably the Clean Air Act, which improved the quality of life for all Americans. With expertise in advanced coal technologies and carbon dioxide capture and storage, Mr. Hawkins has worked with U.S. Congress, the Executive Branch, and the business community to design policies that will slow, stop, and reduce the emissions of global warming pollution. His legacy of advocating for health-protective air quality policy will have positive effects on Americans' health for years to come.
Henry Waxman, Chairman, Waxman Strategies
Representative Henry Waxman, who continues his decades-long leadership for environmental protection today, served 40 years in Congress where he was a leader in the development of numerous legislative achievements on environmental matters. Mr. Waxman's legislative work and tenacity earned him wide recognition as an accomplished legislator. President Obama described him as "one of the most effective legislators of his or any era." Mr. Waxman was the author of the landmark 1990 Clean Air Act Amendments, the Safe Drinking Water Act, and multiple laws to reduce greenhouse gas emissions and protect children from toxic pollution. As Chairman of Waxman Strategies, a public affairs and strategic communications firm, he continues to focus on the issues he championed while in Congress, including health care, environment, energy, technology, and telecommunications. He also serves as a Regent Lecturer at UC Los Angeles and an advisor and lecturer at the Johns Hopkins Bloomberg School of Public Health.
Mario Molina, Ph.D., Distinguished Professor of Chemistry and Biochemistry, Scripps Institution of Oceanography, University of California, San Diego
Professor Mario Molina's pioneering research on chlorinated gases in the atmosphere laid the foundation for international efforts to curb growth of the ozone hole, and is now shaping policy to curb short-lived climate pollutants. His ground-breaking research has been widely recognized around the world, and the 1987 Montreal Protocol on Substances that Deplete the Ozone Layer was one of the most successful treaties of any kind thanks to research conducted by Professor Molina and his colleague Dr. Sherwood Rowland, for which they both received the 1995 Nobel Prize for Chemistry. Professor Molina also leads the "Centro Mario Molina," a Mexican nonprofit focused on finding solutions to environmental challenges including climate change and air pollution. He is a pioneer in translating atmospheric science research into scientifically sound policies that protect human health and the environment.
Governor Arnold Schwarzenegger, Chairman, USC Schwarzenegger Institute for State and Global Policy
Among the most influential actions taken by Governor Arnold Schwarzenegger was his support of the California Global Warming Solutions Act of 2006 (Assembly Bill 32) where he worked with leaders of both major political parties to pass this bold and historic state law. Continuing his commitment to environmental leadership, in 2011 he co-founded R20, a global nonprofit of subnational governments and regional leaders working together to address climate change and build a green economy. In 2012 he partnered with the University of Southern California to launch the USC Schwarzenegger Institute to continue his work on the many policy initiatives he championed during his two terms as Governor, 2003-2011.
Gina McCarthy, Professor of the Practice of Public Health, Department of Environmental Health, Harvard T.H. Chan School of Public Health; Director, Harvard's Center for Health and the Global Environment
While serving as Administrator of the U.S. Environmental Protection Agency from 2013 to 2017, Gina McCarthy's leadership on development and implementation of the Clean Power Plan and a whole suite of climate policies are a long standing legacy that benefits the nation and the world. Her tenure as EPA Administrator heralded a paradigm shift in national environmental policy, expressly linking it with global public health. In her new role at Harvard University, she will lead the development of the School's strategy in climate science, health, and sustainability; strengthen its climate science and health curriculum; and interface with climate science leaders across the University.
---
The Haagen-Smit Awards
California's premier air quality award is named for the late Dr. Arie Haagen-Smit — known as the "father" of air pollution science and control. The award recognizes those who continue his legacy through perseverance, leadership and innovation in the areas of research, environmental policy, science and technology, public education and community service. Dr. Haagen-Smit's breakthrough research, which became the foundation upon which today's air pollution standards are based, concluded that most of California's smog is the result of photochemistry — the reaction of sunlight with industrial and motor vehicle exhaust to create ozone. The selection committee is comprised of past award winners.
CARB is the lead agency in California for cleaning up the air and fighting climate change to attain and maintain health-based air quality standards. Its mission is to promote and protect public health, welfare, and ecological resources through the effective reduction of air and climate pollutants while recognizing and considering effects on the economy.