CARB kicks off 50th anniversary celebrations with a new logo
SACRAMENTO - Today, on the 50th anniversary of its creation, the California Air Resources Board unveiled a new logo, kicking off a year-long celebration and affirming its continued commitment to reducing air pollution and fighting climate change as it enters the next half century.

On August 30, 1967, then Governor Ronald Reagan approved the Mulford-Carrell Act combining the Bureau of Air Sanitation and the California Motor Vehicle Pollution Control Board. The new agency would be rooted in science, but given the political authority to work with all stakeholders and adopt the most effective course of action to reduce the threat of air pollution to public health.

CARB delivered on its promise establishing world-leading emission standards for vehicles, driving technology to develop cars today that are 99 percent cleaner than those in the 1960s. Building on those standards with a wide variety of other programs, and working with local air districts, California's air quality began to steadily improve. One of the most notable successes was the cleanup of smog, especially in the Los Angeles basin. In 1967 there were 239 first-stage smog alerts (including 68 stage 2 smog alerts which restricted outdoor activities especially for children and other vulnerable populations). Last year there were none, making it possible for millions living in Los Angeles today to marvel at the sight of the San Gabriel Mountains on a daily basis. 50 years ago, those mountains were, for the most part, invisible - hidden by a thick blanket of smog. 

"Over the past 50 years, California has seen many advances in technology, communications and design," said CARB Chair Mary D. Nichols. "The new logo brings CARB's image into the 21st century and reflects the pride all Californians can take in beating back the smog monster."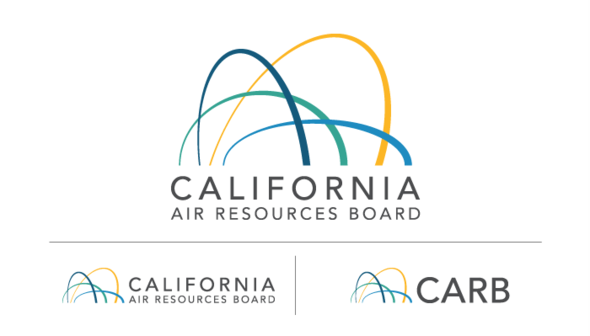 The new logo, developed internally by CARB designers, will now be featured on the redesigned CARB website that will come online shortly. The new website will feature an updated format and more intuitive navigation to make it easier to find information about CARB's programs and plans. 

Major events planned for CARB's 50th Anniversary include a groundbreaking for the new Southern California Headquarters Building and laboratory in Riverside in October. There will also be two symposia in 2018 on scientific and policy discussions related to air pollution, public health and climate change with a focus on challenges in the coming decades. A special Board meeting and celebration will be held on February 8, 2018 - exactly 50 years to the day after the first-ever Board meeting held after CARB's was founded. For more information contact the Office of Communications at (916) 322-2990 or pio@arb.ca.gov.
 
CARB is the lead agency in California for cleaning up the air and fighting climate change to attain and maintain health-based air quality standards. Its mission is to promote and protect public health, welfare, and ecological resources through the effective reduction of air and climate pollutants while recognizing and considering effects on the economy.