CARB awards $10 million in cap-and-trade funding to help communities curb air pollution
SACRAMENTO – Furthering California's effort to put billions of dollars of cap-and-trade auction proceeds to work improving quality of life, the California Air Resources Board (CARB) today awarded $10 million in grants to help 25 community-groups and three Native American Tribes reduce air pollution in their neighborhoods.
"Through this program we are working hand in hand with local communities to identify the largest sources of pollution and then take action to solve the problem," said CARB Executive Officer Richard Corey. "These grants will help communities across the state take action to improve health and air quality in the areas of greatest need."
Today's grants will help communities identify areas with most harmful air emissions and then take actions to reduce exposure or address the underlying cause of the pollution. Recipients are located in communities across California that face significant challenges with air pollution including the Central Valley, Los Angeles, Bay Area, and San Diego.
"Communities most affected by air pollution have to be in the forefront, and the $10 million in grants will engage and empower those across the state who are fighting for their lives and organizing their communities to lead the clean air effort." said CARB Board Member Senator Ricardo Lara.
"As the Legislature works to approve the final budget, it is exciting to see the diverse array of projects teed up for funding. I am hopeful that these early grant allocations will lay the foundation for us to address longstanding challenges in disadvantaged California communities, like the pollution burdened and economically underserved areas in my district," said CARB Board Member Assemblymember Eduardo Garcia, AB 617 joint author. "These initial community-driven project investments will bring us closer to achieving the overall goal of AB 617 – climate equity for those that need it the most."
The selected projects reflect the unique and diverse needs across the state and include community-driven air monitoring, improving public access to information about local pollution sources, reducing community exposure and to tracking progress on pollution reduction efforts. Examples of selected projects include:
The Pala Band of Mission Indians in Northern San Diego County will launch a new air quality monitoring network and website to provide real-time information to tribal members
The Fresno Metropolitan Ministry will engage students and parents in disadvantaged and low-income neighborhoods to share information about air quality issues, identify solutions and develop a local air quality action plan that can serve as a model for others
Through a community-based research project, the Citizens for Responsible Oil & Gas will develop a citizen scientist program to train interested Ventura County residents in ways to identify and document pollution sources of concern
---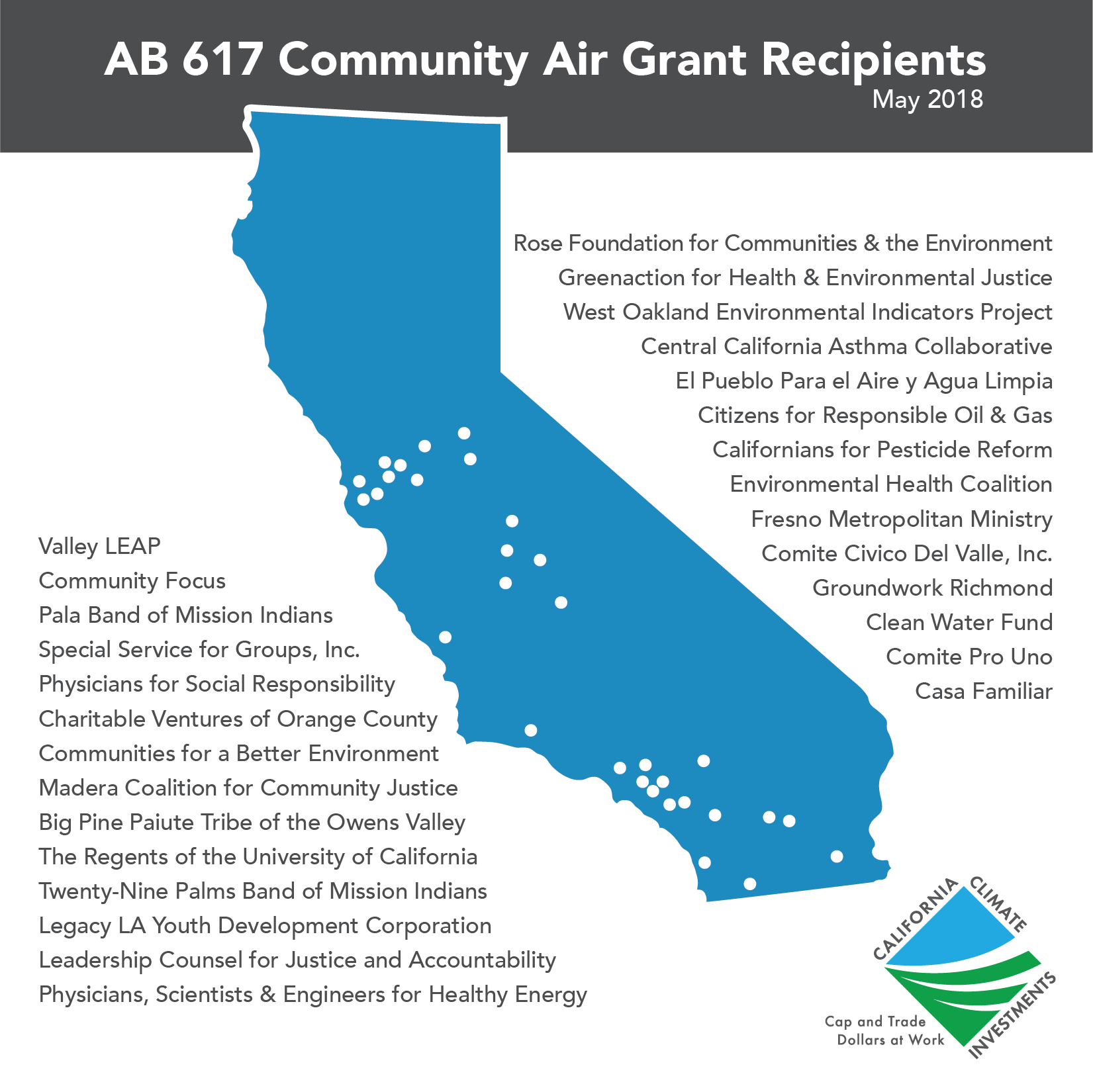 ---
The grants were awarded under AB 617, signed by Governor Edmund G. Brown Jr. last July, to establish a new community-focused approach to improving air quality and reducing exposure to toxic air pollutants at the neighborhood level. Through this first of-its-kind effort, the state collaborates with local residents and air districts to identify top pollution sources, develop solutions and track progress.
Initial demand for the grant program was nearly four times the available funding. To meet the high demand and enable greater community participation, CARB increased the funding level from $5 million to $10 million, contingent upon the passage of Governor Brown's revised 2018-19 state budget.
The Community Air Grants Program is part of California Climate Investments, a statewide initiative that puts billions of cap-and-trade dollars to work, particularly in disadvantaged communities.
Since 2014, the state has implemented more than $1 billion in Cap-and-Trade funded projects to benefit to disadvantaged communities. Efforts include affordable housing, renewable energy, public transportation, zero-emission vehicles, environmental restoration, more sustainable agriculture, recycling and much more.
Additional Resources
CARB is the lead agency in California for cleaning up the air and fighting climate change to attain and maintain health-based air quality standards. Its mission is to promote and protect public health, welfare, and ecological resources through the effective reduction of air and climate pollutants while recognizing and considering effects on the economy.