LCTI: Valley Air ZEV Mobility Pilot Project
Clean Mobility Options Legacy Pilot Project
  
May 2018 – January 2022
Project Details
Valley Air ZEV Mobility Pilot Project (ZEV Mobility Project) supported a transformative implementation of electric carsharing and ridesharing in some of California's most disadvantaged communities. This project contributed to the development of EVSE infrastructure in the San Joaquin Valley, increased EV awareness, reduced vehicle emissions, and offered participants increased transportation options. The project operated from November 2019 until March 2020, and no longer operates due to the grant ending and the project's inability to re-open or expand due to the COVID-19 pandemic.  
Project Highlights
The ride hailing service consisted of volunteer drivers who provided non-driving residents transportation access to medical facilities, stores, community events, and other essential services. 
California-licensed drivers were able to register for the program online or over the phone. 
Members had low-cost access to electric vehicles, to rent by the hour or day. 
Increased awareness of electric vehicles and use in remote, rural communities.
Lessons Learned
Key challenges in securing a host site included obtaining a county building permit in the allotted timeframe and selecting a location accessible to the public and with a viable power system. 
Poor internet and cellular connectivity in remote communities like Cantua Creek affected easy access to the mobile app reservation system.  
An e-bike sharing system was not a feasible option to implement with companies and within the grant term timeline.  
COVID-19 has posed many challenges, including the need to provide safe social distancing measures in vehicles, disinfecting vehicles between rentals, reduced demand for rideshare in Cantua Creek and Delhi, and no demand for vanpooling to college campuses including California State University, Bakersfield as originally anticipated. 
Funding Details
Grant Amount: $749,800
Resource Contributions: $1,160,300
Project Total: $1,910,100
By the Numbers
Services, Vehicles & Equipment Funded
9 Electric vehicles, including 3 Tesla Model X's and 6 Chevy Bolts (5+ seating capacity) 
30 Charging stations  

6 Level II charging stations in Cantua Creek 
2 DCFC/Level III charging stations in Delhi 
2 Level II charging stations in Delhi  
2 DCFC/Level III charging stations in Atwater 
18 Level II charging stations in Atwater 

2 Resident transportation surveys 
60+ active members   
1,650+ electric vehicle trips     
20 community events  
Estimated Quantifiable Benefits 
GHG emission reductions: 33 MTCO2e 
NOx reductions: 15 lbs
PM2.5 reductions: 2 lbs
ROG reductions: 3 lbs
Passenger VMT reductions: 25,405 miles
Travel cost savings: $37,061
Fossil fuel-based transportation fuel use reductions: 2,778 gallons
Direct Jobs: 2
Indirect Jobs: 1 
Induced Jobs: 2
---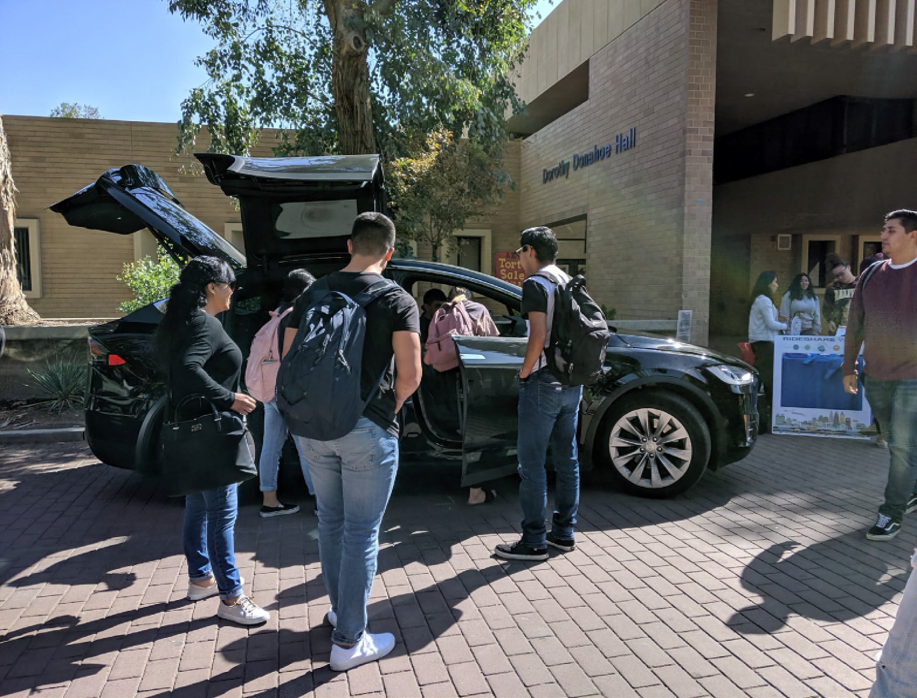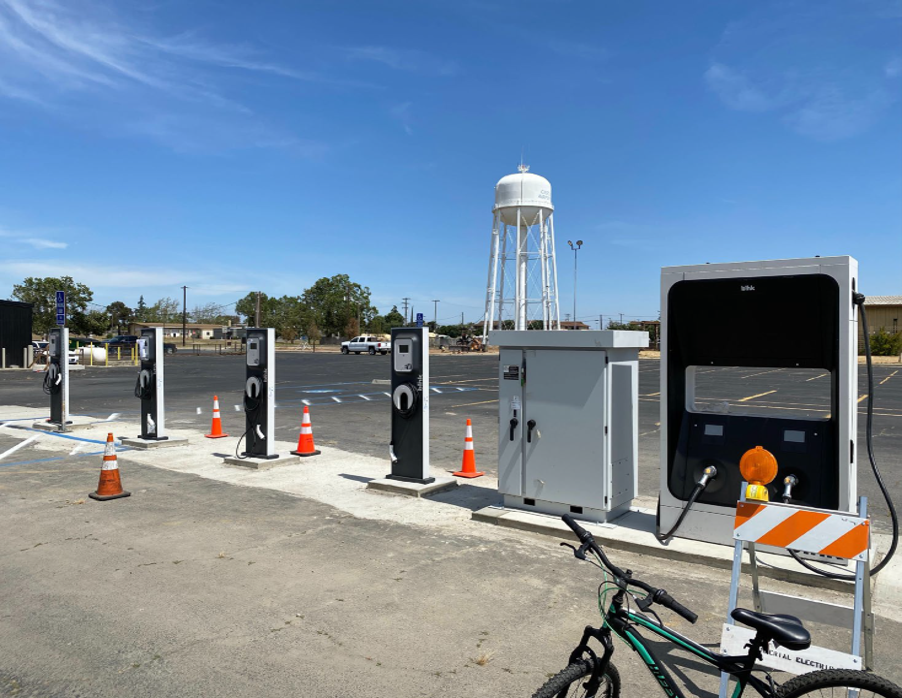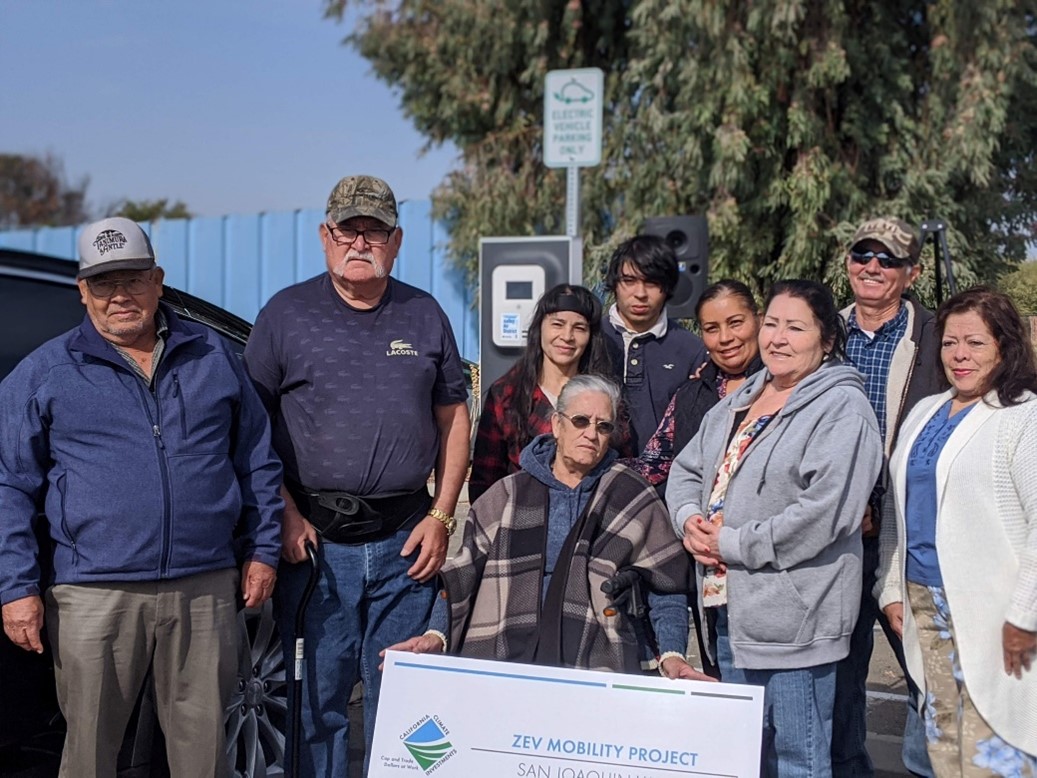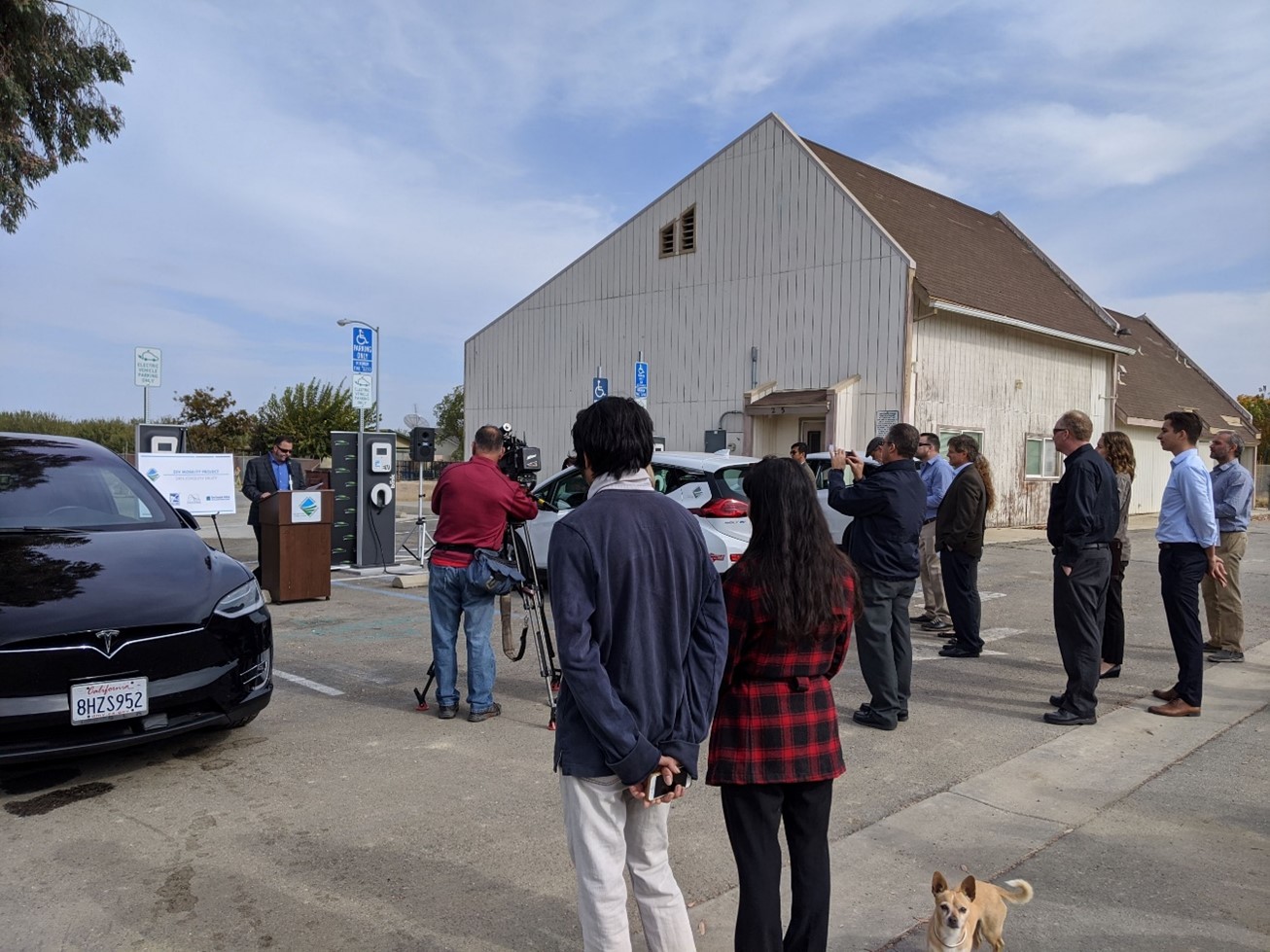 ---
Community Details
The ZEV Mobility Project focuses on census tracts that are within disadvantaged communities. Cantua Creek, where the project's first deployment of electric vehicles and electric charging stations were made available, is a distinctly rural community with less than 500 residents. This location is currently not serviced by transit, which impacts those who are not able to drive and those that need access to transportation for medical appointments and other essential trips. The second location is in Delhi, which is a census tract of approximately 10,000 residents clustered off Highway 99. The site is nearby markets, residential homes, and a school, making it accessible to local residents. Many of the participants at both locations rely on volunteer drivers and Spanish translations. The additional charging stations installed at separate parking lots of Castle Airport in Atwater is centrally located for easy access to various businesses within the disadvantaged community.  
Project Participant Demographic Information:  
Cantua Creek Site: 99.5% Hispanic or Latino and 0.5% White
Annual Household Income: 19% below $15,000, 63% between $15,000 and $30,000, and 18% over $30,000
Delhi Site: 74% Hispanic or Latino, 20% White, 4% Asian, and 2% Other 
Annual Household Income: 33% below $15,000, 33% between $15,000 and $30,000, and 34% over $30,000  
Community Benefits
The ZEV Mobility Project goals are to expand access to EVs in disadvantaged communities, increase EVSE infrastructure in disadvantaged communities, reduce emissions through the adoption of EVs and increased mobility options and ridesharing, and provide an affordable alternative to vehicle ownership. The project introduced electric vehicles and the practical advantages of ridesharing at discounted rates to individuals and households in disadvantaged communities. Local communities benefit from choosing cleaner alternative transportation and have access to volunteers that will drive them to essential services. 
Outreach & Engagement Strategies
Surveys
Community meetings
Door-to-door outreach
Postcards
Target Populations
Low-income residents
Disadvantaged communities 
People of color
Residents without access to a vehicle
Non-English speakers
Older adults
Students
Shift workers 
---
Partnership Structure
Grantee
The San Joaquin Valley Air Pollution Control District (District) is a public health agency whose mission is to improve the health and quality of life for all Valley residents through efficient, effective and entrepreneurial air quality management strategies. The District is responsible for the overall program administration of this project and its role includes overseeing and approving all activities, reviewing and submitting reports and fund disbursements, and supporting outreach efforts.
Project Partners
---
Contact