LCTI: Stockton Mobility Collective
Sustainable Transportation Equity Project (STEP) Implementation Grant
    
June 2021 – March 2025
Project Details
The Stockton Mobility Collective will help meet the transportation needs of the community by implementing an 1) e-carsharing project with 30 battery-electric vehicles in 10-15 locations throughout the project area; 2) e-bikeshare project with 100 bikes at about 12 stations that will improve first- and last-mile access to transit; 3) expansion of the Vamos Mobility, a Mobility-as-a-Service or MaaS, platform to add mobile transit ticketing, e-carsharing and e-bikesharing reservations and payments; and 4) transit and shared mobility incentives through the Vamos Mobility app to qualifying community members. It also includes community engagement activities to increase disadvantaged community member participation in the design and implementation of the projects, as well as a workforce development apprenticeship program to provide full-time jobs and training to support the e-carsharing and e-bikeshare projects.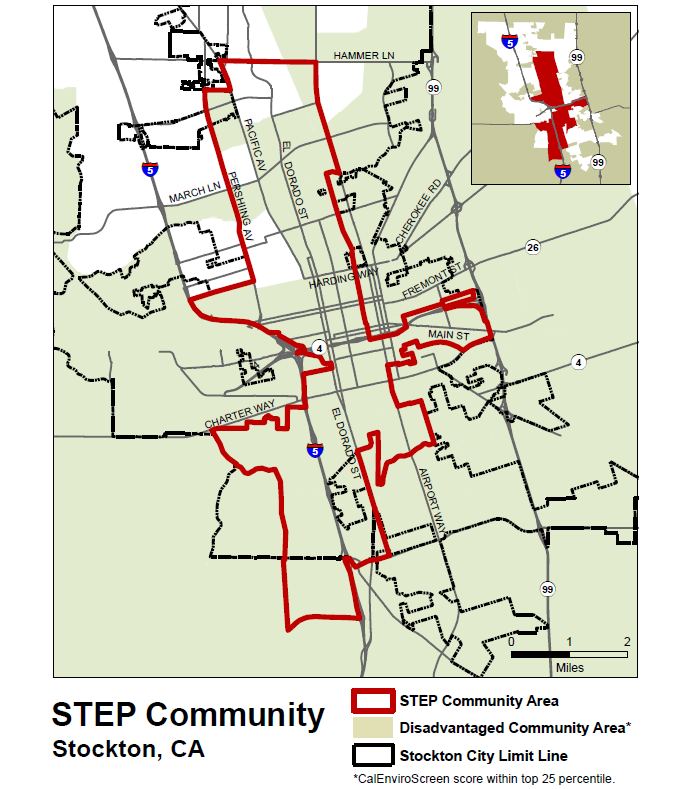 Project Highlights
Pilot non-profit shared mobility systems in Stockton

Expansion of Vamos Mobility, a MaaS platform, to add mobile transit ticketing, and shared mobility reservations & payments

Extensive community decision-making and outreach activities

Workforce development apprenticeship program
Funding Details
Grant Amount: $7,480,385
Resource Contributions: $18,742,000
Project Total: $26,222,385
By the Numbers
Services, Vehicles & Equipment Funded
30 battery-electric vehicles for carshare program with 10-15 locations

At least 20 vehicle charging stations

100 electric pedal-assist bikes for e-bikeshare program with about 12 stations and 7 e-bike charging units

Electric shared mobility apprenticeship program for 10-20 candidates

At least 15 Stockton Mobility Collective Steering Committee meetings

At least 20 Community Engagement Working Team meetings
Estimated Quantifiable Benefits
GHG emission reductions: 1,879 MTCO2e
NOx reductions: 650 lbs
PM2.5 reductions: 129 lbs
ROG reductions: 131 lbs
Passenger VMT reductions: 688,270 miles
Travel cost savings: $2,666,583
Fossil fuel-based transportation fuel use reductions: 155,808 gallons
Direct jobs: 40
Indirect jobs: 14
Induced jobs: 21
---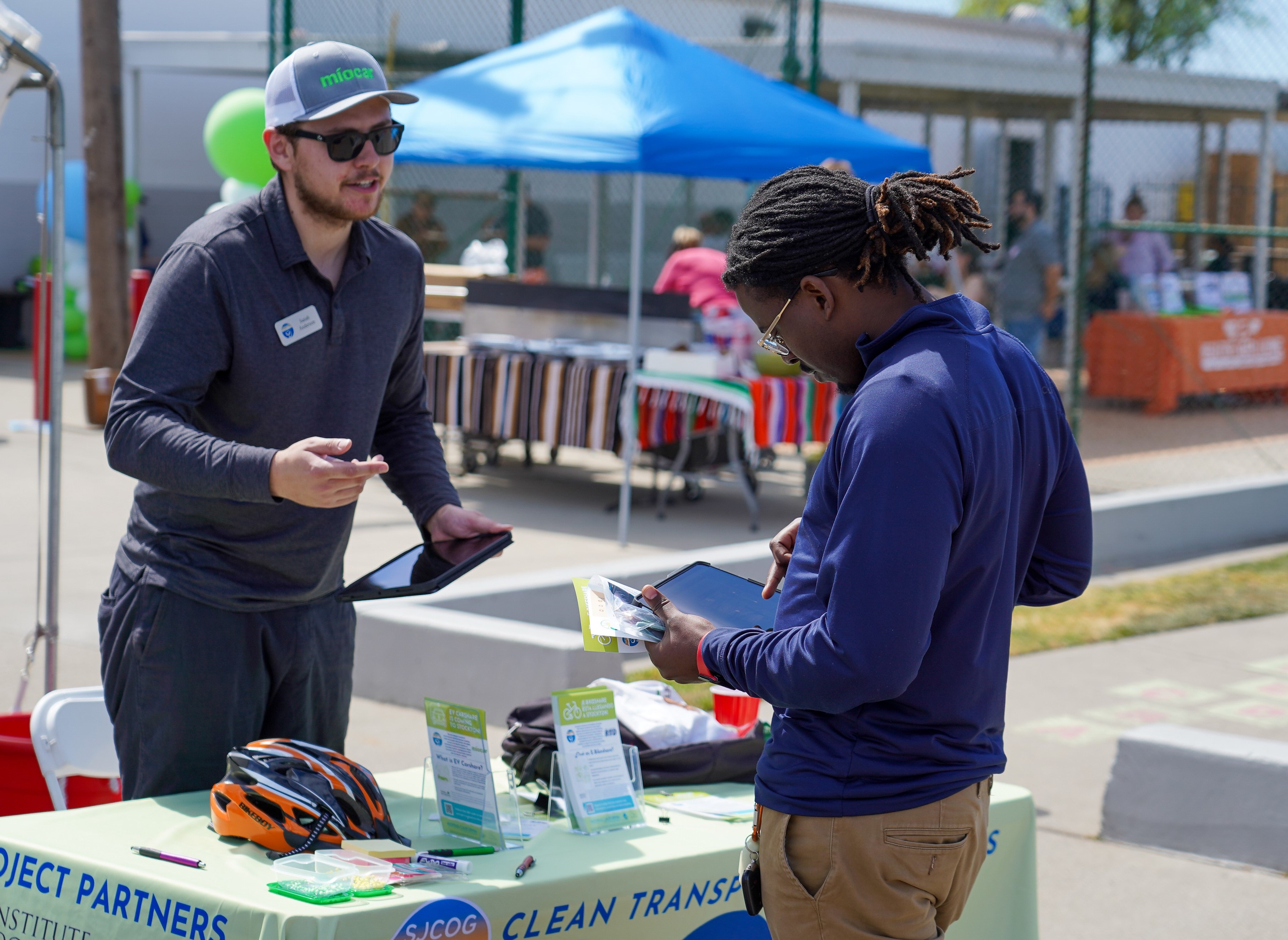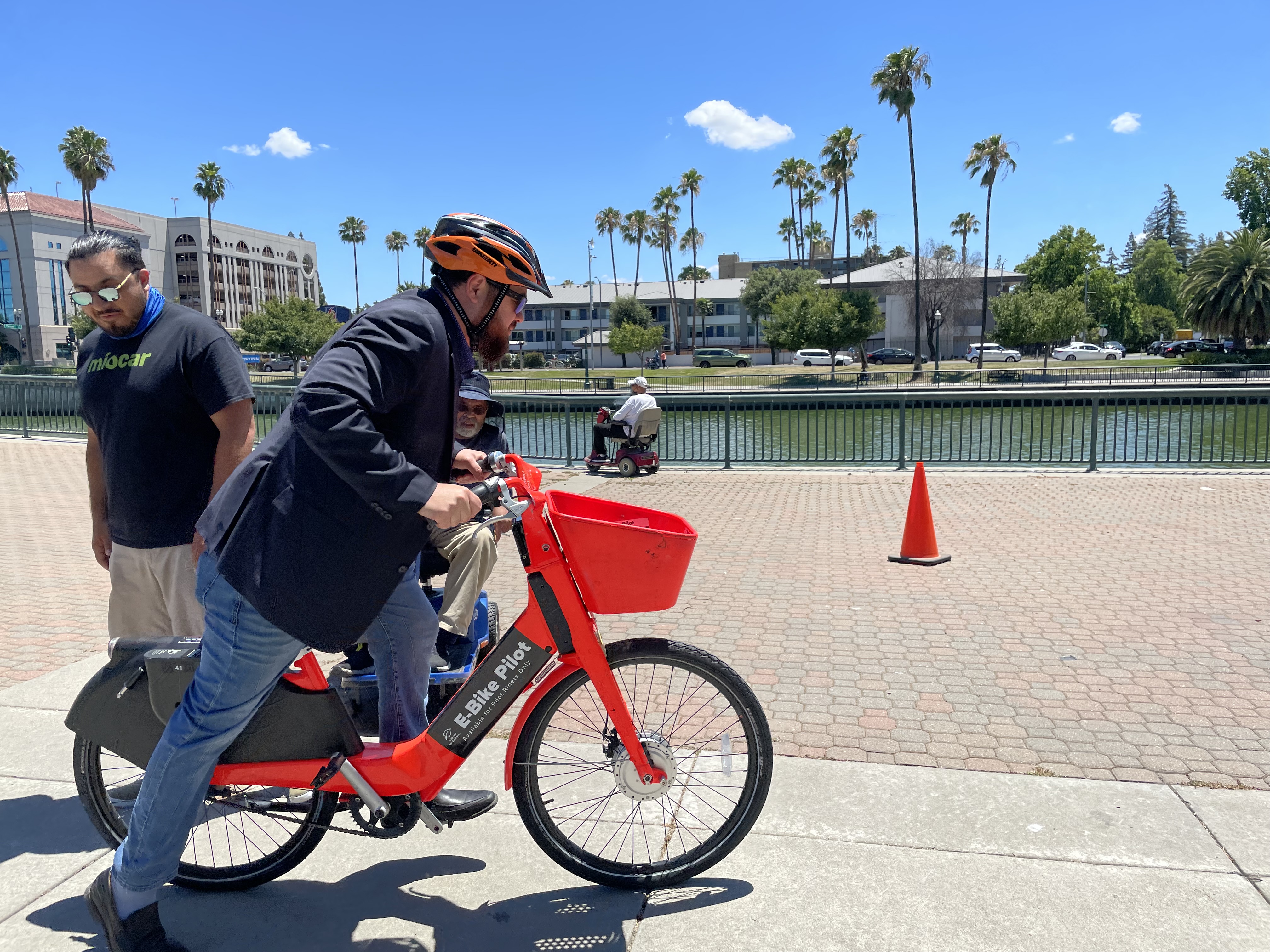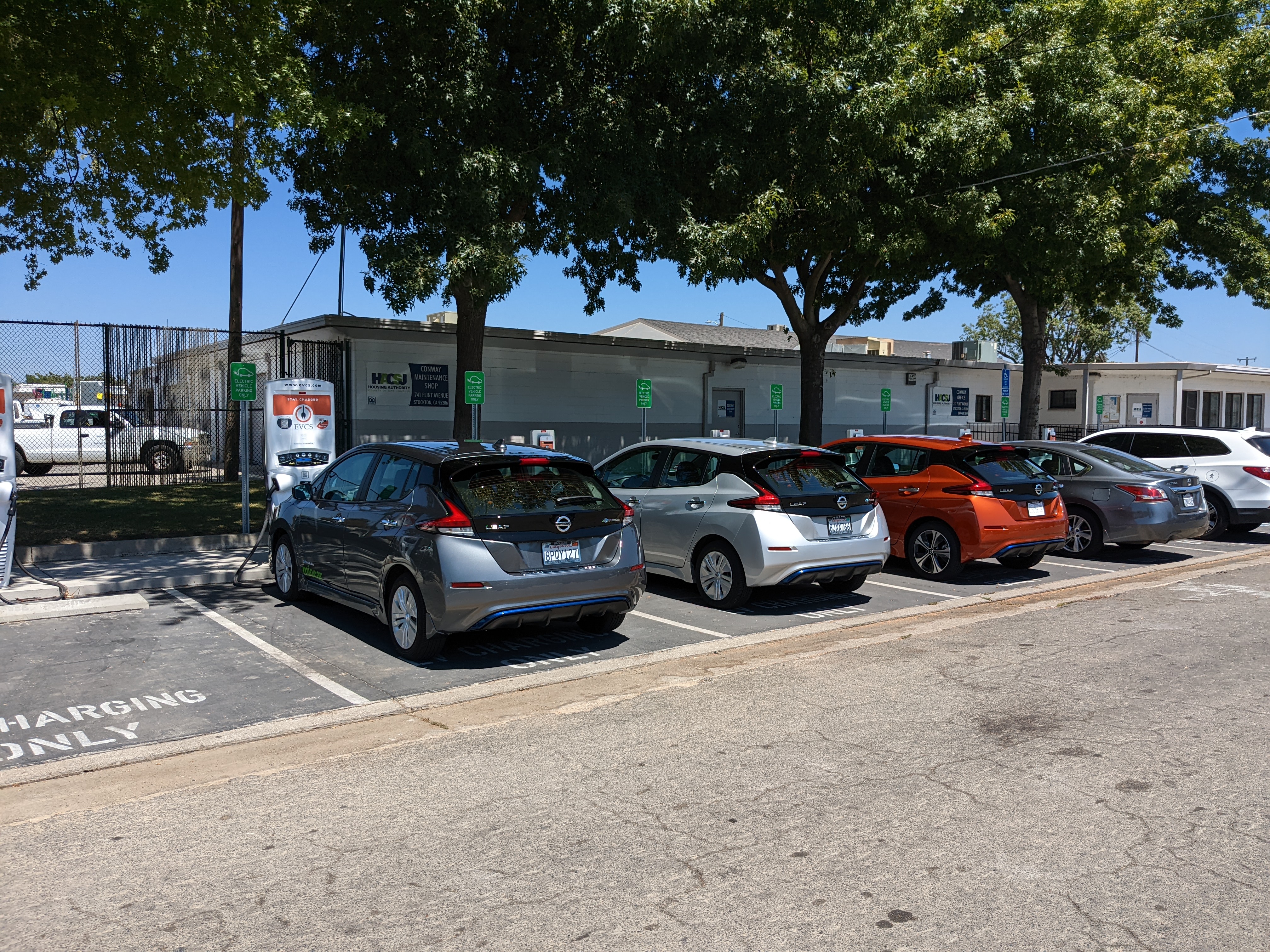 ---
Community Details
The project's primary focus area is in South Stockton, which has a high concentration of poverty and people of color compared to the rest of the city and county. It also has a larger percentage of limited English-speaking households. 22% of South Stockton residents are either over the age of 75 or under ten years old. These community members may disproportionately face mobility challenges navigating English-only transit schedules or affording a personal vehicle. The percent of zero-vehicle households in South Stockton is 50% higher than the citywide percentage and very few residents walk or bike. In Stockton, fewer than 20% of households can access a job within a 30-minute transit commute.
The City of Stockton, SJCOG, and other entities conducted eight community engagement planning studies to understand unmet travel needs. Study results reveal that in South Stockton, key challenges are access to key destinations, vehicle pollution, and access to transit.
Demographics of the Community Served by the Project
44% Hispanic/Latino, 21% Asian, 19% White, 12% Black or African American, and 4% Other
Median Household Income: $54,912
Community Benefits
The Stockton Mobility Collective project will provide Stockton residents with affordable, clean, safe and reliable travel modes that bridge the gaps between existing transit service and personal vehicle ownership. Currently, the South Stockton community lacks affordable transportation options. The e-carsharing and e-bikesharing projects will provide new, affordable options that connect residents to transit and key destinations. The Vamos MaaS platform will enable residents to optimally plan for and access low-cost transit and shared mobility. The project will also provide green jobs in the South Stockton community through the workforce training program, increasing access to employment and reducing poverty. The community will inform critical project design components and help direct outreach and education. They will also assist in identifying hard-to-reach populations and professionals who can help transport-disadvantaged populations that want to use the services.
Outreach & Engagement Strategies
Educational events at project kick-off

Surveys

Community workshops/webinars

Pop-up events

Marketing flyers

Interviews

Focus groups

Listening sessions

Social media and newsletters

Educational videos
Target Populations
Households with limited access to a private vehicle

Transit-dependent individuals

People experiencing poverty

Communities of color

Residents with lower levels of education

Community members with limited English proficiency
---
Partnership Structure
Grantee
The San Joaquin Council of Governments (SJCOG) is a joint powers authority comprised of the County of San Joaquin and the Cities of Stockton, Lodi, Manteca, Tracy, Ripon, Escalon, and Lathrop. SJCOG fosters intergovernmental coordination within San Joaquin County, with neighboring jurisdictions and with other regional, state, and federal agencies. SJCOG is responsible for overall management, project implementation, coordination and alignment of the Stockton Mobility Collective Project.
Subgrantees 
Community Partners
---
Contact
Christine Corrales | (209) 235-0128 | SJCOG