LCTI: South Los Angeles Universal Basic Mobility Pilot Program
Sustainable Transportation Equity Project (STEP) Implementation Grant

June 2021 – March 2026
Project Details
The South Los Angeles Universal Basic Mobility Pilot Program introduces new sustainable mobility options for residents and workers and expands electrification to advance Universal Basic Mobility and equity for South LA residents. The project components include a mobility wallet and transportation subsidy pilot; an e-bike lending library; an on-demand electric shuttle pilot; an expansion of the BlueLA electric carshare program into South LA; new public charging infrastructure; CicLAvia events in South LA; stakeholder outreach and engagement activities led by SLATE-Z; quick-build active transportation demonstration projects; bike and pedestrian improvements on a future Rail-to-Rail active transportation corridor; and a zero-emission delivery pilot program.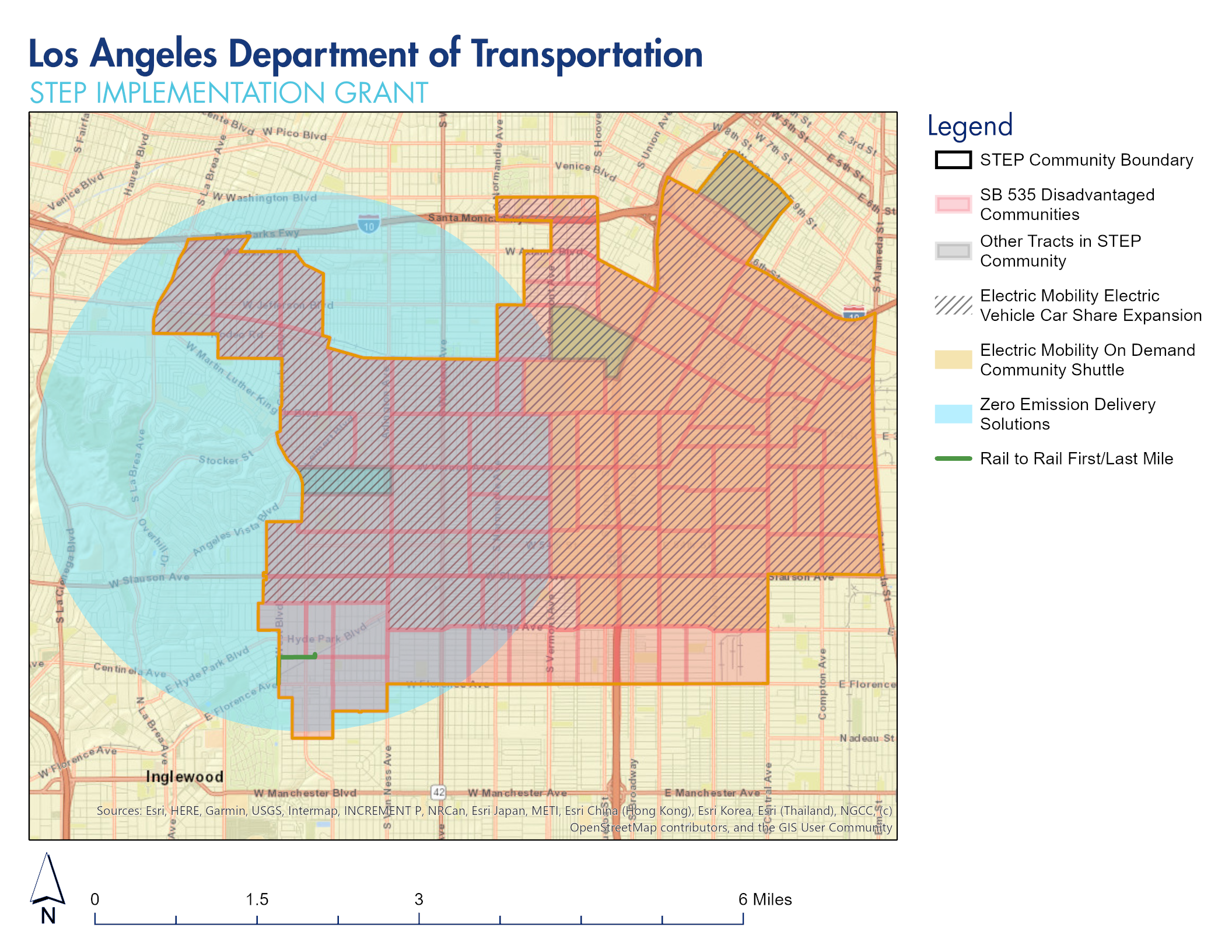 Funding Details
Grant Amount: $13,843,297
Resource Contributions: $7,942,050
Total Project: $21,785,348
By the Numbers
Services, Vehicles & Equipment Funded
2,000 person subscriber-base mobility wallet pilot

250 electric pedal-assist bikes for e-bike lending library

4 electric shuttles for year-long pilot

100 electric carshare vehicles for BlueLA expansion

116 public Level 2 chargers (16 at libraries, 25 at parks, and 75 on streetlights)

2 high-speed DC fast charging plaza with 4 charge ports each

Resident advisory committee training for 10-20 residents

18 steering committee meetings

1 youth ambassador program

1 community-based organization ambassador program

At least 3 CicLAvia events

Quick-build design treatments at up to 5 locations

1 2-year zero-emission delivery program to support 5-10 local businesses 
Estimated Quantifiable Benefits
GHG emission reductions: 641 MTCO2e
NOx reductions: 265 lbs
PM2.5 reductions: 33 lbs
ROG reductions: 70 lbs
Passenger VMT reductions: -310,873 miles
Travel cost savings: $1,903,876
Fossil fuel-based transportation fuel use reductions: 56,192 gallons
Direct jobs: 88
Indirect jobs: 30
Induced jobs: 44
---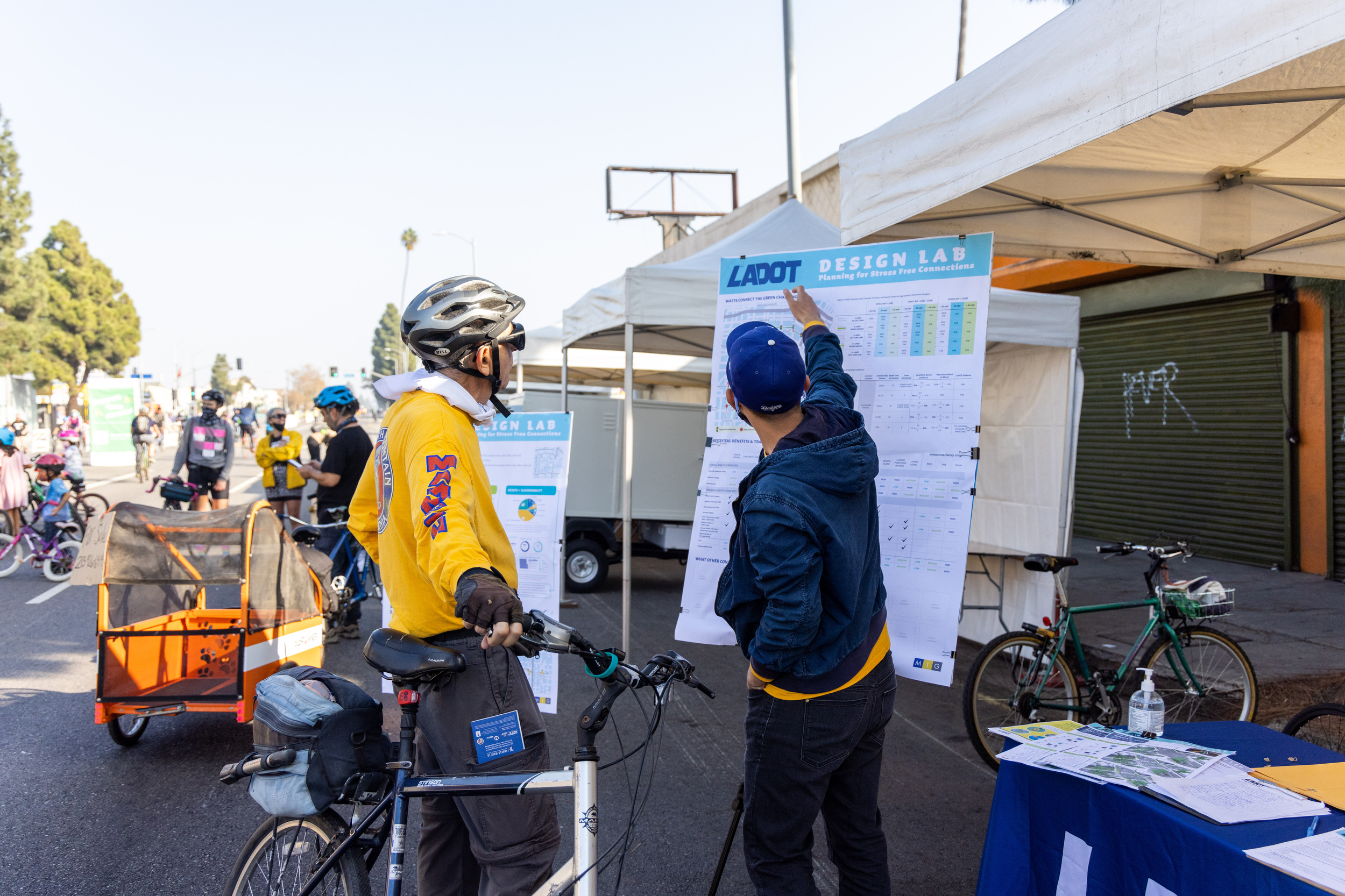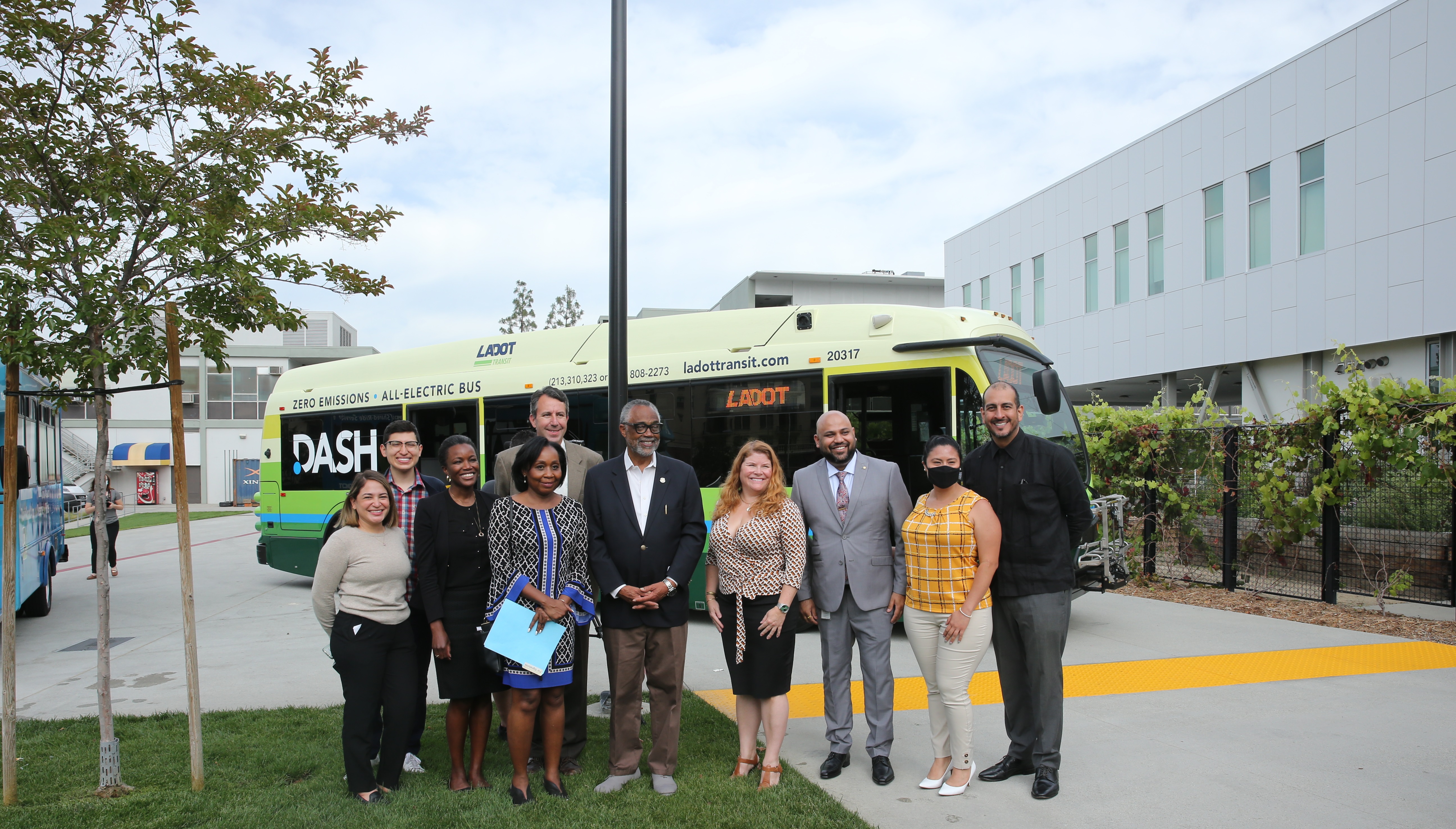 ---
Community Details
The project focuses on a group of neighborhoods in South Los Angeles, bordered by the 110 freeway to the east and the 10 freeway to the north. The population is over 370,000, and the majority of residents are people of color – two-thirds Hispanic and one-quarter African American. Much of the area qualifies as a disadvantaged community per CalEnviroscreen 3.0 and/or an AB 1550 low-income community. Over 4,500 individual South Los Angeles residents and over 40 community-based organizations shaped and prioritized the projects in this grant as part of a year-long Transformative Climate Communities planning process led by SLATE-Z. The need for subsidized and connected mobility options is a high priority for residents.
Community Benefits
The South Los Angeles Universal Basic Mobility Pilot Program tests, deploys, and delivers expanded clean transportation options for South LA residents, all guided by a collaborative decision-making structure. While major transportation infrastructure investments have been and will continue to be made to connect residents of South LA to key destinations, this program fills current mobility gaps, expanding access to traditional and new clean mobility options. The program focuses on serving the most vulnerable users, including youth, older adults, women, and people who are disabled or homeless. Equitable access to clean modes will build resilience in climate-impacted neighborhoods and will reduce fossil fuel drive-alone trips and greenhouse gas emissions.
Outreach & Engagement Strategies
Surveys

Town hall events

Focus groups

Steering Committee meetings

Resident Advisory Committee

Community ambassador programs, including Youth Ambassadors 

Instructional flyers, pamphlets, and posters

Demonstrations and pilots, including CicLAvia events
Target Populations
Non-English speakers

Undocumented

Older adults

Residents with disabilities, including those who are blind or have low vision

Transit-dependent, low-income riders

Residents with limited technology access

Families

Women
---
Partnership Structure
Grantee
The Los Angeles Department of Transportation (LADOT) leads the City of Los Angeles's transportation planning, project delivery, and operations. LADOT works together and collaborates to deliver a safe, livable, and well-run transportation system in the city and region. LADOT is committed to fighting climate change and pursuing climate equity in underserved neighborhoods on the front lines of the climate crisis. LADOT oversees the entire South Los Angeles Universal Basic Mobility Pilot Program, which is being funded in large part by this STEP grant. 
Subgrantees 
Community Partners
Community Health Councils
---
Contact