LCTI: Opposed Piston Engine Class 8 Heavy-Duty On-Road Demonstration
Advanced Technology Demonstration and Pilot Projects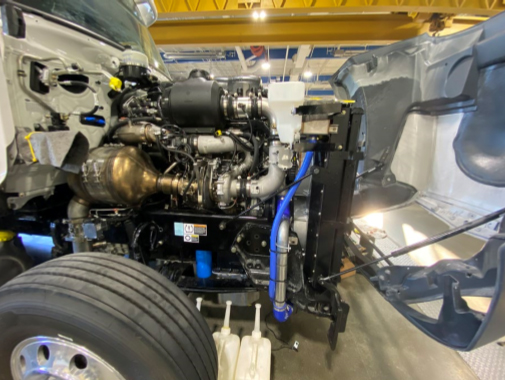 CALSTART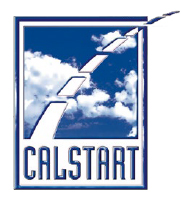 Spring 2018 - Spring 2022
Project Details:
An ultra-low NOx diesel engine, combined with decarbonized fuel, can be a powerful air quality and climate solution for the most demanding duty cycles needing long range, route variability, and heaviest loads. This demonstration project will support commercialization and widespread adoption of an opposed piston engine that is capable of meeting California's ultralow NOx requirements (0.02 g/bhp-hr) while simultaneously providing a 15-20% increase in fuel efficiency compared to 2017 EPA requirements in Class 7-8 trucks. This demonstration supports CARB's goals of reducing emissions needed to meet air quality standards and reducing CO2 emissions from larger trucks for which there is a shortage of other available options.
The Opposed Piston Engine Class 8 Demonstration Project will deploy and validate with major truck, engine and fleet partners a world-leading engine design that will meet California's ultralow NOx requirement (0.02 g/bhp-hr) while simultaneously providing a 15-20% increase in fuel efficiency compared to 2017 EPA requirements. This will be the first demonstration in the United States of a high-efficiency AND low NOx engine / powertrain vehicle in Classes 7-8. The CALSTART-managed project combines two proven solutions – the Opposed Piston (OP) engine, largely developed by Achates Power, Inc., and the ultralow NOx after-treatment system developed by Southwest Research Institute.
Grantee:
CALSTART
Partners:
Achates Power, South Coast Air Quality Management District, San Joaquin Valley Air Pollution Control District, Sacramento Metropolitan Air Quality Management District, Peterbilt, Aramco, BASF, Corning, Southwest Research Institute, Eaton, Federal-Mogul Powertrain, Delphi Technologies and Walmart.
Grant Amount
| | |
| --- | --- |
| CARB Contribution | $6,994,601 |
| Matching Funds | $9,705,267 |
| Project Total | $16,699,868 |
---
Vehicles/Equipment Funded
The project will build four 10.6L diesel OP engines based on Achates Power's proven designs and technology. 
Three engines are running on dynamometers at Achates Power in San Diego and at Aramco Services in Wixom Michigan to develop the hardware and software and to demonstrate efficiency, emissions, and durability.

One engine is installed in a Peterbilt 579 tractor.
The Peterbilt tractor will be placed in revenue service with Walmart for 3 months. An in-field demonstration will be conducted to measure and report on the performance of the technology, and to prepare for CARB certification for commercialization. This will include collection of engine in-use emissions data using a Portable Emissions Measurement System (PEMS).
---
Lessons Learned
While the on-road demonstration is useful, most of the development and value proposition occurs on the dynamometer (especially since engines in this application class are certified on a dyno). Flexibility to shift the project mix between laboratory or field demonstration can optimize the overall program.

Large technical improvements require large efforts. Financial support for follow-on projects of successful demonstrations should be considered in order to bridge the gap between initial demonstration and volume deployment.
---
Status Updates
The vehicle is in final stages of validation for the fleet demonstration.

Overachievement on the engine performance and emission allowed Achates Power to get rid of the close coupled SCR and still meet program goals.

Testing and analysis showed that the opposed piston engine can meet 2027 GHG with margin while emitting less than 0.02 g/bhp-hr NOx with a current production after-treatment system.
---