LCTI: NorCAL Zero-Emission Regional and Drayage Operations with Fuel Cell Electric Trucks
Advanced Technology Demonstration and Pilot Projects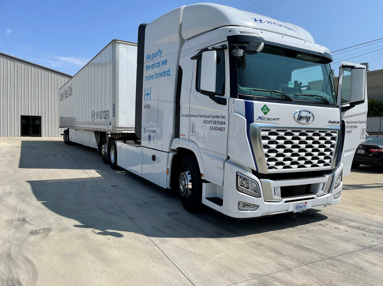 Center for Transportation and the Environment



August 12, 2021 – Spring 2025
Project Details:
The project team, led by Center for Transportation and the Environment (CTE), will build and deploy thirty (30) fuel cell electric trucks (FCETs) and a supporting hydrogen fueling station at the East Bay Municipal Utilities District (EBMUD) treatment plant, adjacent to the Port of Oakland.
The objectives of this project are to advance zero-emission technology by deploying a commercial fleet of thirty (30) fuel cell electric class 8 trucks in northern California; build a hydrogen refueling station capable of providing 700-bar fuel to support the trucks; operate the truck fleet and infrastructure for a total period of 6 years; eliminate 100% of GHG and criteria pollutants associated with vehicle operations; and provide economic and public health benefits to the West Oakland disadvantaged community.
Grantee:
Center for Transportation and the Environment
Partners:
Hyundai Motor Company, Macquarie Equipment Capital Inc., First Element Fuel, Glovis America, University of California Berkeley, Air Liquide, East Bay Municipal Utilities District, NorCal KW, Fiedler Group, West Oakland Environmental Indicators Project
Grant Amount
A table of funding categories and their amounts

| | |
| --- | --- |
| CARB Contribution | $11,979,914 |
| Matching Funds | $29,203,811 |
| Project Total | $41,183,725 |
---
Vehicles/Equipment Funded
30 Class 8 FCETs designed and manufactured by Hyundai Motor Company.

A hydrogen fueling station capable of supporting the FCET fleet, funded by the California Energy Commission as a part of a joint solicitation.

Combustible gas detection and alarm equipment to bring NorCal Kenworth service facility into compliance for hydrogen system maintenance.

Project highlights:

Introduction of Hyundai Motor Company as another competitive OEM into the California and U.S. zero-emission markets.

FCETs will have a range of up to 500 miles and a payload capacity of 40,000 lbs.

FCETs will initially be fueled with 54% renewable hydrogen with zero CI, but as hydrogen demand increases out of the EBMUD station, biogas will be considered to produce 100% renewable hydrogen onsite.
---
Lessons Learned
Early engagement with local officials, public agencies, and impacted stakeholders is beneficial in the project development process and minimizes risks during project implementation.

Planning activities, such as infrastructure site design, should be completed as quickly as possible in order to avoid supply chain issues and procurement delays.
---
Status Updates
Equipment In-service:
CARB and CEC contracts executed

Processing CARB Amendment 1, CEC Amendment 1 is executed

Subcontracts distributed for project partner feedback and execution

Vehicle Production Plan draft is in progress

Hydrogen fueling station site plan finalized and permitting process initiated

Maintenance facility assessment is in progress

Developing Glovis's customer base in NorCal for vehicle operations
---
Videos
---