Community Air Monitoring in Maywood-Vernon-Bell-East Commerce
Background
Maywood-Vernon-Bell-East Commerce is a highly industrialized, urban community in Los Angeles County within the South Coast Air District that spans 13 square miles (see map below). This community has some of the worst pollution burdens within the State, as the maximum CalEnviroScreen (CES) score is at the 99th-percentile. Residents are exposed to various sources of pollution in the community, including:
Facilities emitting air toxics

Traffic

Lead from housing

EnviroStor cleanup sites

Hazardous waste facilities
Residents also suffer from higher rates of asthma, low birth weight, and cardiovascular diseases than most of the State.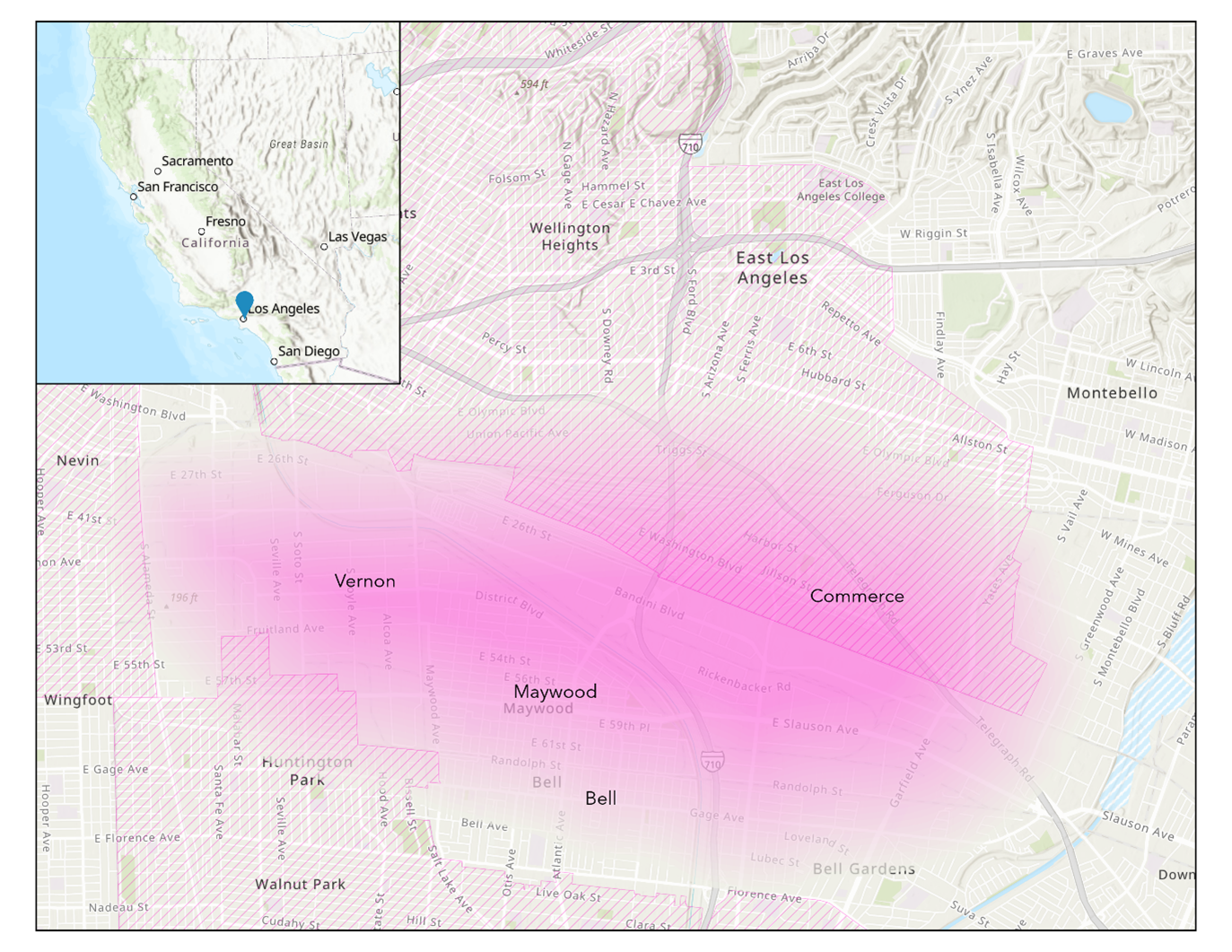 Project Purpose/Goal
The goal of this project is to form partnerships with local community members and groups to build community capacity to plan and conduct air quality monitoring in Maywood-Vernon-Bell-East Commerce.
Community members will guide the process by determining:

The types of equipment/samplers to purchase

The air pollutants to monitor for

Locations of air monitoring
Through previous community engagement, CARB understands that PM2.5, PM10, and air toxics, such as hexavalent chromium, metals, and ethylene oxide are of primary concern to many community residents.
CARB staff from the Monitoring and Laboratory Division (MLD) and the Transportation and Toxics Division (TTD) will engage with interested community groups and community residents to help determine the greatest air pollutants of concern in the Maywood-Vernon-Bell-East Commerce community. CARB and its agency and community partners will work together to involve community members throughout the project. CARB staff will train community members to perform the air monitoring.
Project Budget
Under US EPA's American Rescue Plan Grant Competition for Enhanced Air Quality Monitoring for Communities, the U.S. EPA awarded a grant to CARB for $250,000 to build community capacity to conduct air monitoring in the communities of Maywood-Vernon-Bell-East Commerce. These funds are budgeted for:
The purchase of monitoring/sampling equipment and laboratory analysis.

Stipends to compensate community members for their time, feedback, and direct participation in activities throughout the 

process.
CARB staff is hosting a community meeting on September 18, 2023.   Additional information on the upcoming community meeting can be found below.
Community Meetings
Date/Time/Location

Meeting Purpose/Goal

Materials 

September 18th, 2023, 5:00-7:00pm

Glass, Molders, Pottery, Plastics and Allied Workers Union Hall (GMP137)

3725 E Slauson Ave, Maywood, CA 90270

The meeting will focus on the selection of air pollutants for monitoring.

CARB staff will present information on various types of sampling equipment, including which air pollutants can be measured with different samplers, and costs of sampling equipment and analysis.
Contact