Advanced Clean Trucks Compliance and Incentives Update
Do truck manufacturers need to sell zero-emission vehicles (ZEVs)?
Yes, starting with the 2024 model year, the Advanced Clean Trucks (ACT) regulation requires manufacturers to sell ZEVs as an increasing percent of total medium- and heavy-duty sales in California. By the end of the 2024 model year 5% to 9% of sales will need to be ZEVs depending on the truck category. We estimate the statewide ZEV sales will need to be about 6% of total vehicle sales in 2024.
Manufacturers can get early credits for selling 2021 through 2023 model year ZEVs. They also have flexibility to sell more ZEVs in one category while selling less of another except they must still sell a minimum number of ZEV tractors. Manufacturers also can trade, or bank credits from excess ZEV sales and have one extra year to make up any shortfall.
Will there be enough ZEVs by the end of the 2024 model year?
Yes, manufacturers already have sold more single unit medium- and heavy-duty ZEVs than is needed for 2024 based on data reported by manufacturers for 2021 and 2022. Manufacturers are also on track to more than double the required ZEV tractors sales based on existing sales and funding vouchers that have been issued. Some manufacturers already have excess credits, while others are just beginning to build their credit banks with early ZEV sales. Figure 1 illustrates that for Class 2b-8 single unit trucks, manufacturers have already sold 60% more ZEVs than is required by the end of 2024 when including vehicles which have received HVIP vouchers in 2023.
Figure 1: Expected Single Unit ZEV Truck Sales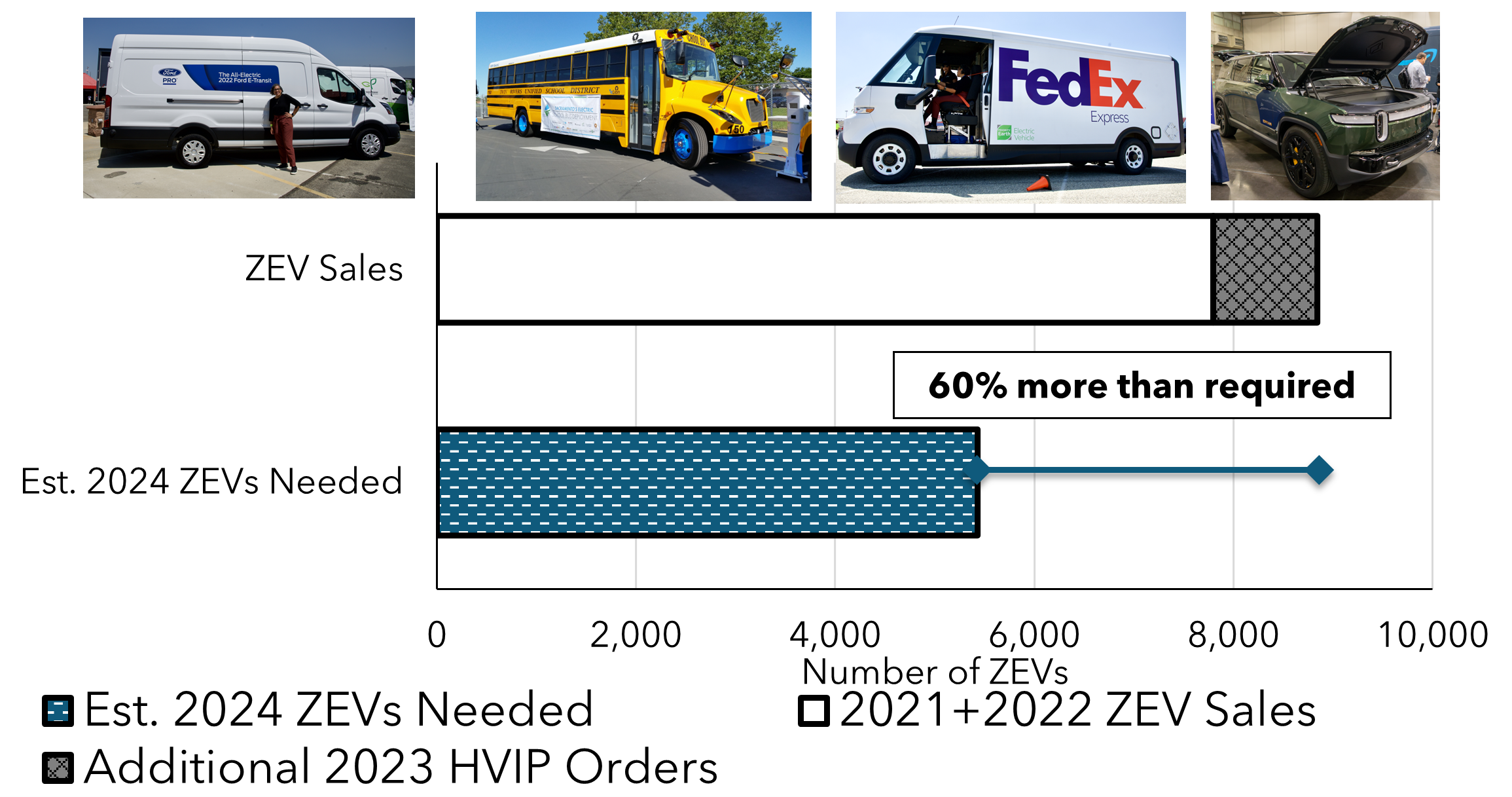 For Class 7-8 tractors, currently 290 ZE tractors have been delivered for sale in 2021 and 2022. In addition, there are over 1,000 ZE tractors that have received HVIP vouchers and are expected to be delivered in 2023 or 2024. With these combined sales, there will be more than twice as many ZEV tractors sold than is needed to comply with the ACT regulation by the end of 2024. The estimated total sales including tractors with HVIP vouchers is shown in Figure 2. The chart shows 118% more ZE tractors are expected to be sold than will be needed to comply by the end of 2024.
Figure 2: Expected Class 7-8 Tractor ZEV Sales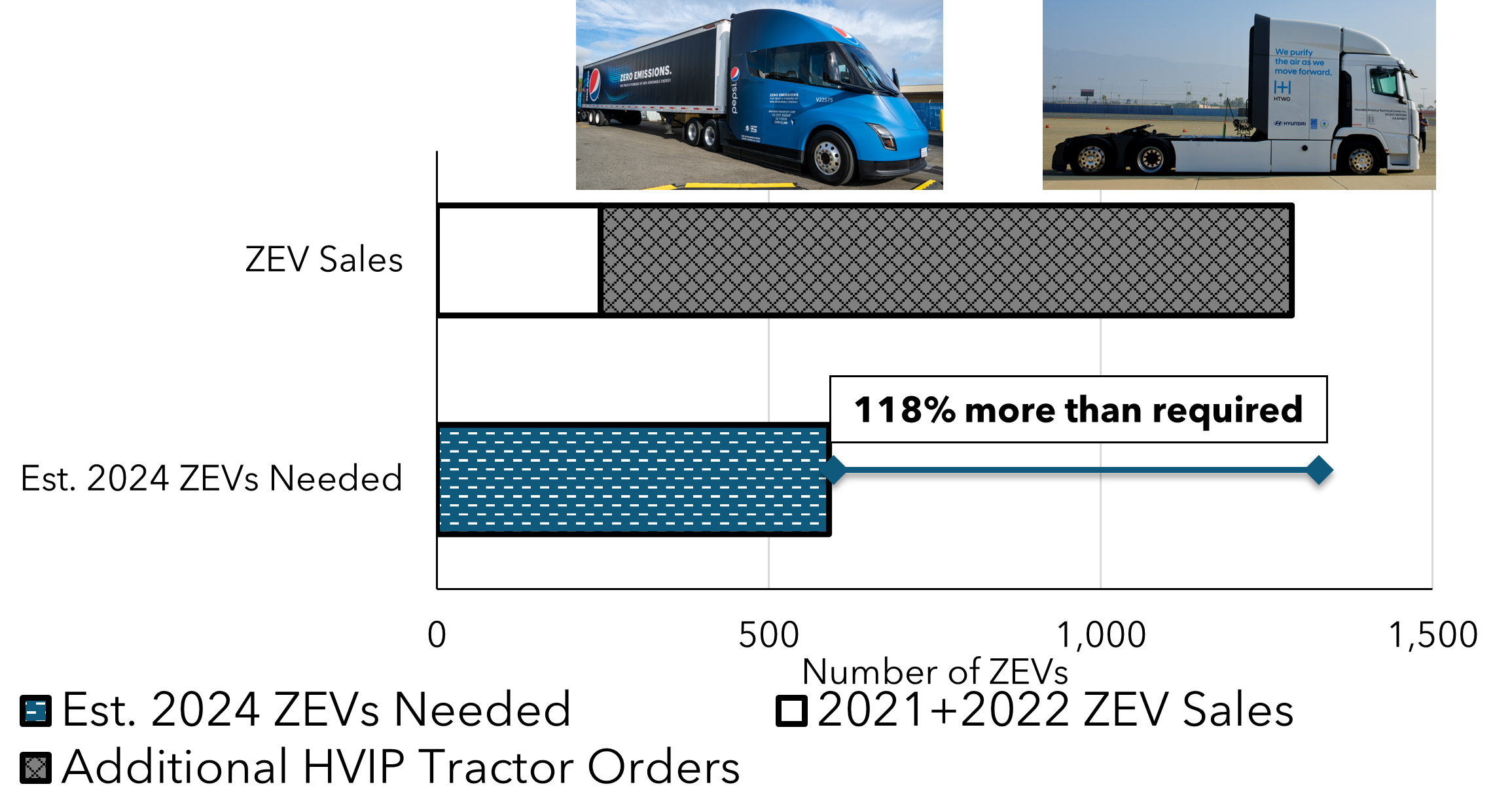 In addition, the regulation has flexibility provisions for individual manufacturers to use. First, manufacturers can trade earned ZEV credits with other manufacturer as part of their overall compliance strategy. For example, to meet its 2024 ACT requirement, a manufacturer could choose to buy ZEV credits from another manufacturer with excess ZEV sales. Some manufacturers have already transferred their earned ZEV credits into other markets. Second, the ACT regulation includes a one-year grace period for manufacturers that sell fewer ZEVs than required by the end of 2024. More information is available in the Advanced Clean Trucks Credit Summary Through the 2022 Model Year and on the Advanced Clean Trucks website.
What percent of California sales are ZEVs?
In 2022, a total of 104,558 medium- and heavy-duty trucks were produced and delivered for sale in California as shown in Table 1. Of that total, about 7,639 were ZEVs. This means that about 7.5% of medium- and heavy-duty vehicle sales in 2022 were ZEVs. This is two years ahead of the first compliance date for manufacturers to produce any medium and heavy-duty ZEVs. This percentage is also higher than the annual sales percentage required for 2024. It is likely that ZEV sales will grow as manufacturers launch new ZEV models.
 Manufacturer
 (Parent Company)

Total Number of Vehicles Produced and Delivered for Sale

Total Number of ZEVs Produced and Delivered for Sale

Total Number of ZEVs Sold to the Ultimate Purchaser

Blue Bird

638

97

93

BYD

38

38

-

Daimler

6,814

26

16

Ford

28,606

1,727

1,686

GM

24,500

-

-

Isuzu

1,450

-

-

Lightning eMotors

43

43

41

Lion Electric

4

4

2

Mercedes Benz Group

5,859

-

-

Navistar

1,733

111

104

Nikola Motor

13

13

13

Nissan

61

-

-

Paccar

8,166

49

31

Rivian

5,289

5,289

5,286

Stellantis

18,260

-

-

Volvo

2,995

153

66

XOS Trucks

89

89

89

Totals

104,558

7,639

7,427
Can manufacturers get credit for ZEVs that were supported with funding?
Yes, the ZEVs produced or delivered for sale in California can count towards ACT compliance, regardless of whether they are funded through the Hybrid and Zero-Emission Truck and Bus Voucher Incentive Project (HVIP) or any other funding program. This also means that ZEV sales supported by funding programs will also help manufacturers meet or exceed their ZEV sales requirements.
Which manufacturers met the 2024 ZEV sales requirements early?
Several manufacturers already delivered enough ZEVs for sale in California through the 2022 model year to earn enough ZEV credits to comply with the ACT regulation by the end of 2024. They include Bluebird, BYD, Ford, GreenPower, Lightning eMotors, Lion Electric, Nikola Motor, Rivian, Volvo, and XOS Trucks.
Is there any risk that a lack of ACT ZEV credits will result in a shortage of internal combustion truck sales in 2024?
No, there are ample medium- and heavy-duty ZEV sales that have already occurred or are currently on order supported by public funding to more than satisfy the statewide ACT sales requirement at the end of 2024. In addition, several manufacturers are likely to have excess credits that can be used towards meeting the end of the 2025 model year requirements. These early ZEV sales means the ZEV requirements do not impact manufacturer's ability to satisfy remaining internal combustion engine demand.