Latest Update - Amendments to Advanced Clean Cars II
In October 2023, staff launched a new effort to consider potential amendments to the Advanced Clean Cars II regulations, including updates to the tailpipe greenhouse gas emission standard and limited revisions to the Low-emission Vehicle and Zero-emission Vehicle regulations. View the Advanced Clean Cars II Meetings & Workshop page for more information.
California is Taking Your Ride to Zero Emissions
By 2035 all new passenger cars, trucks and SUVs sold in California will be zero emissions. The Advanced Clean Cars II regulations take the state's already growing zero-emission vehicle market and robust motor vehicle emission control rules and augments them to meet more aggressive tailpipe emissions standards and ramp up to 100% zero-emission vehicles. View the Official Rulemaking Documents. Read our Frequently Asked Questions to learn more about Advanced Clean Cars II and zero-emission vehicles.
Regulations 
The Advanced Clean Cars II regulations will rapidly scale down light-duty passenger car, pickup truck and SUV emissions starting with the 2026 model year through 2035.
The regulations are two-pronged. First, it amends the Zero-emission Vehicle Regulation to require an increasing number of zero-emission vehicles, and relies on currently available advanced vehicle technologies, including battery-electric, hydrogen fuel cell electric and plug-in hybrid electric-vehicles, to meet air quality and climate change emissions standards. These amendments support Governor Newsom's 2020 Executive Order N-79-20 that requires all new passenger vehicles sold in California to be zero emissions by 2035. Second, the Low-emission Vehicle Regulations were amended to include increasingly stringent standards for gasoline cars and heavier passenger trucks to continue to reduce smog-forming emissions.
California enjoys the largest zero-emission vehicle market in the nation with more than 16% of new vehicles sold being zero-emissions or plug-in hybrids. The figure below shows the annual zero-emission vehicle requirement.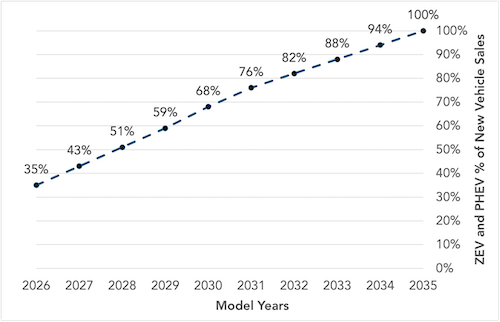 The regulations will substantially reduce air pollutants that threaten public health and cause climate change. While further developing the zero-emission vehicle market, the regulations also take additional steps to clean up internal combustion engines and will provide public health benefits of at least $12 billion over the life of the regulations by reducing premature deaths, hospitalizations and lost workdays associated with exposure to air pollution.
Environmental Justice and Equity
The impacts of climate change and air pollution affect all Californians, but residents in frontline communities are especially vulnerable and often face the most severe impacts. In developing the regulatory proposals and analysis, staff met with national, state, and local advocacy organizations to learn more about the recommendations these groups had regarding staff's proposals and how zero-emission transportation could be made more equitable. Staff's approach to environmental justice and equity in Advanced Clean Cars II was multi-faceted and drew on stakeholder recommendations and staff's own analysis.
First and foremost, by increasing the number of Zero-emission Vehicles on the road and continuing to clean up conventional internal combustion vehicles, the regulations will reduce exposure to vehicle pollution in communities throughout California, including in frontline communities that are disproportionately exposed to vehicular pollution. 
In addition, the zero-emission vehicle assurance measures, such as minimum warranty and durability requirements, increased serviceability, and facilitate charging and battery labeling, will help ensure all consumers can successfully replace their higher polluting vehicles with new or used vehicles that meet their needs for transportation and protect the emission benefits of the program. These measures are particularly important for consumers in lower-income and underserved communities where used vehicle sales are significant. Giving consumers additional assurance that their used zero-emission vehicle purchase meets minimum requirements is key for broader market uptake.
Finally, the regulations offer automakers additional compliance opportunities for actions to improve access to zero-emission vehicles in overburdened and lower-income communities, such as providing reduced price zero-emission vehicles for community mobility programs, producing affordable zero-emission vehicles, and retaining used vehicles in California to support the state's complimentary policies and incentives.
Incentive Programs and Savings for Consumers
A suite of incentive programs is available for consumers who want to make the switch to zero-emission vehicles or use other modes of clean transportation. Incentives are developed by the California Air Resources Board and include rebates for new and used clean cars, and funding for charging options, and alternatives to owning a car, such as car sharing and ride hailing. The regulations are backed by Governor Newsom's $2.4 billion dollar investment in vehicle incentives, charging infrastructure and public outreach.
Zero-emission vehicle buyers are likely to realize as much as $7,500 in maintenance and operational savings over the first 10 years of ownership. It is estimated that automakers will offer roughly 180 zero-emission and plug-in hybrid-electric vehicle models by 2025, making it easier than ever for consumers to find a clean vehicle that fits their daily needs and lifestyle.
Zero-emission vehicles are available to buy or lease right now. Learn more about these cars and the available incentives at:
Many Other States Follow California's Automotive Emissions Regulations
To date, 17 states have adopted all or part of California's low-emission and zero-emission vehicle regulations, as allowed under Section 177 of the Clean Air Act. This additional support for the clean vehicle market means that more than 35% of national new light-duty vehicle sales meet California automotive emissions standards.
Background
Since the 1960s the California Air Resources Board has been ratcheting down motor vehicle emissions to cut smog and protect public health and the environment. Today California faces a crisis driven by climate change — catastrophic weather, extreme and prolonged drought, sea level rise and wildfires — that require immediate and bold action. Protection of the most vulnerable in our society, particularly those who are overburdened by air pollution and the impacts of climate change, is a top priority.
The transportation sector, including all passenger cars and light trucks, heavy-duty trucks, off-road vehicles, and the fuels needed to power them, is responsible for half of California's greenhouse gas emissions. It is also responsible for 80% of smog-causing pollutants and is a significant source of toxic air contaminants that directly impact community health, the environment and the economy.
Resources 
If you wish to receive information regarding Advanced Clean Cars, please subscribe to the Advanced Clean Cars listserv.