New Report Details How Cap-and-Trade Proceeds Help Improve California
50% of Projects Benefitted Disadvantaged Communities
Contacts
Stanley Young
Public Information Office
Dave Clegern
Public Information Office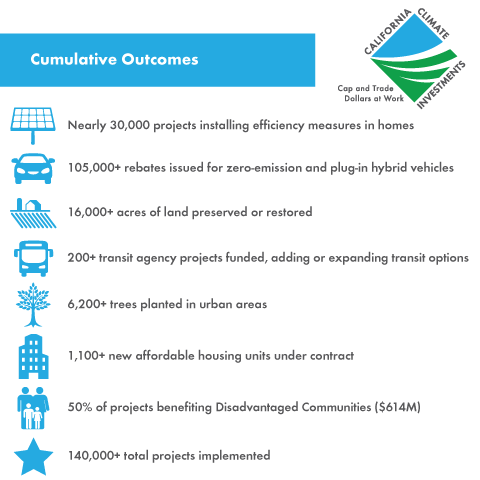 SACRAMENTO -  CCI cumulative outcomesA new report details how investments from California's cap-and-trade auction proceeds are delivering on their promise to reduce greenhouse gas emissions (GHG)while strengthening local economies and improving public health and the environment across California.
The report tracks the progress of the California Climate Investments, which awarded and implemented more than $500 million in new funding last year and more than doubled the number of projects statewide, spread over 57 of California's 58 counties. The report was released today by the California Air Resources Board (CARB) and the California Department of Finance.
"The investment of cap-and-trade proceeds is reaching every corner of the State, cutting greenhouse gases and improving air quality – and quality of life – for millions of Californians, especially in the state's hardest hit communities," said CARB Chair Mary D. Nichols.   
To date, $3.4 billion has been appropriated by the Legislature to 12 state agencies that have distributed $1.2 billion to projects that have been completed or are under way. Among the projects:
The Port of Los Angeles is launching the world's first shipping terminal to generate all of its energy needs from renewable resources, improving the air quality and local economy of nearby Wilmington, one of the state's most disadvantaged communities
Southern California's Metrolink commuter rail line is purchasing ultra-clean locomotives that will expand service and reduce commute times on its Antelope Valley and Ventura County lines while improving air quality in adjacent communities
An 82-unit affordable housing development in Los Angeles's MacArthur Park neighborhood will provide affordable housing and improved access to public transit for a key neighborhood hub near downtown Los Angeles
In agriculture, grants to farmers for more water-efficient irrigation technology will not only cut GHG emissions but save billions of gallons of water. More than 16,000 acres of land have been preserved, from coastal wetlands to mountain meadows, and more than 6,200 trees have been planted, providing shade on urban streets from Los Angeles to Fresno to Oakland.  
Designed to help California reach its climate goals, these investments are also providing an array of other benefits by creating jobs, improving air quality, and reducing transportation and energy costs. The report features profiles that highlight the impact these investments are having on individuals and communities, particularly those in California's most disadvantaged communities.

Benefits to Disadvantaged Communities
Fifty percent of the $1.2 billion in implemented projects ($614 million) is providing benefits to disadvantaged communities, including 34 percent ($419 million) going to projects located within these communities. This exceeds the requirement under SB 535 (De León) that at least 25 percent of investments are allocated to projects that benefit disadvantaged communities.
Examples of these projects include:
A statewide clean-energy assistance program that has installed solar panels and/or energy-efficiency measures in nearly 30,000 homes, lowering energy bills for low-income residents from Imperial to Sacramento counties
A San Joaquin Valley Air Pollution Control District program that helps low-income residents like Jerome Mayfield, a 54-year-old Stockton resident, replace their old, polluting vehicles with cleaner hybrid and electric cars
A San Bernardino County project to plant 1,000 trees in and around disadvantaged communities, providing shaded places to rest and play on hot days, as well as jobs for local residents
Future reports will examine the benefits under AB 1550 (Gomez), which modifies the requirements for minimum investments to disadvantaged communities.
The report also found that projects are underway in 97 percent of the 2,000 census tracts in the state that the California Environmental Protection Agency designated as disadvantaged. And state agencies are actively seeking to make investment opportunities more accessible to disadvantaged communities through technical assistance grants and increased outreach.

Reducing Greenhouse Gas Emissions
Projects funded to date are expected to reduce greenhouse gas emissions by more than 15 million metric tons of carbon dioxide equivalent (CO2e), roughly the equivalent of taking three million cars off the road for a year. In addition, the High Speed Rail Project is estimated to reduce GHG emissions by almost 59 million metric tons of CO2e over its operating life.
The 2017 annual report includes detailed information on cost-effectiveness and metrics for evaluating program effectiveness.
Accompanying this year's report is an interactive map that allows users to track where cap-and-trade funds are being invested anywhere in the state. Users can view the locations of individual projects and aggregate them by program and by the state's 120 legislative districts and 58 counties.
Project level data for all projects included in the 2017 Annual Report and featured on the interactive map is available on the California Climate Investments website, including project locations, GHG reductions and benefits to disadvantaged communities.
The 2017 Annual Report to the Legislature on California Climate Investments Using Cap-and-Trade Auction Proceeds can be found here .
Links
CARB is the lead agency in California for cleaning up the air and fighting climate change to attain and maintain health-based air quality standards. Its mission is to promote and protect public health, welfare, and ecological resources through the effective reduction of air and climate pollutants while recognizing and considering effects on the economy.