MEDIA ADVISORY: 27 electric trucks coming to Fontana freight yard and two rail yards
California-made zero-emission freight trucks replace diesel vehicles in low-income communities
SAN BERNARDINO - On Friday, the State of California, San Bernardino Council of Governments (SBCOG) and partners Daylight Transport and BYD celebrate the arrival of the first of 27 next-generation zero-emission electric yard and service trucks in San Bernardino, Los Angeles and Fontana. The trucks were funded by $9 million from the State's climate change-fighting cap-and-trade program.


WHO:
Daniel Enz, district rep on behalf of Congresswoman Norma Torres
Omar Pamplona, field rep for Congressman Pete Aguilar
Joshua Monzon on behalf of Senator Mike Morrell
Maha Rizvi, field rep for Assemblymember Eloise Reyes
Jordan Gurnett on behalf of Assemblymember Marc Steinorth
Maria Arias, district rep, and Manny Saucedo, district director, for Senator Connie Leyva
San Bernardino County Supervisor and SBCTA Board Member Janice Rutherford
Susanna Fernandez on behalf of San Bernardino County Supervisor Josie Gonzales
Fontana Mayor Acquanetta Warren
California Air Resources Board (CARB) Vice Chair Sandy Berg
Daylight Transport Executive Vice President Greg Steele
BYD Vice President of Truck Sales Andy Swanton

WHAT: The first of 27 battery-electric yard and service BYD trucks delivered to Daylight Transport freight-handling service center in a disadvantaged community within the city of Fontana. More electric trucks to be delivered this summer to BNSF rail yards in San Bernardino and Los Angeles. The trucks are part of a pilot program to test this technology in daily use. CALSTART, a Pasadena-based clean transportation not-for-profit, will be estimating the future potential for commercialization and job creation.

WHEN: 11:00 a.m., Friday, March 10, 2017

WHERE: Daylight Transport Service Center, 11160 Elm Avenue, Fontana. The newly constructed 60,000-square-foot state-of-the-art service center is equipped with a 600-kilowatt rooftop solar system that Daylight estimates will generate 85 percent of energy used. The facility will achieve USGBC LEED certification through efficient, sustainable and socially responsible design.

VISUALS: Demonstrations of fully electric 80,000-pound (GCVWR) yard truck and 16,100-pound (GVWR) service truck in operation – and being charged. Ride-along opportunities. 

BACKGROUND: This demonstration project will accelerate the commercialization of heavy-duty advanced, zero-emission technologies. The electric-powered trucks will operate at a Daylight Transport trucking freight facility and at two BNSF rail yards, replacing the most commonly used diesel-powered trucks in freight facilities. The project is paid for in large part by a $9.1 million grant awarded to SBCOG from CARB through California Climate Investments, a statewide program that puts billions of cap-and-trade dollars to work reducing greenhouse gas emissions, strengthening the economy and improving public health and the environment – particularly in disadvantaged communities. The electric trucks are provided by BYD Motors, whose North American headquarters are in Los Angeles.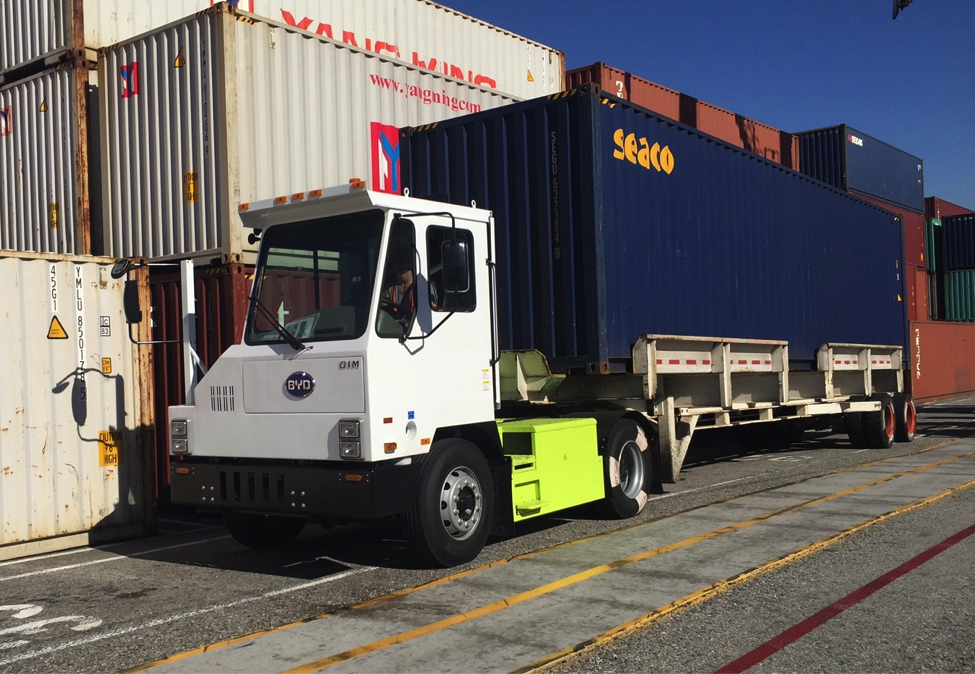 CARB is the lead agency in California for cleaning up the air and fighting climate change to attain and maintain health-based air quality standards. Its mission is to promote and protect public health, welfare, and ecological resources through the effective reduction of air and climate pollutants while recognizing and considering effects on the economy.