At COP26: Global transportation alliance unveils Call to Action to bring international focus on charging infrastructure for zero-emission cars and trucks
"Without it Nothing Moves" Call to Action signed by more than 30 countries, companies, cities, regions, and states including California
Contacts
Stanley Young
Office of Communications
Dave Clegern
Office of Communications
GLASGOW – At a ceremony in the Blue Zone today, the Transportation Decarbonisation Alliance shone a bright light on the urgent need for countries, regions and cities to rapidly invest in and upgrade their zero-emission charging and fueling infrastructure.
The Call to Action was launched by the Transport Decarbonisation Alliance currently led by California, a world leader in decarbonizing its transportation sector. TDA is a unique collaboration among countries, cities/regions and companies to accelerate the worldwide transformation of the transport sector towards a net-zero emission mobility system before 2050. The Call to Action was signed by more than 30 countries, companies, regions, cities, and states including California.
"In California, as in many jurisdictions across the globe, combustion emissions are choking our communities and heating up the planet," said California Air Resources Board and TDA Chair Liane Randolph. "Every one of us, including countries, cities, states, regions and companies, must redouble our efforts to slash greenhouse gas emissions with policies that relentlessly accelerate the transition to zero emissions across all transportation sectors. That also means scaling up the charging infrastructure to meet the inevitable exponential growth of electric cars and trucks because, as our Call to Action makes clear, 'Without It, Nothing Moves.'"
The premise of the TDA Call to Action is simple: if the countries, states, cities and regions now committed, or beginning the transition to zero-emission vehicles fail to upgrade their charging infrastructure, it will imperil the likelihood of success in rapid deployment of zero-emission cars and trucks. Because greenhouse gas emissions from the transportation account for 20% — and up to 50% — of the carbon pollution in cities, states and regions. As a result, failure to act soon with massive investment in charging infrastructure will imperil the ability of the international community to meet the goals of the Paris agreement to keep emissions at a level that supports only a 1.5 degree rise in global temperatures.
"The swift and ambitious rollout of a charging infrastructure network is the most important condition for the transition towards cleaner mobility," said the Netherlands Secretary for Infrastructure and Water Management Steven van Weyenberg. "Not committing to charging infrastructure is like playing football without a ball. You will never score a goal. You simply can't have one without the other."
From their rich experience in charging infrastructure the signatories emphasized the infrastructure to be ´fit-for-purpose´ both in densely populated areas and well as in smaller and lower-income communities, in rural areas and across borders.
Signatories underscore that a charging infrastructure market model is open, user-friendly, scalable and interoperable, has clear and transparent cost and value allocations, and is underpinned by open standards. In addition, rolling out our charging infrastructure has benefits beyond the infrastructure itself, and the Call to Action highlights the broader energy system benefits recognizing the electricity storage potential of the broader EV charging infrastructure incorporating vehicle-to-grid charging opportunities.
The call for action was launched by TDA. The TDA, launched in 2018, brings together countries, cities/regions and companies as the major drivers in sustainable, low carbon mobility in line with the Paris Agreement. core contribution to this needed transformation is to foster cooperation among countries, cities/regions and companies (the '3Cs') toward carbon-free transport, accelerating action through synergy.
---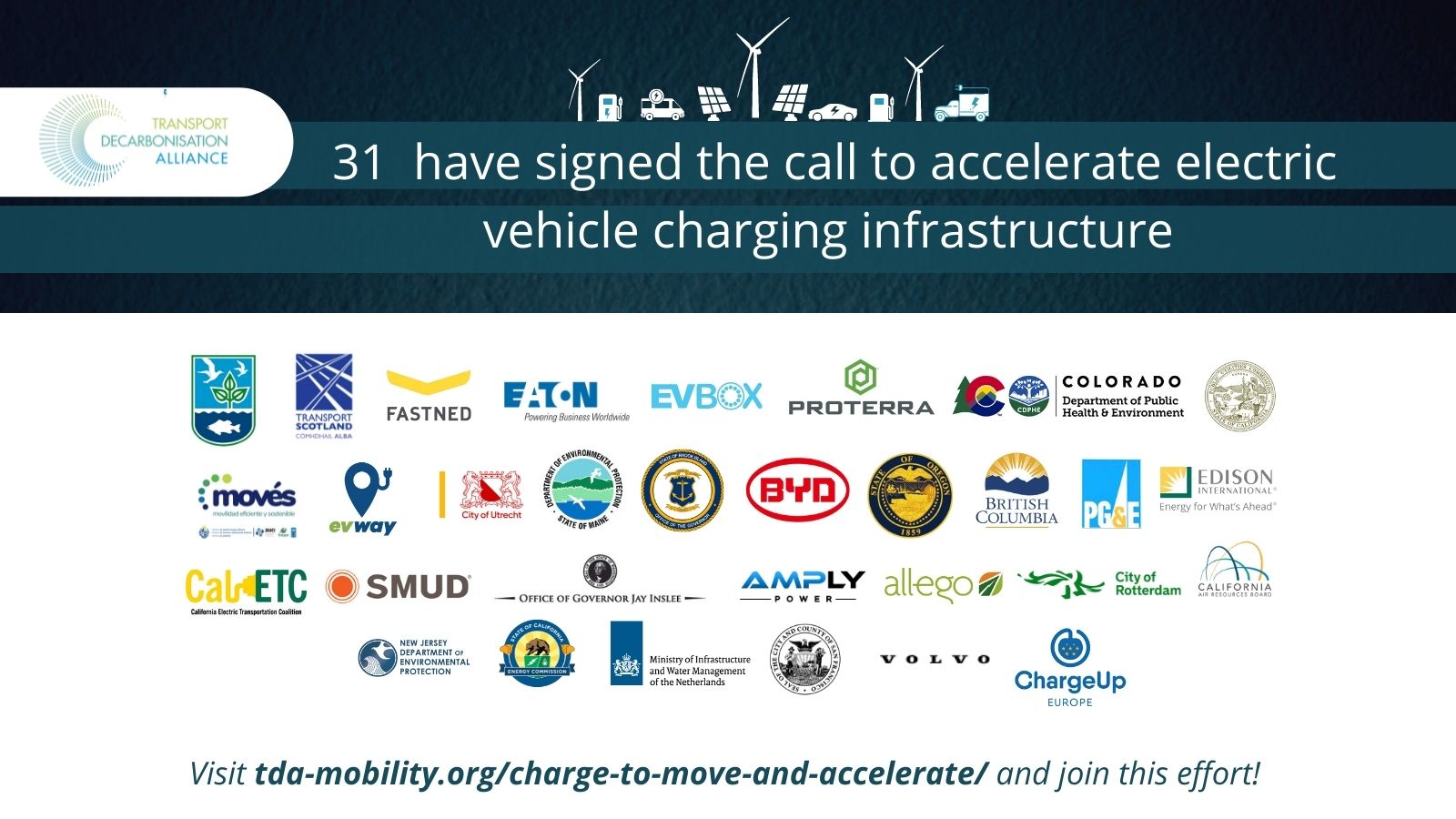 ---
Signatory Quotes
"British Columbia is all in on electric vehicles and has the highest per capita uptake of EVs in North America. We're on target to making 90% of light-duty vehicles zero emissions by 2030 and have a goal of 10,000 public charging stations that same year. We're making sure people will have charging options across our vast province and will complete an 'electric highway' of fast-chargers by 2024" George Heyman, Minister of Environment and Climate Change Strategy, British Columbia.
"COP26 will have to highlight the need for carbon-neutral transport across the globe-not only for the health of our planet but for our communities and global economy. Given that EV charging infrastructure plays a pivotal role in the adoption of electric mobility, there is a clear need for policymakers to acknowledge the importance of creating a comprehensive plan for the deployment of quality, scalable infrastructure." Hugo Pereira, Chief Growth Officer at EVBox Group.
"Charging infrastructure is a hard precondition for the roll-out of electric vehicles and achieving the climate goals. As air pollution is a health problem in many cities, Rotterdam is strongly encouraging the use of electric vehicles, to improve the city's air quality and by that the public health of our citizens.  By increasing the number of electric cars as well as the number of charging points, we aim to become completely emissions-free in the upcoming years. In Rotterdam we take on our responsibility, however we can only meet the task if we join forces with national governments and the business community." Arno Bonte, Vice Mayor for Sustainability, Clean Air and Energy Transition, City of Rotterdam.
"To succeed in making a fundamental breakthrough for zero-emission vehicles, we must develop a reliable and dense charging infrastructure that covers home-depot, on the road and destination charging. Since the electric trucks are here now, the infrastructure, mainly powered by green energy, also needs to be in place as soon as possible", says Mr Joachim Rosenberg, Executive Vice President of Volvo Group and Head of Volvo Energy.
"The future of transport is electric. We are ready, we have the technology and we know what we need to do but we cannot do it on our own. To succeed, we need cross-sector collaboration to accelerate the development of the charging infrastructure to support operators with their transition to CO₂-neutral transport solutions, " says Christian Levin CEO & President of Scania.
"The successful mass rollout of zero-emission electric transportation solutions relies on a readily accessible and functional charging infrastructure. That is why the 'Call to Action' is so vitally important to achieving this, if shared decarbonisation goals are to be successfully met on a global level. BYD fully embraces this and believes that cooperation and partnerships are more crucial than ever in fast-tracking EV charging infrastructure throughout the world. We believe this is an unprecedented opportunity for private and public stakeholders to unite, providing a powerful voice to promote electrification, and ultimately bringing more sustainable zero-emission solutions to the market to reduce the impact of transport on our environment." Isbrand Ho, Managing Director, BYD Europe B.V.
CARB's mission is to promote and protect public health, welfare, and ecological resources through effective reduction of air pollutants while recognizing and considering effects on the economy. CARB is the lead agency for climate change programs and oversees all air pollution control efforts in California to attain and maintain health-based air quality standards.