At COP26, California assumes leadership of international alliance to boost carbon-free transportation worldwide
CARB's Liane Randolph becomes new chair of Transportation Decarbonisation Alliance
Contacts
Stanley Young
Office of Communications
Dave Clegern
Office of Communications
GLASGOW – At a ceremony in the Blue Zone at COP26 today, California assumed the presidency of the Transportation Decarbonisation Alliance (TDA)  – a unique collaboration bringing together countries, cities or regions and companies as the major drivers in sustainable, low carbon mobility – taking over its leadership from the Netherlands. Liane Randolph, Chair of the California Air Resources Board, will become the new TDA chair, assuming the role from the Netherlands Minister for Infrastructure and Water Management Steven van Weyenberg.
The Netherlands and California also announced the Call to Action on Zero-Emission Infrastructure that they jointly developed. Unveiled at the appropriately named session, "Without It Nothing Moves", the Call to Action was signed by more than 30 countries, regions, cities and companies. Joining California were the states of Colorado, Maine, New Jersey, Oregon, Rhode Island and Washington, along with the Canadian province of British Columbia. The signatories support the effective collaboration of the public and private sector to ensure an accelerated deployment of needed charging infrastructure to catalyze the transition to zero-emission transportation.
"I thank Minister van Weyenberg of the Netherlands – along with Portugal – for their capable presidencies. California is proud to now assume this important international role of leadership in sustainable mobility. We are also eager to learn the priorities of the TDA members," said CARB and TDA Chair Liane Randolph. "In California, as in many jurisdictions across the globe, combustion emissions are choking our communities and contributing to the disastrous effects of global climate change that we are already experiencing. It is now up to all of us – subnational and national governments, and the private sector – to help stop the effects of climate change in their tracks by developing and enacting policies that accelerate the transition to zero emissions across all transportation sectors."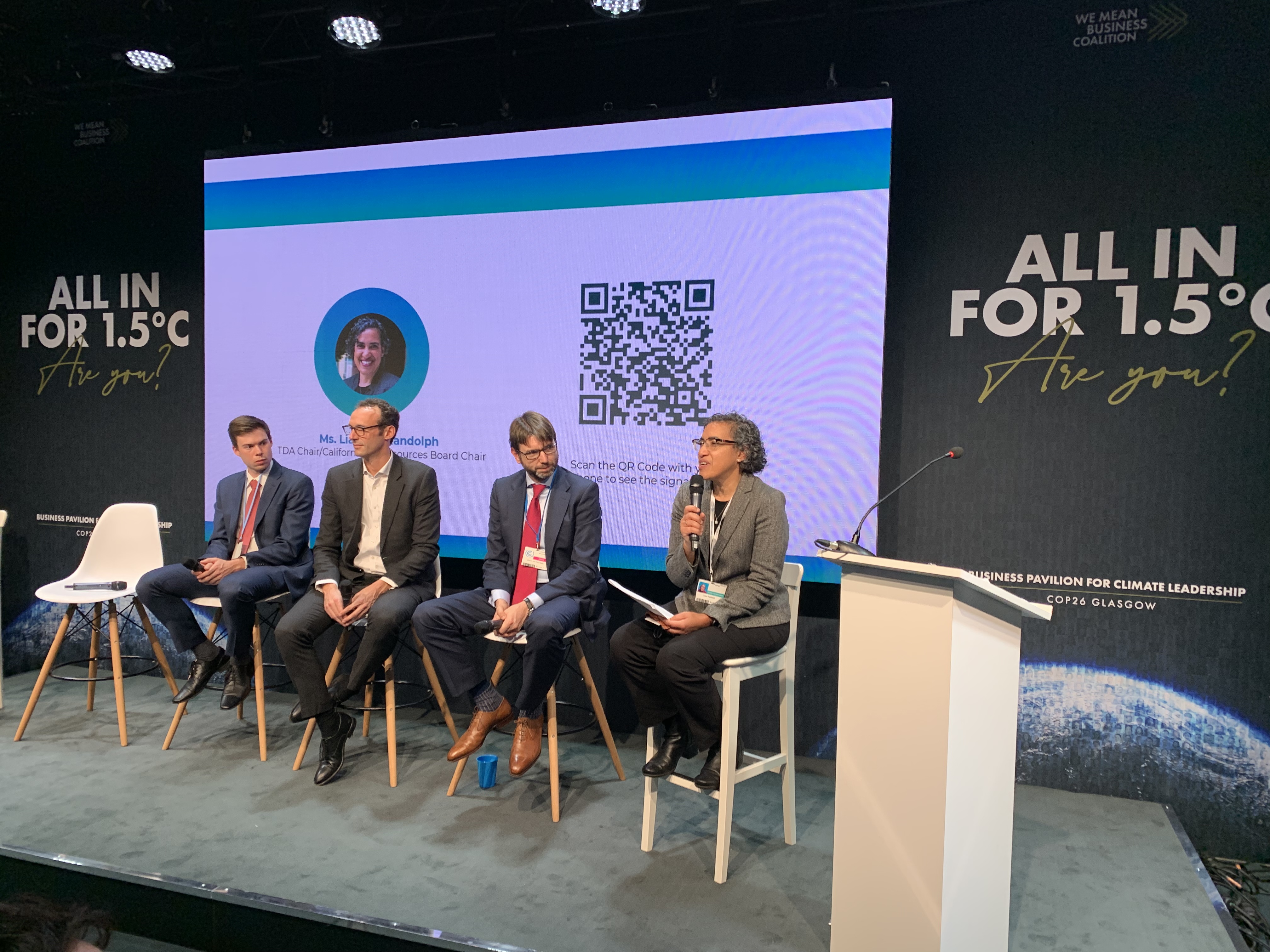 "Sustainable mobility is gaining more and more momentum. Cities, companies and countries joining forces is pivotal for that," said Minister van Weyenberg. "As chair of the TDA we were pleased to have bolstered that on critical issues like zero-emission freight, active mobility and charging infrastructure. Appreciating the strong Californian leadership in these fields I confidently hand over the chairmanship to California and look forward to continued strong cooperation, on behalf of The Netherlands."
Launched in 2018, the TDA was one of 12 commitments made the One Planet Summit hosted by President Emmanuel Macron in Paris, France in December 2017 to accelerate the worldwide transformation of the transport sector towards a net-zero emission mobility system before 2050. The TDA's core contribution to this needed transformation is to foster cooperation among countries, cities/regions and companies (the '3Cs') toward carbon-free transport, accelerating action through synergy.
Under Governor Newsom, California has made the rapid shift to zero-emission transportation a top priority. The recent $3.9 billion Zero Emission Vehicle package advanced by the Governor in partnership with the Legislature will support the Governor's Executive Order to ensure 100% ZEV sales for cars and medium trucks by 2035 and a 100% zero emission fleet of heavy-duty trucks and related equipment everywhere feasible by 2045. The ZEV Budget package will provide important public health, equity and climate benefits, especially for front-line communities impacted by car and truck pollution. It will also continue to support California's zero-emission jobs and economy. California has registered nearly one million plug-in EVs, and zero-emission vehicles have become a top export category for California.
Combined with a broad range of complementary regulations to accelerate the transition of freight handling and transport to zero-emission, coordination among state agencies will maximize the effectiveness of the State's investment in zero-emission vehicles, and make it as seamless as possible for fleets, businesses, consumers and communities to access vehicle and infrastructure funding.
CARB's mission is to promote and protect public health, welfare, and ecological resources through effective reduction of air pollutants while recognizing and considering effects on the economy. CARB is the lead agency for climate change programs and oversees all air pollution control efforts in California to attain and maintain health-based air quality standards.