CARB public art program announces artists for new Southern California HQ
The California Air Resources Board initiates world's largest public art program addressing climate change
Contacts
Stanley Young
Office of Communications
danielle@frameworksf.com
FRAMEWORK
LOS ANGELES – CARB and Dyson & Womack announce six artists commissioned for the permanent public art collection at the new CARB Southern California Headquarters located in Riverside, California. The commissioned artists are Allora & Calzadilla, Refik Anadol, Kameelah Janan Rasheed, Noé Montes, Andrea Polli and Tomás Saraceno. The public art program will include the world's largest permanent collection of artworks addressing air quality and the effects of climate change. The state-of-the-art, zero emissions building is slated to open in late 2021 and common areas with public art will be open to the public.
CARB is charged with protecting the public from the harmful effects of air pollution and developing programs and actions to fight climate change. In 2021 CARB will relocate to a 400,000-square-foot facility on a 19-acre campus in Riverside, CA. It will be the largest true zero net energy facility of its type and has the highest sustainability goals including Zero Net Energy, CALGreen Tier 2, and Zero Carbon. 
On the decision to invest in the commissioned artists Allora & Calzadilla, Refik Anadol, Kameelah Janan Rasheed, Noé Montes, Andrea Polli and Tomás Saraceno, CARB Chair Mary Nichols states: 
"Members of the public who enter CARB's new Southern California headquarters, and even passers by, will have an opportunity to experience a selection of world-class art by artists whose work embraces environmental and equity themes. Riverside is already home to a thriving art community. We are proud that, thanks to the state's visionary 1 percent set-aside for new construction, we are able to enhance the region's growing reputation as a center of excellence in the arts."
With a public art allowance of $2,421,200 the program exemplifies the dynamic capacity of public art. The project's impact will reach beyond the Riverside campus offering continued engagement for the local community, CARB's global audience and the public at large. The new facility will host a public art program comprised of six permanent artworks and a program of arts engagement supporting local partnerships and educational programs. 
The chosen artists were selected from a pool of 600 applicants after an intensive application process focused on sustainability and equity. Resulting artist projects will adhere to the same level of environmental integrity as the CARB building which will be LEED (Leadership in Engineering and Design) platinum certified.            
Important Project Dates 
Artist projects will be announced in early 2020.
The completed CARB building will be open to the public late 2021.
---
Media Opportunities
Interviews with Dyson & Womack and selected artist.
For more information on the selection process, the CARB Public Art Plan, biographies of the selected artists, photos, and a press package please download the media kit. For press inquiries, please contact FRAMEWORK.
For questions about the new headquarters and lab facilities, contact CARB.
About the Artists
Through a complex research-oriented practice, Allora & Calzadilla critically address the intersections and complicities between the cultural, the historical and the geopolitical. Jennifer Allora and Guillermo Calzadilla have developed a practice and a critical body of work that is informed by questions of sustainability. Working from the Caribbean, a place where extinctions and ecological collapses have been experienced since the fifteenth-century onwards, where extraction, pillage, and plunder have been the defining attitude of those in power toward the wondrous, gives the duo an apt vantage point from which to observe and imagine the horizons of critical climate change, biodiversity loss, and other key subjects confronting our human civilization.
Refik Anadol (b. 1985, Istanbul, Turkey) is a media artist, director, and pioneer in the aesthetics of machine intelligence. His body of work locates creativity at the intersection of humans and machines. In taking the data that flows around us as his primary material and the neural network of a computerized mind as his collaborator, Anadol paints with a thinking brush, offering us radical visualizations of our digitized memories and expanding the possibilities of architecture, narrative, and the body in motion. Anadol's site-specific parametric data sculptures and data paintings, live audio/visual performances, and immersive installations take many forms, while offering a dramatic rethinking of the physical world, our relationship to time and space, and the creative potential of machines. 
Noé Montes is an award-winning social documentary photographer. He has been making images for 20 years with a strong focus on community and social justice issues. His career includes notable projects like the Coachella Valley Farm Workers and extensive experience utilizing photography as a tool for community education and engagement. Montes work has a desired outcome, one that will allow us to work towards a future that will benefit all members of our society. His own background informs this approach, growing up in a family of migrant farmworkers gave him insights into the issues that affect marginalized communities. Given the fact that marginalization and injustice are systemic and historic Montes believes that resistance to these forces must, therefore, be systemic and historicized – through the documentation our stories and our communities.
Kameelah Janan Rasheed is a learner and an interdisciplinary artist who seeks to make her research visible through an ecosystem of iterative, provisional projects as well as through experiments. These projects and experiments include sprawling, xerox-based "architecturally-scaled collages" (Frieze magazine, Winter 2018); publications; large-scale text banner installations; digital archives; lecture-performances; library interventions; poems/poetic gestures; and other forms yet to be determined. In her work, she looks at experimental poetry, examples of intimate intertextuality, literacy, non-institutional archival modes, anecdotes of syncretism, histories of human as well as non-human communication systems, and ecological studies as languages to explore knowledge production and processes of learning/unlearning. Rasheed has exhibited at the 2017 Venice Biennale, ICA Philadelphia, Pinchuk Art Center, Brooklyn Museum, Queens Museum, New Museum, Studio Museum in Harlem, Brooklyn Public Library, Schomburg Center for Research in Black Culture, and The Kitchen, among others.
Andrea Polli is an environmental artist working at the intersection of art, science and technology. She has worked on the issue of climate change with scientists at sites around the globe including in Antarctica and above the Arctic circle and presented public work related to air quality in conjunction with the seminal COP21 in Paris along with exhibitions in Berlin, Copenhagen, New York City, Chicago and throughout the US, Australia, New Zealand, Taiwan and Hong Kong. Her artwork and research have received major support from The National Endowment for the Arts (NEA), The National Science Foundation (NSF) and Fulbright among others, including support for two over $1.5 million projects. Polli holds an MFA from the School of the Art Institute of Chicago and a PhD from the University of Plymouth and her most recent books are "Far Field: Digital Culture, Climate Change and the Poles" and "Hack the Grid". 
"Can man live elsewhere than in air?" asks philosopher Luce Irigaray. Air is "the place of all presence and absence." To be aware of the air is to be sensitive to the environment, to be aware of an element that sustains life, transmits and carries. Naturally, air evades the senses, occasionally felt as a breeze against the skin, and only rarely made visible as vapor or smog. Yet, gazing up to this interface, imaginative conceptions have always found here their focus of attention; across histories this space reveals configurations and constellations, tropospheric clouds in thermodynamic motion hint to our weather- dependent presence and futures, as solar rhythms sculpt time. Saraceno's work is informed by the worlds of art, architecture, natural sciences and engineering. His floating sculptures, community projects such as Aerocene, and interactive installations propose new, sustainable ways of inhabiting the environment. In an effort to explore the possibility of creating a future on, in and with the air, Saraceno welcomes us to attune to the myriad presences, animate and inanimate, that meet and cohabit within our shared ocean of air. Born in Tucuman, Argentina, Saraceno's work has been widely exhibited internationally in solo and group exhibitions such as the 58th International Art Exhibition - La Biennale di Venezia, May You Live In Interesting Times, curated by Ralph Rugoff, and his carte blanche exhibition ON AIR, curated by Rebecca Lamarche-Vadel at Palais de Tokyo, Paris (2018). He has held residencies at Centre National d'Études Spatiales (2014–2015), MIT Center for Art, Science & Technology (2012–ongoing), and Atelier Calder (2010), among others. Saraceno lives and works in and beyond the planet Earth.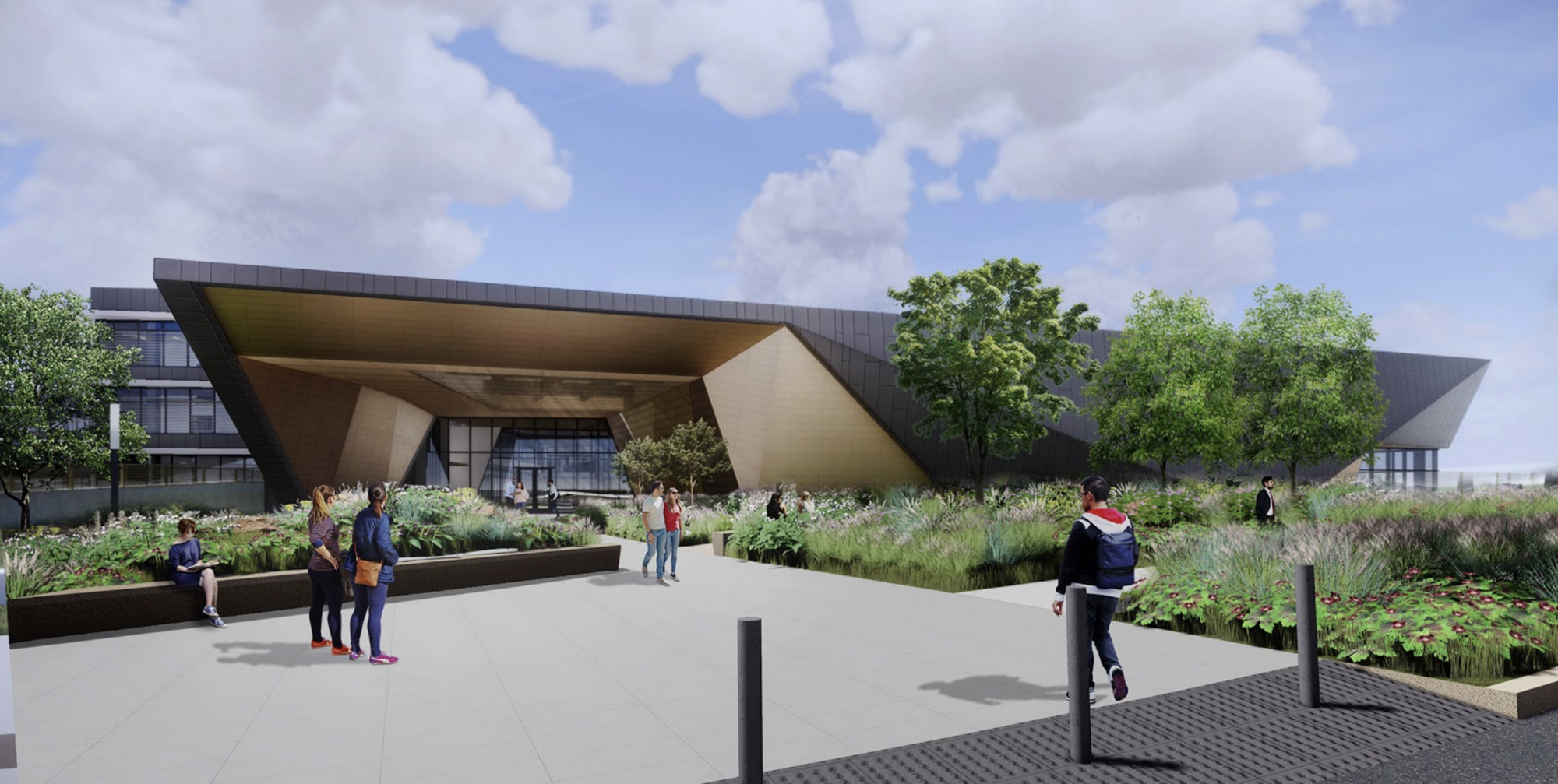 About Dyson & Womack
Dyson & Womack are a leading public art consulting firm shaping the face of contemporary public art. Co-founders Emily Womack and Chris Dyson develop cultural opportunities centered on equity, accessibility and a progressive approach to public art management. Our team works to advance artist engagement with local and global issues, generate civic dialogue, and provide a platform for the arts across communities. 
Dyson & Womack are Art Consultants for CARB, the California Natural Resources Agency Headquarters and California Health & Human Services for the State of California. They are producing the upcoming CURRENT:LA FOOD public art triennial for the city of Los Angeles.
About CARB
CARB is charged with protecting the public from the harmful effects of air pollution and developing programs and actions to fight climate change. From requirements for clean cars and fuels to adopting innovative solutions to reduce greenhouse gas emissions, California has pioneered a range of effective approaches that have set the standard for effective air and climate programs for the nation, and the world. 
About the Art Panel and Art Committee
The CARB Public Art Program is overseen by an Art Panel and supported by an Art Committee designated by the State of California, Department of General Services. The Art Panel is comprised of representatives from CARB, the Division of the State Architect, the California Arts Council (CAC), the Riverside community, and an Arts Professional. The Art Committee is comprised of representatives from CARB, the California Arts Council (CAC) the Department of General Services (DGS), the Architect of Record (ZGF Architects), the General Contractor (Hensel Phelps), and the Master Architect (Harley Ellis Devereaux).
About the Southern California Consolidation Project
The Southern California Consolidation project for CARB will be realized under the design-build team of Hensel Phelps, ZGF Architects LLP (ZGF), and Affiliated Engineers, Inc. (AEI). The $368 million, approximately 400,000-square-foot, 19-acre project will be located in Riverside near the UC Riverside campus. It will be one of the largest and most advanced vehicle emissions testing and research facilities in the world, and the largest true zero net energy facility of its type in the world—generating more energy than it uses.
CARB is the lead agency in California for cleaning up the air and fighting climate change to attain and maintain health-based air quality standards. Its mission is to promote and protect public health, welfare, and ecological resources through the effective reduction of air and climate pollutants while recognizing and considering effects on the economy.