CARB expands number of California disadvantaged communities in statewide Community Air Protection Program
Residents in East Oakland and the International Border area of San Diego will help develop community-driven actions to improve air quality and reduce exposure to harmful air pollution where they work and live under AB 617
SACRAMENTO – Two more communities have been added to California's fight for clean air under the State's Community Air Protection Program. The California Air Resources Board approved staff's recommendationto select the East Oakland Community in the Bay Area Air Quality Management District (Bay Area AQMD) and the International Border Community (San Ysidro/Otay Mesa) in the San Diego Air Pollution Control District (San Diego APCD). Both communities were selected to develop a Community Emissions Reduction Program to improve air quality at the neighborhood scale and the San Ysidro/Otay Mesa community was also selected to also develop a community air monitoring plan.
These two diverse, urban and Border area communities will work in partnership with their local Air District in crafting community-specific plans to reduce both air pollution emissions and exposures using a variety of strategies based on incentives, enhanced enforcement and rulemaking.
"Air pollution disproportionately impacts low-income communities and disadvantaged communities," said Chanell Fletcher, CARB's Deputy Executive Officer for Environmental Justice. "With the selection of these new communities, we can continue to advance and leverage community-driven solutions that will create more breathable air and better health for communities across California."
Under the Community Air Protection Program, staff worked with community members, air districts, community-based organizations, and other stakeholders to develop the fourth annual recommendation of new communities to join the program. The two communities chosen for the program this year were selected from air district / community recommendations. Communities are nominated for the program by community members, local air districts, community-based organizations and other stakeholders. CARB staff performs a technical assessment of nominated communities followed by public comment. The Board makes the final decision on community selection.
---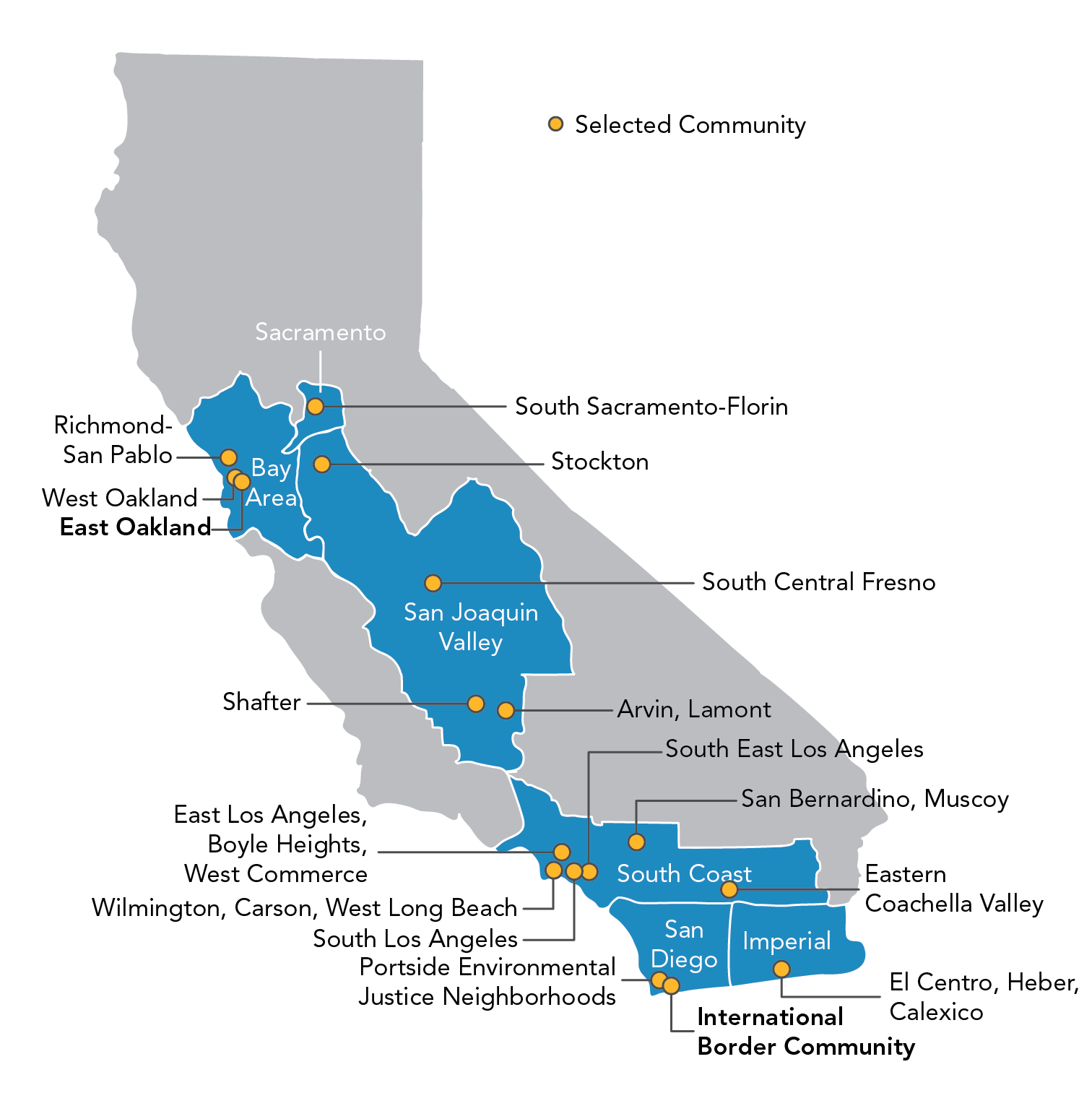 ---
Since the implementation of AB 617, 15 community steering committees have been formed, 11 Community Emissions Reduction Programs have been approved by the Board (7 of them in their second year of a five-year implementation period), and many strategies have been developed to fight air pollution generated by agricultural activities, heavy duty trucks, railyards, and industry across California. CARB estimates that at the end of the five-year implementation period for the 11 communities from years 1 and 2, combined emission reductions from both CARB and air district actions will be around 75 tons of PM2.5.
Reset of the AB 617 Program
The Board's action brings the total number of communities in the program to 17 since the passage of AB 617 in 2017. Lessons learned to date will be applied to help bring air quality improvements to the many disadvantaged communities suffering from poor air quality, as originally envisioned by CARB's Board.  
"CARB staff are preparing to engage stakeholders in a process to reimagine how we can develop other models that apply what we've learned so far to reset the program.  We will do this while meeting our long-term commitment to support communities that have already been selected," said head of the Office of Community Air Protection Deldi Reyes. Through engagement with the AB 617 Consultation Group, CARB is ready to update the Statewide Strategy to include a strong focus on equity, civil rights and environmental justice while also including other strategies to address disproportionate air quality at the community scale.
Statewide Strategies to Achieve Additional Reductions 
CARB continues its statewide efforts to achieve emissions reductions in all highly burdened communities and will include additional strategies in the next update to the Community Air Protection Program Blueprint.
CARB's mission is to promote and protect public health, welfare, and ecological resources through effective reduction of air pollutants while recognizing and considering effects on the economy. CARB is the lead agency for climate change programs and oversees all air pollution control efforts in California to attain and maintain health-based air quality standards.