CARB approves plan to meet California's bold climate and air quality goals
2017 Scoping Plan details how state will slash climate-changing gases
Contacts
Dave Clegern
Public Information Office
Stanley Young
CARB Director of Communications
SACRAMENTO - Building on the state's success in decarbonizing its economy, the California Air Resources Board today approved a bold plan to accelerate the reduction of greenhouse gas emissions over the coming decade while improving air quality and public health, investing in disadvantaged communities, and supporting jobs and economic growth.
"At a time when science shows us that climate change is happening faster than anticipated, California is responding with a bold plan that rises to meet this global challenge," said CARB Chair Mary D. Nichols. "It builds on proven actions and presents a template for other jurisdictions who are also committed to preventing the worst impacts of a warming planet."
Eleven years ago, the landmark Global Warming Solutions Act (AB 32) set the goal of reducing greenhouse gas emissions to 1990 levels by 2020. California is on track to exceed that target, while the state's economic growth has continued to outpace the rest of the country. The 2017 Climate Change Scoping Plan, approved unanimously by CARB today, sets the state on an ambitious course to reduce climate-changing gases an additional 40 percent below 1990 levels by 2030 under SB 32. This will require California to double the rate at which it has been cutting climate-changing gases.
Following through on these actions, the plan estimates, could save the state in 2030 as much as $11 billion dollars in avoided environmental damage from carbon pollution in 2030. Costs of California's 2017 wildfire season so far are now more than $10 billion.
The programs detailed in the Scoping Plan will also improve public health while reducing costs associated with healthcare and natural disasters. These include a projected reduction in premature deaths of 3,300 by 2030. The financial benefit from reduced sick days and hospital stays will be more than $1.2 billion in 2030.
Implementing this Scoping Plan will ensure that California's climate actions continue to promote innovation, drive the generation of new jobs, and achieve continued reductions of smog and air toxics. The ambitious approach draws on a decade of successful programs that address the major sources of climate-changing gases in every sector of the economy:
More Clean Cars and Trucks

: The plan sets out far-reaching programs to incentivize the sale of millions of zero-emission vehicles, drive the deployment of zero-emission trucks, and shift to a cleaner system of handling freight statewide.

Increased Renewable Energy

: California's electric utilities are ahead of schedule meeting the requirement that 33 percent of electricity come from renewable sources by 2020. The Scoping Plan guides utilities to 50 percent renewables, as required under SB 350.

Slashing Super-Pollutants

: The plan calls for a significant cut in super-pollutants such as methane and HFC refrigerants, which are responsible for as much as 40 percent of global warming.

Cleaner Industry and Electricity

:

California's renewed cap-and-trade program extends the declining cap on emissions from utilities and industries and the carbon allowance auctions. The auctions will continue to fund investments in clean energy and efficiency, particularly in disadvantaged communities.

Cleaner Fuels

: The Low Carbon Fuel Standard will drive further development of cleaner, renewable transportation fuels to replace fossil fuels.

Smart Community Planning

: Local communities will continue developing plans which will further link transportation and housing policies to create sustainable communities.

Improved Agriculture and Forests

: The Scoping Plan also outlines innovative programs to account for and reduce emissions from agriculture, as well as forests and other natural lands.
The Scoping Plan also evaluates reductions of smog-causing pollutants through California's climate programs. In addition, AB 617 lays the groundwork for new and enhanced efforts to identify and reduce air pollutants and air toxics with a specific focus on communities near the state's biggest emitters and in communities disproportionately impacted by pollution.
The Scoping Plan is the result of unprecedented public outreach and coordination over the past two years. More than 20 state agencies collaborated to produce the plan, which was informed by 15 state agency-sponsored workshops, five board meetings and more than 500 public comments.
Building on today's plan, CARB will continue to look for additional opportunities to reduce greenhouse gases and criteria and air toxics emissions. A Natural and Working Lands Implementation Plan will be completed next year along with continued implementation of AB 617 and AB 197 to improve access to air emissions data and better air quality in the most burdened communities in California. CARB has also initiated a new rulemaking to design a post 2020 Cap-and-Trade program that conforms to the requirements of AB 398.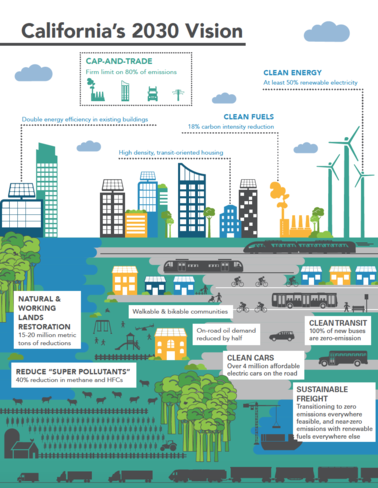 CARB is the lead agency in California for cleaning up the air and fighting climate change to attain and maintain health-based air quality standards. Its mission is to promote and protect public health, welfare, and ecological resources through the effective reduction of air and climate pollutants while recognizing and considering effects on the economy.