California, City of Tijuana collaborate in battle to improve border air quality
​​​​​​​CARB delivers air sensors to city for placement in Tijuana
SACRAMENTO – The California Air Resources Board today announced the delivery of low-cost sensors to the City of Tijuana to provide air monitoring of particulate matter (PM 2.5) along the border with San Diego. The area is subject to emissions from heavy industry and international trade, and is a primary health concern for overburdened communities along the border.
The sensors were delivered under a Memorandum of Understanding (MOU) to establish a network of 50 Purple Air sensors in and around Tijuana, which the city will operate. As part of Tijuana Mayor Montserrat Caballero's commitment to work to improve air quality, the Environmental Protection Directorate (DPA) signed the MOU with CARB.
"This will facilitate the exchange of information on air quality in both regions and will improve our ability to enforce existing regulations on the matter, to prevent negative impacts on the lives of Tijuana residents due to pollution," DPA Director Alejandro Muñoz Gil Lamadrid said.
"The overarching problem is that air pollution does not respect borders — it travels from California into the Tijuana area and vice-versa, impacting border communities in San Diego and Tijuana that already are burdened with poor air quality," CARB Deputy Executive Officer of Environmental Justice Chanell Fletcher said. "In this case, collaboration is essential to help identify and reduce cross-border emissions of PM 2.5, which is an air toxin, and major cause of poor air quality across Southern California."
"Poor air quality along the border increases cases of asthma, cardio-pulmonary disease — both of which can result in death. This has an especially heavy impact in the environmentally overburdened communities on the border," Fletcher added. "This project can help provide near real-time information, helping to keep the public and border communities aware of local air quality conditions. These types of projects will continue to prioritize public health and environmental justice in the area."
---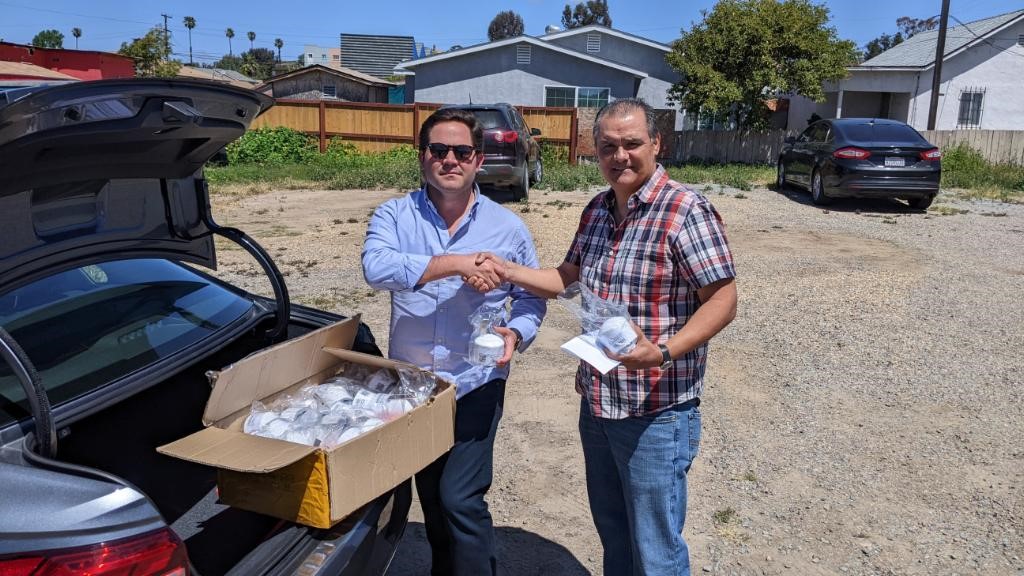 ---
The city will use the sensor data as one tool to help identify sources that generate high concentrations of PM pollution in the area. As part of this collaborative project, Tijuana will share information with CARB on any actions taken to reduce PM emissions based on the sensor data. Tijuana also will provide CARB with information regarding any associated inspections or enforcement actions that are taken as a result of the monitoring.
The XXIV City Council of Tijuana thanked the authorities of the State of California for working hand in hand on environmental issues, since in this way the existing levels of pollution in the air can be reduced, thus protecting the health of citizens on both sides of the border.
For the administration headed by Tijuana Mayor Montserrat Caballero, it is important to provide accountability to the population since Tijuana is an open and transparent municipality which works every day to contribute to the well-being of all, and for which it calls on citizens to help reduce pollution.
Background
The project was made possible by the U.S. EPA's Border Program, which awarded CARB $18,000 in grant funding. There will be substantial air quality and public health benefits to the San Diego area with increased enforcement activity by the City of Tijuana based on data from the new air sensor network.
CARB supports the U.S. EPA's landmark Border Program at the California-Mexico border region, known as Border 2025. CARB continues to participate in the San Diego-Tijuana Air Quality Task Force, and pursue projects around emissions research, low-cost and community-led air monitoring, and community engagement, in collaboration with the Task Force and its stakeholders.
CARB's mission is to promote and protect public health, welfare, and ecological resources through effective reduction of air pollutants while recognizing and considering effects on the economy. CARB is the lead agency for climate change programs and oversees all air pollution control efforts in California to attain and maintain health-based air quality standards.