LCTI: Commerce Moving Forward
Sustainable Transportation Equity Project (STEP) Implementation Grant

June 2021 – March 2025
Project Details
Commerce Moving Forward includes construction of the first set of Class II bike lanes in the city. A community-based tree planting project facilitated by TreePeople will provide 400 shade trees near pedestrian, bike, and transit corridors and engage residents directly with tree planting and tree care. City of Commerce Transit, the LA Region's only fare-free transit system, will add two zero-emission fixed-route buses and two zero-emission Dial-A-Ride shuttles to kickstart the City's commitment to a zero-emission fleet. Lastly, development of a Transit-Oriented Development and Displacement Avoidance Plan will prepare Commerce for the buildout of LA Metro's future Citadel rail station to connect city residents and employees regionally.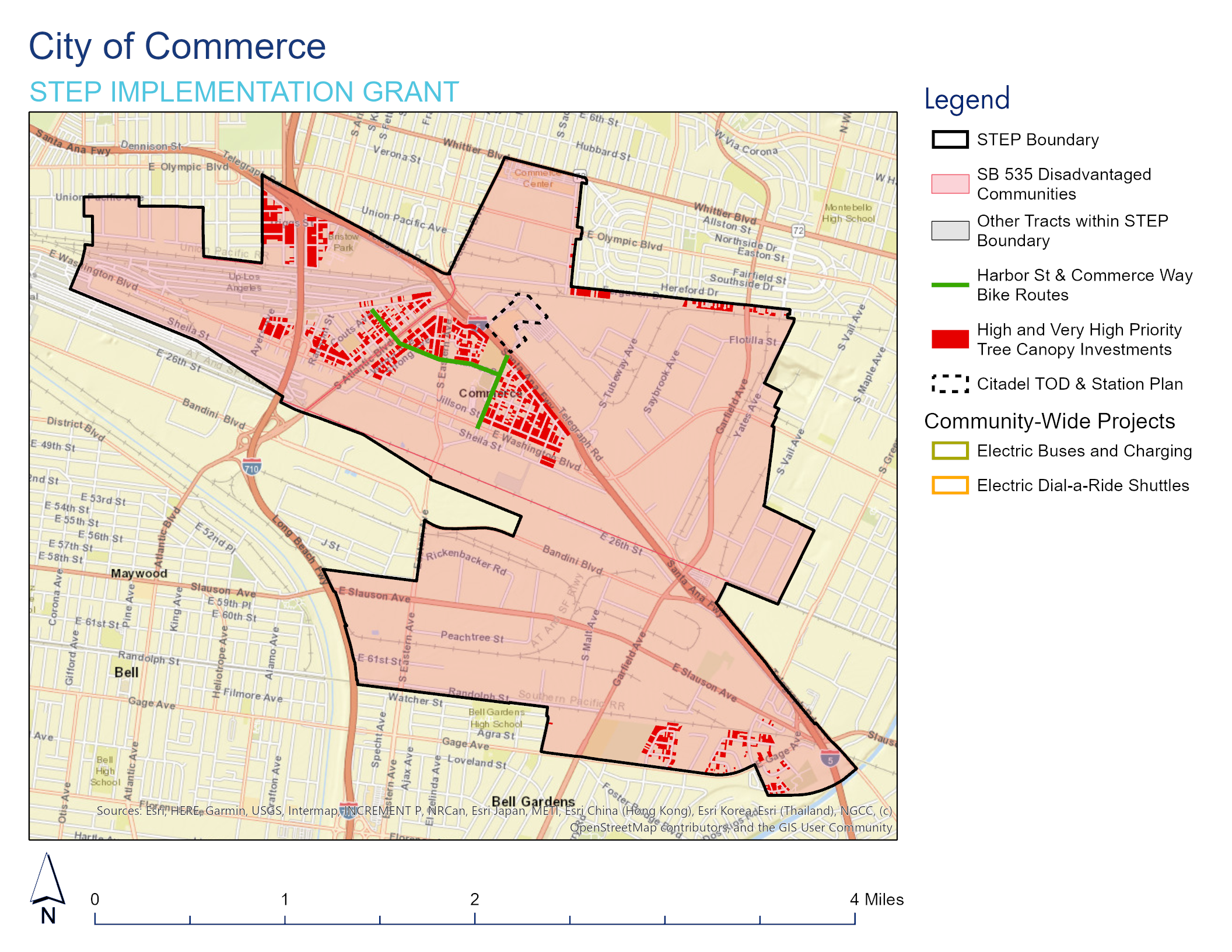 Funding Details
Grant Amount: $3,240,078
Resource Contributions: $866,962
Project Total: $4,107,040
By the Numbers
Services, Vehicles & Equipment Funded
2 GreenPower EV250 30ft Low Floor Battery-Electric Transit Buses for transit service expansion
2 GreenPower EV Star Plus ADA Electric Shuttles for weekend service expansion of a dial-a-ride service
2 Level 2 Overnight 11kW Chargers
2 ABB Terra 54HV 50kW DC Chargers - Single CCS1 Connector
1.35 miles each way (14,256 linear feet total) of new class II bike lane
400 shade trees along transit, bicycle, and pedestrian corridors
20 volunteer tree planting events and 48 volunteer tree care events
1 transit-oriented development (TOD) and displacement avoidance plan
At least 3 TOD and displacement avoidance planning public workshops
12 STEP Implementation Advisory Committee meetings
At least 2 clean transportation-related outreach events
Estimated Quantifiable Benefits
GHG emission reductions: 1,487 MTCO2e
NOx reductions: 404 lbs
PM2.5 reductions: 146 lbs
ROG reductions: 98 lbs
Passenger VMT reductions: 4,773,065 miles
Travel cost savings: $2,765,831
Transportation fossil fuel reductions:​ 126,971 gallons
Direct Jobs: 12
Indirect Jobs: 6
Induced Jobs: 8
---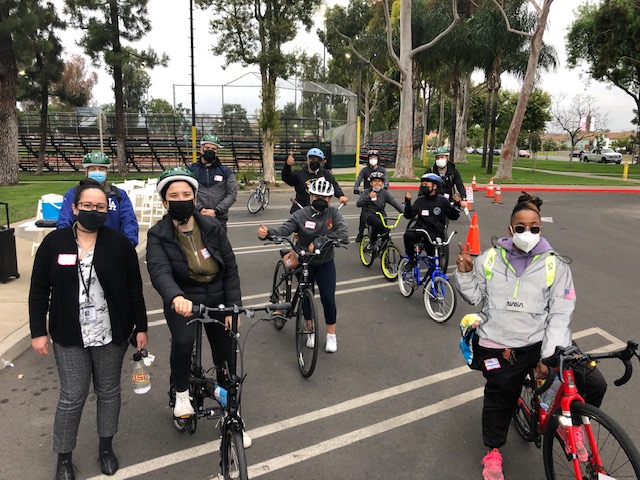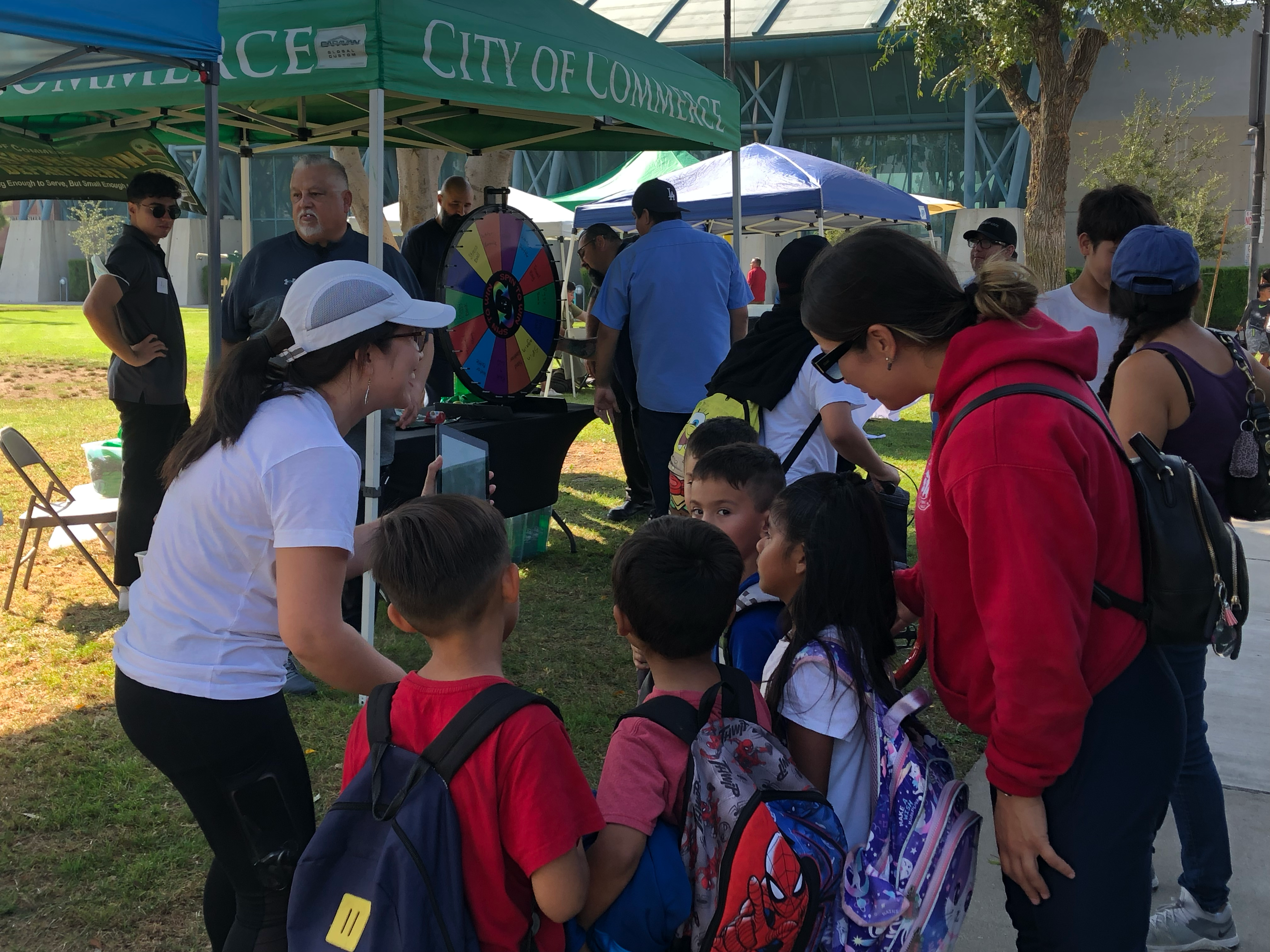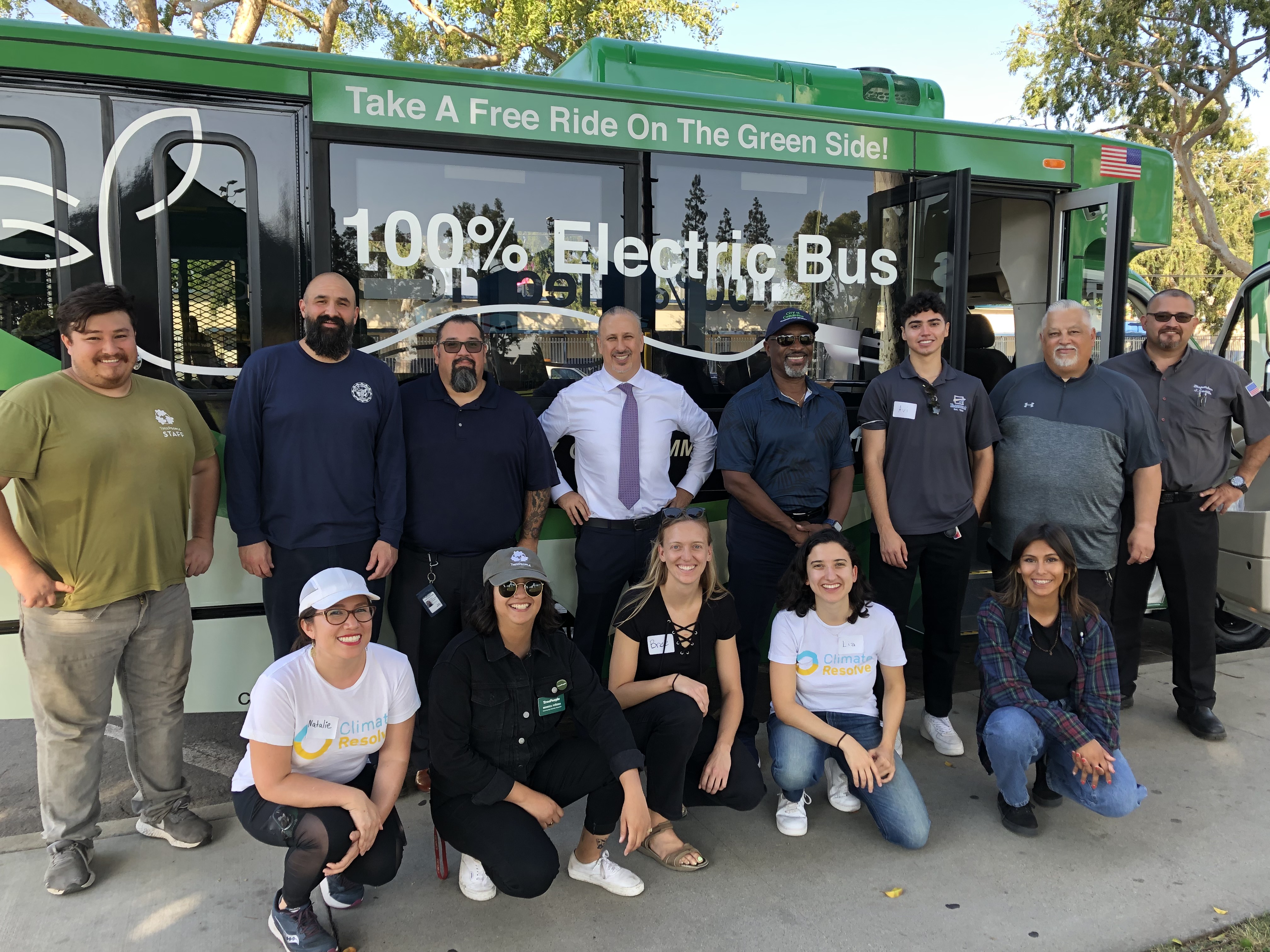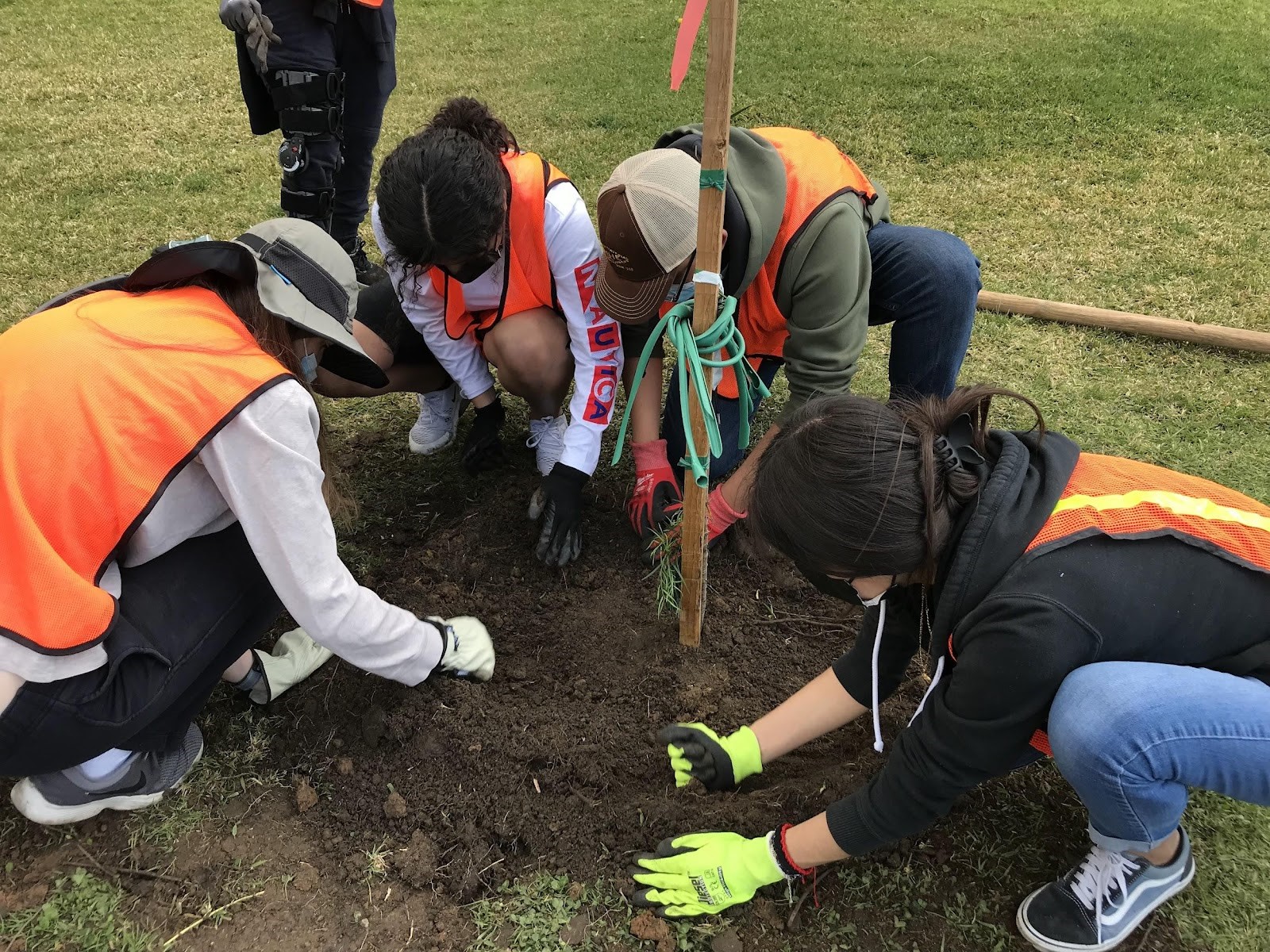 ---
Community Details
Commerce Moving Forward focuses on the City of Commerce, which is a small, urban city in southeast Los Angeles. The four main residential neighborhoods in Commerce are spread out throughout the city, next to industrial sites, warehouses and logistics facilities, freeways, and train tracks. Proximity to industry has led to significant exposure to environmental risks such as poor air quality and designation as a disadvantaged community per CalEnviroscreen 3.0. While the majority of Commerce's 12,719 residents commute outside the city for work, approximately 56,400 employees (four times the residential population) commute into the city. Each STEP project was determined through its own specific engagement and planning processes. Through these processes, residents prioritized the need for access to bike lanes, weekend dial-a-ride service, more frequent fixed-route transit service, sidewalk shade, and affordable housing. 
Demographics of Community Served by Project
95% Hispanic/Latino, 2% White, 1% Asian, 1% Black and African American, and 1% Other
Median Household Income: $ 38,051
Community Benefits
Commerce Moving Forward takes a holistic equity approach to implementing active and clean transportation strategies. Currently, the city's residential neighborhoods lack active and clean transportation options for all community members. STEP-funded projects will increase the clean transportation options available to community residents, while developing a plan for countering potential displacement risks and working directly with community residents to ensure the projects meet their transportation needs.
Outreach & Engagement Strategies
Surveys
Community advisory meetings
Volunteer tree planting and tree care events
Flyers and brochures
Canvassing and tabling
Project demonstrations
Target Populations
Older adults 
Youth
Residents with disabilities
Non-English speakers
Residents without access to a vehicle
Low-income residents 
Undocumented
---
Partnership Structure
Grantee
The City of Commerce is the local government overseeing the whole Commerce Moving Forward project. The City of Commerce is also the lead implementer on most of the project's components, including the expanded electric bus and shuttle services, the city's first bike lane, and the transit-oriented development and displacement avoidance plan. 
Subgrantees 
Community Partners
United Family of Bristow Park
---
Contact
Alex Rocha | (323) 722-4805 Ext. 2811 | City of Commerce