AB 617 Statewide Strategy Summary - Q3-2020 Archive
During recent years, the California Air Resources Board (CARB) has adopted multiple plans and measures that will lead to development and adoption of a number of statewide regulatory measures to reduce emissions and exposure from a variety of sources. Assembly Bill 617 requires new, community-focused actions that utilize statewide and regional strategies to reduce high cumulative exposure in California's disadvantaged communities. Many of these strategies include CARB's upcoming regulatory measures. This section provides an update on CARB regulatory actions included in community emissions reduction programs to achieve targets set forth by community steering committees.
Current updates to this information can be found in our Community Hub.
---
Progress Dashboard: 2020-Q3 (Archived Version)
In the September 2020, the CARB Board adopted new community emissions reduction programs for the South Coast Air District covering:
Wilmington, Carson, West Long Beach Community
East Los Angeles, Boyle Heights, West Commerce Community
San Bernardino, Muscoy Community
Between July and September of 2020, California Air Resources Board (CARB) staff and air districts have continued to take new regulatory actions and support existing regulatory goals. The table below summarizes the current status of statewide measures in community emissions reduction programs, and provides links to events and public notices. Key highlights include:
In July 2020, CARB adopted the Advanced Clean Truck Regulation (ACT) that requires manufacturers to sell an increasing share of zero emission trucks.
In August 2020, CARB adopted the Heavy-Duty Engine and Vehicle Omnibus Regulation that will require manufacturers to comply with tougher emissions standards, overhaul engine-testing procedures, and further extend engine warranties.
In September 2020, workshops were held on the proposed Advanced Clean Fleet regulation, with staff presentations on reporting requirements for large entities and fleets under the Advanced Clean Truck Regulation.
---
---
Statewide measures in Community Emissions Reduction Programs
Community emissions reduction programs for year 2018 communities include a diverse portfolio of strategies to reduce cumulative exposure burden. The table below provides an overview of specific CARB actions and regulations identified in the year 2018 community emissions reduction programs. It highlights some of the common priorities across AB617 communities, such as reducing emissions from heavy-duty mobile sources. The page number references for these measures in each plan document is also provided.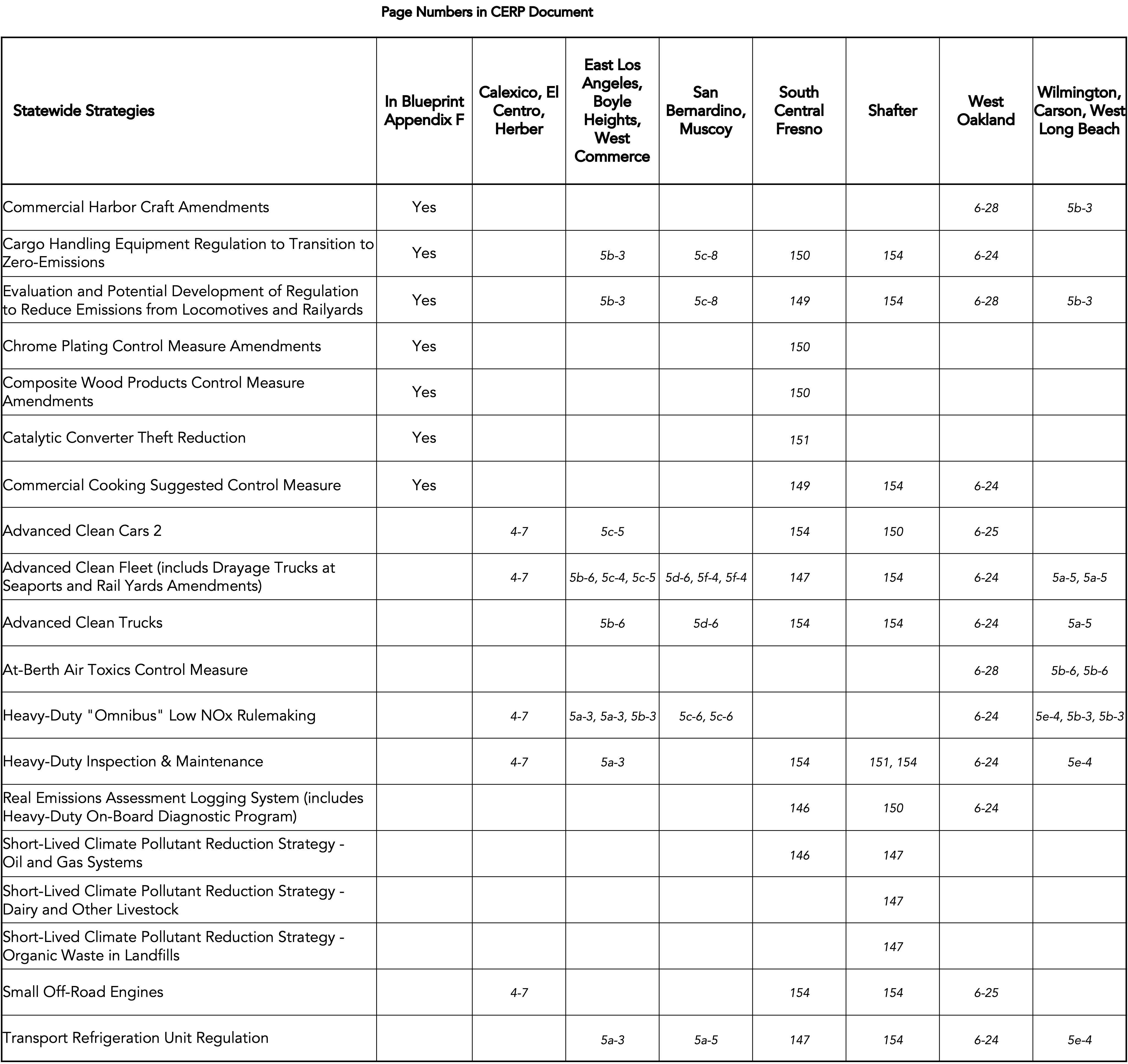 ---
Upcoming Activities
CARB continues to develop and implement new measures to support reducing exposure to pollution, particularly in disadvantage communities and communities identified through AB 617. Over the coming months, CARB staff will continue to develop new measures to support reducing exposure in communities statewide: