LCTI: SunLine Fuel Cell Buses & Hydrogen Onsite Generation Refueling Station Pilot Commercial Deployment Project
Advanced Technology Demonstration and Pilot Projects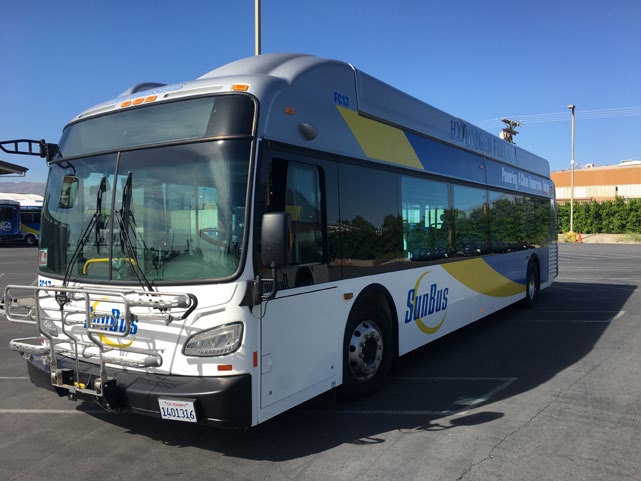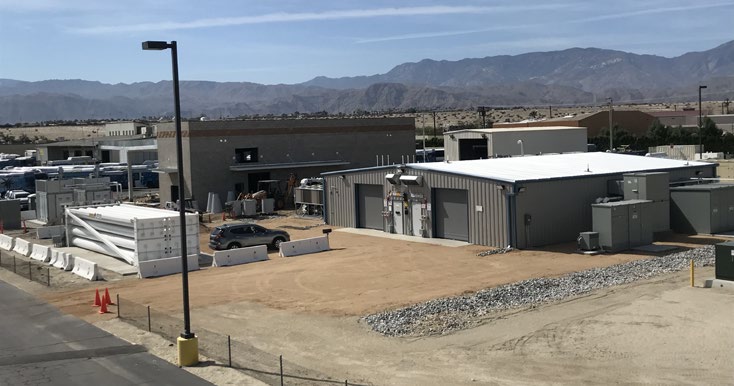 SunLine Transit Agency (SunLine)
February 2017 – April 2021 
Project Details:
SunLine Transit Agency provides transit service throughout the Coachella Valley and is a leader in zero-emission bus technology. With this project, Sunline added 5 new fuel cell electric buses (FCEB) to their existing fleet of alternative fuel buses, which also includes battery electric buses. The project upgraded SunLine's existing hydrogen fueling station in Thousand Palms, California, with a new electrolyzer hydrogen production plant, supporting compression and storage equipment, and two new hydrogen fuel dispensers. With this station upgrade, SunLine is now able to refuel its current fleet of 17 FCEBs with capacity to spare for several additional FCEBs. New Flyer provided the XHE40 Xcelsior® FCEBs, Nel supplied the electrolyzer and hydrogen station equipment and oversaw the installation, and Zen Clean Energy Solutions assisted with project management and data collection. As a leader in ZEB technology, SunLine shares knowledge with other transit agencies through the West Coast Center of Excellence in Zero Emission Technology and at transit and clean fleet related meetings and events, and holds tours for government and transit agencies and universities.
The main objectives of this project were to:
Deploy five New Flyer XHE40 fuel cell electric buses in regular revenue service on two regular service routes in the Coachella Valley, and deploy 2 CNG buses for baseline comparison.

Upgrade existing hydrogen fueling station with a new electrolyzer, and compression, storage and dispensing equipment, increasing the station capacity to 900 kg/day with two 350-bar dispensers.

Connect on-site solar electricity production to the electrolyzer to offset grid electrical requirements.

Collaborate with Ricardo, CARB's independent third-party data contractor, on bus and station data collection in addition to collecting data independently.
Grantee:
SunLine Transit Agency
Partners:
Partners:  Zen Clean Energy Solutions, New Flyer of America, and Nel Hydrogen Inc.
Grant Amount
A table of funding categories and their amounts

| | |
| --- | --- |
| CARB Contribution | $12,586,791 |
| Matching Funds | $6,166,424 |
| Project Total | $18,753,215 |
---
Vehicles/Equipment Funded
Assembly line build of 5 New Flyer 40-foot Xcelcior® FCEBs powered by Ballard FCvelocity-HD 85kW fuel cell stacks.

Turn-key provision by Nel Hydrogen of 900 kg/day capacity renewable electrolysis hydrogen fueling station.
---
Lessons Learned
Contracting: Allow ample time for contracting and develop well-defined scopes of work with sufficient detail on technical requirements, performance criteria, and deliverables. Consider liquidated damages to encourage timely project completion.

Technical Requirements: Align station performance requirements with transit operations. Establish parameters for station reliability and up time, plan for provision of backup fuel, and prepare for extremes and worst-case ambient temperature conditions.

Site Integration and future scale up: When integrating new fueling station into larger fueling facility, communicate regularly to ensure optimally integrated design and safety features.  Think about future capacity expansion early and consider investing in aspects of the expanded system at the project outset.
---
Status Updates
Project is complete – FCEBs delivered in January 2019 and in regular service fueling from existing hydrogen station. New hydrogen production and fueling station completed and in operation starting in December 2019. Station and buses continue to operate after project completion.

Data collection and analysis started in December 1, 2019, and finished November 30, 2020. Ricardo will issue a separate data analysis report on this project in Summer 2021.

Bundling the 5-bus purchase from this project with the 20-bus procurement from another project enabled New Flyer to lower the per-bus cost to SunLine from their original quote.
---
Additional Resources
---