LCTI: Porterville Transit Electrification
Advanced Technology Demonstration and Pilot Projects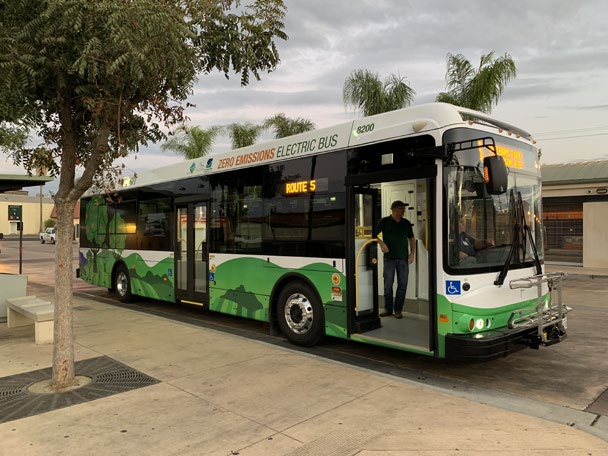 City of Porterville

Winter 2016 - Summer 2021
Project Details:
City of Porterville purchased and operates ten GreenPower Motor Company EV350 40-foot zero-emission all-electric transit buses on Porterville Transit fixed routes based from the Porterville Transit Center. To accommodate the ten zero-emissions buses, the City of Porterville installed two 200kWh opportunity chargers at the Transit Center and ten depot 200kWh chargers at the bus yard. One hundred percent of the miles traveled within zip codes contain disadvantaged communities.
The City of Porterville successfully implemented and administered at high concentration, ten zero-emission transit buses, at a single bus hub (Porterville Transit) on daily revenue service for a period of 28 months. The project demonstrated the practicality and economic viability of wide-spread adoption of zero-emission heavy-duty transit buses, as well as supporting the City's electric shuttle vans and the Porterville Unified School District's electric school buses.
Grantee:
City of Porterville
Partners:
Partners:  GreenPower Motor Company, San Joaquin Valley Air Pollution Control District and Southern California Edison
Grant Amount
| | |
| --- | --- |
| CARB Contribution | $9,516,422 |
| Matching Funds | $7,437,280 |
| Project Total | $16,953,702 |
---
Vehicles/Equipment Funded
10 GreenPower Motor Company EV350 Transit Buses

10 Depot BTCPower Charging Stations

2 Opportunity BTCPower Charging Stations

110 kWh Renewable Energy
---
Lessons Learned
Design and construction of charging station infrastructure much more complex than originally estimated.

Operator behavior and environmental conditions have a large effect on the transit bus range.

Workforce development and training needs to improve to support technology.

Charging infrastructure capable of supporting the growing city fleet and local private fleets.
---
Status Updates
All vehicles have been delivered and in daily revenue service. All charging station infrastructure have been constructed and in service. Project will end September 2021.
---