LCTI: Omnitrans ConnecTransit Plan
Sustainable Transportation Equity Project (STEP)
Planning and Capacity Building Grant
Omnitrans

 

| 

Omnitrans ConnecTransit Plan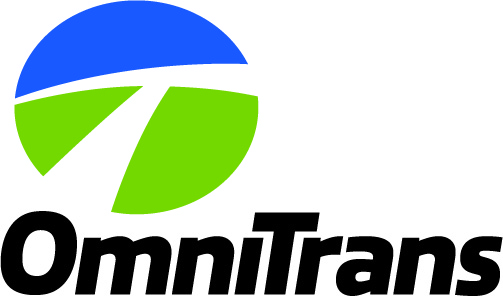 June 2021 – March 2023
Project Details
Omnitrans is working with its partners to develop the Omnitrans ConnecTransit Plan, which will identify and prioritize clean transportation improvements that address hurdles to equity and access within the Omnitrans service area and that will reduce GHG emissions. Omnitrans will partner with community-based organizations to conduct meaningful and comprehensive community outreach and engagement to ensure the resulting plan is driven by community needs (including the needs of Disadvantaged and hard-to-reach communities). The plan will provide a blueprint for future implementation projects and will include preliminary analysis of costs and benefits (including anticipated GHG reductions).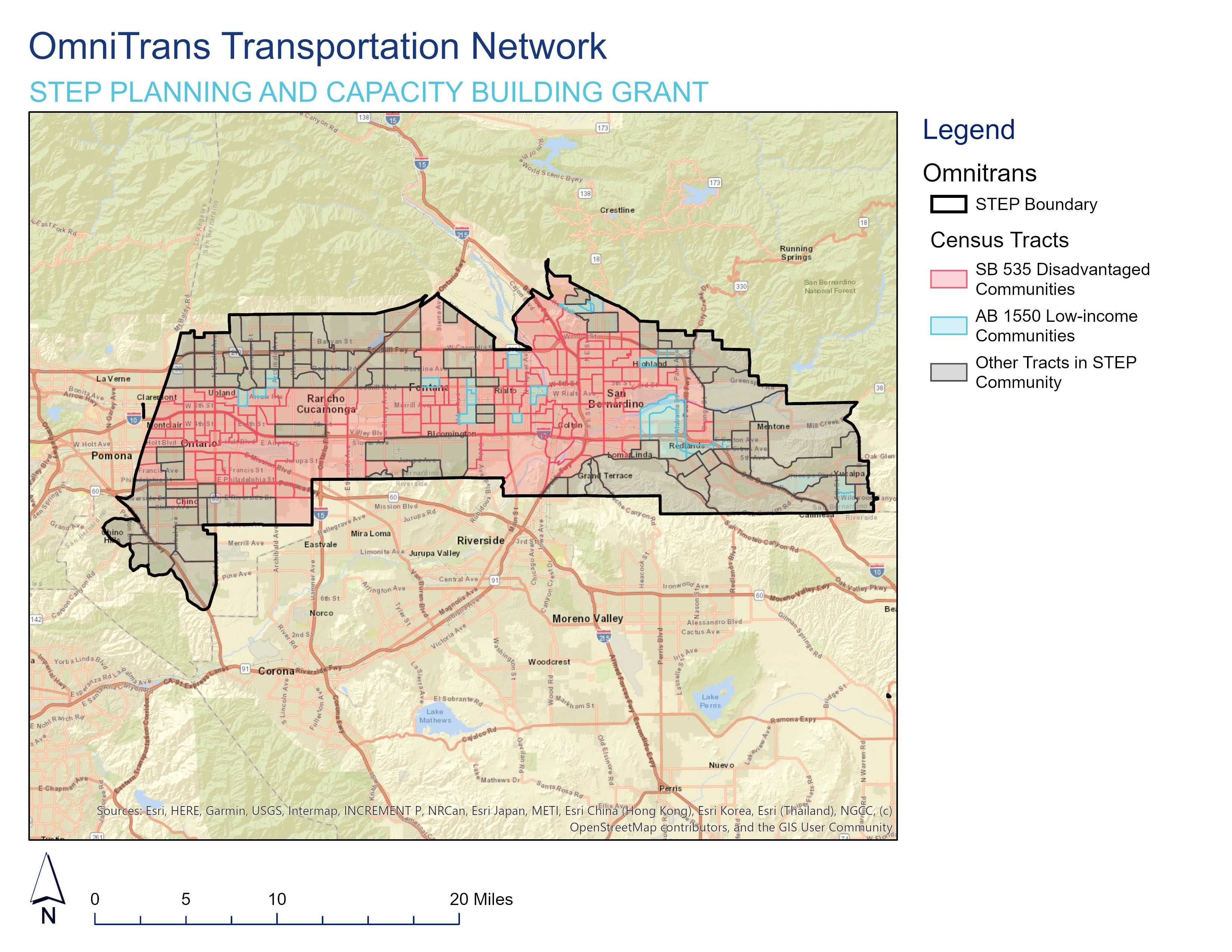 Funding Details
Grant Amount: $230,500
Resource Contributions: $31,447
Total Project: $261,947
By the Numbers
Community Engagement Activities
Four focus groups

Quarterly Community Advisory Council Meetings

Two community surveys

Pop-up demonstration event
Estimated Quantifiable Benefits
Direct Jobs: 1
Indirect Jobs: 1
Induced Jobs: 1
---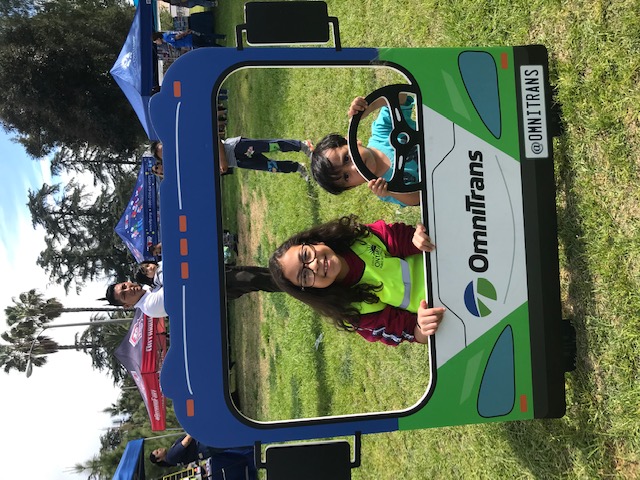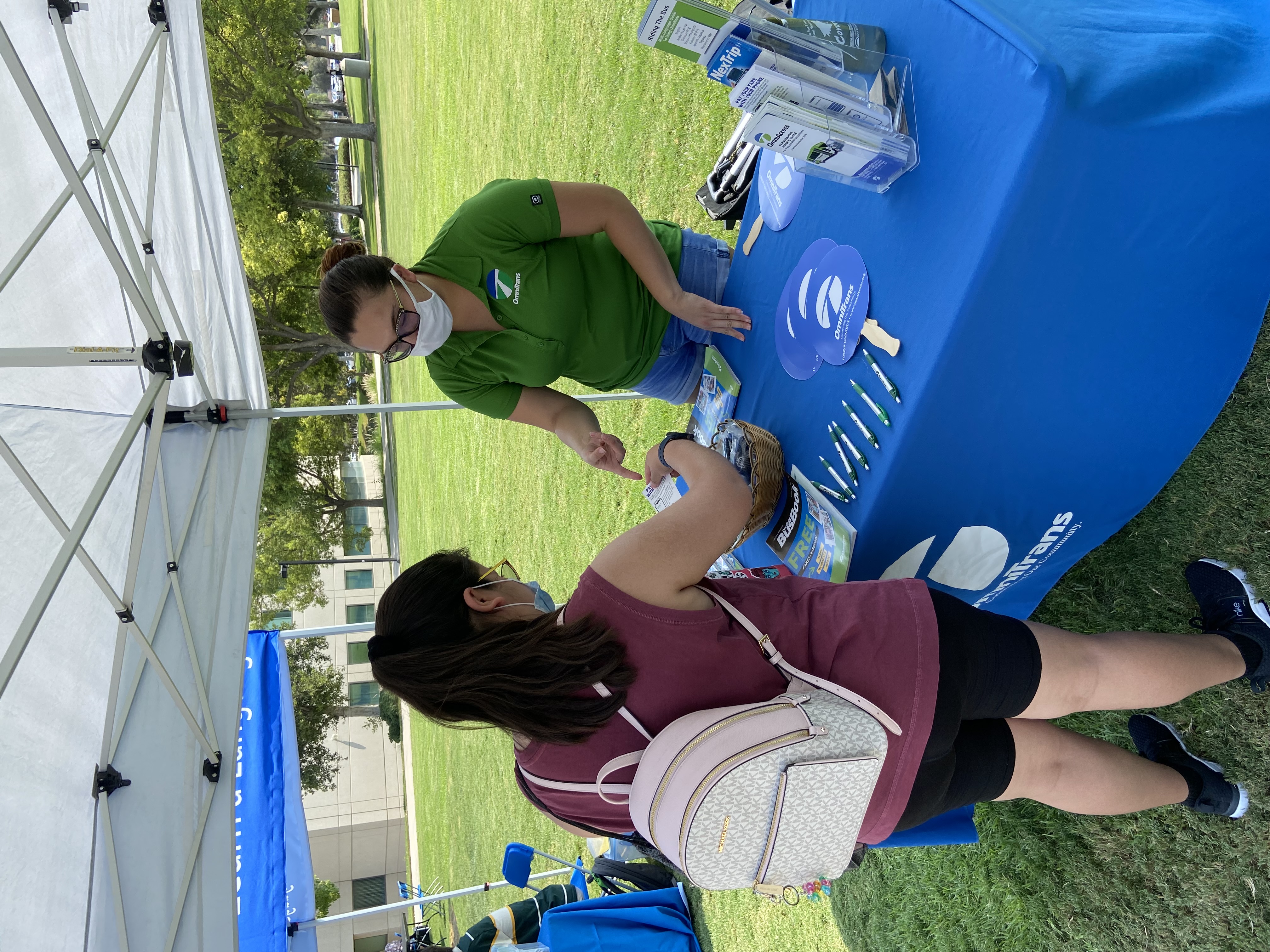 ---
Community Details
The Omnitrans service area, an area of 480 square miles in the mostly densely populated southwest corner of San Bernardino County, includes a total population of 1.41 million people. Over half of the census tracts in the project area community are SB 535 Disadvantaged Communities and/or AB 1550 Low-income Communities. Omnitrans riders are more likely to identify as Hispanic/Latino (46%) than African American (25%) or White (17%), and the majority of riders reported an annual income of less than $35,000 (80%). Omnitrans riders are primarily male (53%) and between the ages of 19 and 39 (48%). Poverty levels vary widely among the various communities in Omnitrans' service area. Omnitrans' large service area covers 15 cities and several unincorporated portions of San Bernardino County.  Part of the service area is within the Los Angeles Urbanized Area and part is within the Riverside-San Bernardino Urbanized Area. Residents of the diverse communities within Omnitrans' service area face varying transportation challenges including long commute times. Most residents speak English as their primary language, followed by Spanish (34%), and Chinese, Korean, Vietnamese, Tagalog, Arabic and Cambodian (each 1% or less of the population).
Demographics of Community Served by Project
53% White, 23% Hispanic/Latino, 15% Asian, 5% Black/African American, and 4% Other
Median Household Income: $66,266
Community Benefits
The collaborative vision of Omnitrans and its community partners is to develop a community-driven sustainable transportation equity plan that clearly defines community-identified transit-related needs within the San Bernardino Valley region (including in Disadvantaged Communities) and that prioritizes transit and related community projects that are equitable and environmentally sustainable. The resulting Omnitrans ConnecTransit plan will outline improvements that can be implemented with future grant funding and that will improve transit equity, increase access to key destinations, and reduce GHG emissions. These improvements may include, but are not limited to, improvements to public transit services, passenger amenities, transit vehicles and zero-emission infrastructure, transit pass programs, and community-driven transit-supportive programs.
Outreach & Engagement Strategies
Surveys and interviews

Focus groups

Pop-up demonstrations

Community Advisory Committee meetings

Flyers and brochures

Phone banking/text messaging
Target Populations
Low-income 

Residents with limited access to technology

Residents with limited English proficiency

Unhoused residents
---
Partnership Structure
Grantee
Omnitrans is the public transit agency serving the San Bernardino Valley, an area that includes 15 cities and several unincorporated areas in the southwest corner of San Bernardino County. Omnitrans is the lead in developing the Omnitrans ConnecTransit Plan and will facilitate coordination with CARB and the two sub-grantee community-based organizations.
Subgrantees
---
Contact
Anna Jaiswal | (909) 379-7256 | Omnitrans