Path to Zero Emission Trucks FAQ
This document provides answers to frequently asked questions about the flexibility that other States have, to adopt California's zero emission truck policies. Adoption of these policies will deliver significant community health and climate benefits.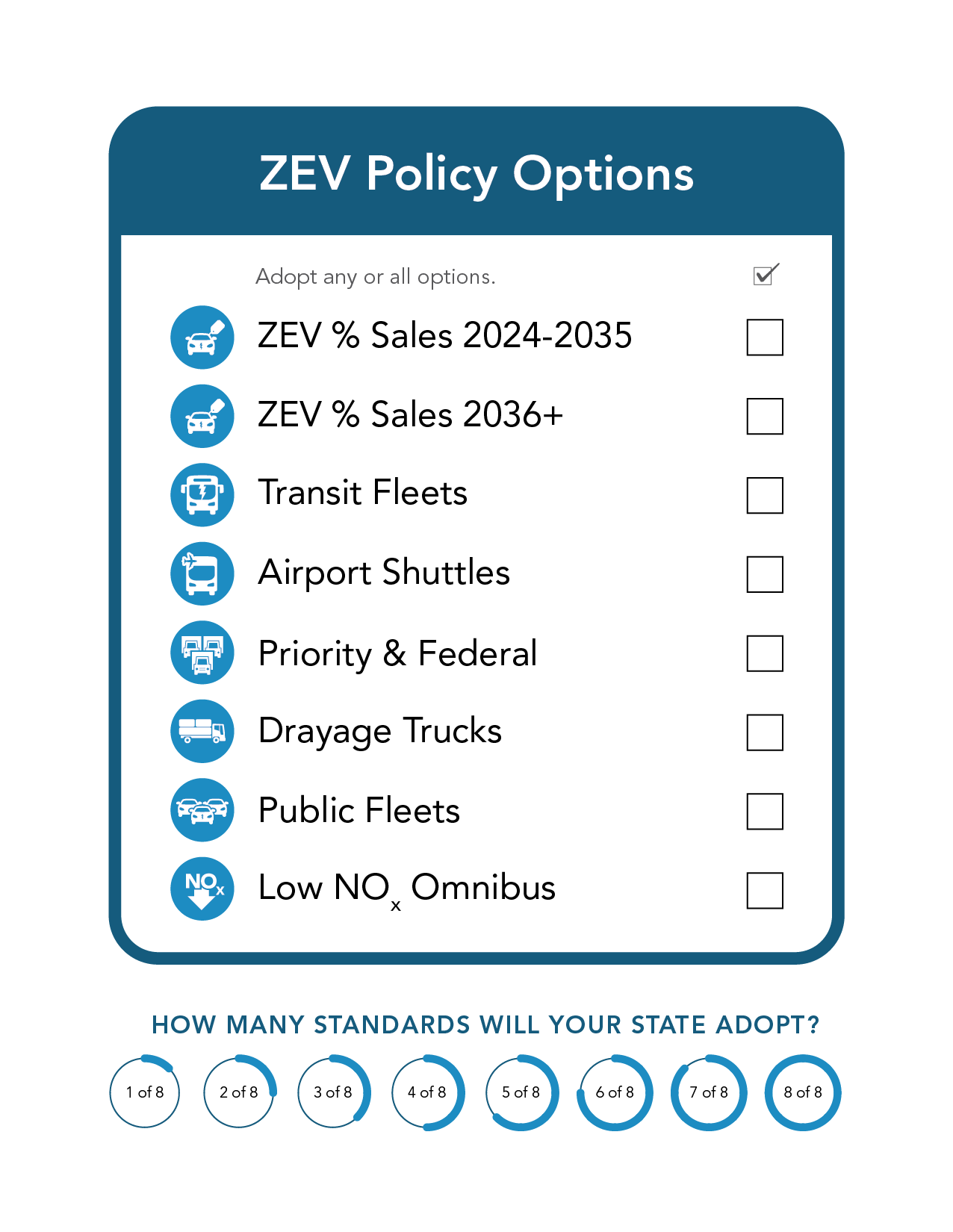 Background
Advanced Clean Trucks: Regulation and Status
The finalized Advanced Clean Trucks (ACT) regulation requires manufacturers to sell an increasing percentage of zero emission heavy duty trucks into the market starting in Model Year (MY) 2024. This regulation will help ensure that manufacturers offer affordable zero emission choices to fleets, while also delivering on accelerated air quality benefits to the communities that need it the most.
Status: Adopted, Available for state adoption
Advanced Clean Fleets: Regulation and Status
The proposed Advanced Clean Fleet (ACF) regulation include the following components:
Fleet purchase requirements starting in 2024 for three separate categories of fleets: Drayage fleets, High Priority & Federal fleets and, Public fleets, and
A manufacturer 100% zero emission truck sales requirement beginning in 2036
This proposed regulation establishes a clear timeline for 100% zero emission truck sales across Class 2b/3, 4-8 Vocational and Class 7/8 Tractor categories. This proposed manufacturer sales requirement is driven by a number of aligned factors including rapid advancements in zero emissions technology, falling battery prices, increasing component and vehicle product announcements, and truck manufacturer commitments to 100% zero emission including investments in zero emission infrastructure in other jurisdictions, including Europe.
Status: In process. ACF is planned to go to CARB Board April 27-28, 2023.
Frequently Asked Questions
What heavy-duty regulatory actions are currently available for State adoption?
States outside of California have the flexibility to select various zero emission policy options. Policies ready for State adoption include the:
ACT regulation
Innovative Clean Transit regulation
Zero Emission Airport Shuttle regulation, and
Heavy Duty Omnibus Low NOx regulation
Are the Advanced Clean Trucks and Advanced Clean Fleets regulations, a single package?
No. The ACT and ACF regulations are separate.
If a State adopts the Advanced Clean Trucks regulation, must that same State adopt the Advanced Clean Fleets regulation?
No. ACT can be adopted as a stand-alone regulation.
If a State adopts the Advanced Clean Trucks regulation, must that same State also adopt the Advanced Clean Fleet's 2036 100% zero-emission truck sales mandate?
No. ACT and ACF are separate regulations. A State that adopts the ACT regulation does not need to adopt ACF's proposed 2036 100% zero-emission truck sales mandate.
For additional questions please contact Bill Robertson.