CARB seeks nominations for premier clean air, climate award
Haagen-Smit Clean Air Awards recognize outstanding contributions to air quality or climate science, policy, or advocacy
SACRAMENTO – The California Air Resources Board is accepting applications through December 16, 2022, for the 2022 Haagen-Smit Clean Air Awards. The Haagen-Smit award is California's premier award recognizing individuals who have made outstanding contributions to improving air quality.
Considered the "Nobel Prize" in air quality achievement, the Haagen-Smit Clean Air Awards are bestowed each year upon scientists, policy makers, community leaders, and educators who have made outstanding contributions to the advancement of clean air through science, advocacy, or policy. The scope of the Haagen-Smit Clean Air Awards program is international, due to the global connections between climate change and air quality.
Winners are honored at a Board meeting at which trophies are presented to individual awardees, followed by a gala reception. Awardees are invited to share their work with the public during CARB's "Clean Air Leadership Talks," held separately.
"The Haagen-Smit Award is our way of honoring individuals who have championed public health with exceptional and transformative achievements toward improving air quality or climate change," CARB Research Division Chief Elizabeth Scheehle said. "The awards honor dedication, leadership and innovation, all qualities that Dr. Haagen-Smit embodied. Individual awards can recognize a lifetime of work on a global scale, or the significant contributions a dedicated individual has made in protecting the health of their community."
---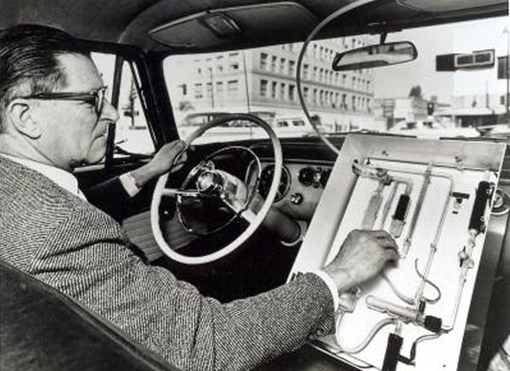 ---
California's premier air quality award is named for the late Dr. Arie Haagen-Smit, known as the "parent" of air pollution science and control. Originally from the Netherlands, Dr. Haagen-Smit was a biochemistry professor at the California Institute of Technology in Pasadena for 16 years before beginning air pollution research in 1948. Through a series of innovative experiments, he demonstrated that most of California's smog is the result of motor vehicle exhaust reacting with sunlight to create ground-level ozone. This breakthrough provided the foundation for the development of air pollution control programs in California that later influenced regulations and cleaner vehicle technology worldwide. The Haagen-Smit Awards recognize those who continue Dr. Haagen-Smit's work and leadership.
Haagen-Smit awards recognize outstanding achievements in the following categories:
Climate change

Education

Policy

International

Science

Technology

Research

Community service/environmental justice
CARB is accepting 2022 Haagen-Smit Clean Air Award nominations through December 16, 2022. New nominations, as well as nominations for outstanding individuals nominated in prior years who have not yet won, are welcome and encouraged.
CARB's mission is to promote and protect public health, welfare, and ecological resources through effective reduction of air pollutants while recognizing and considering effects on the economy. CARB is the lead agency for climate change programs and oversees all air pollution control efforts in California to attain and maintain health-based air quality standards.