Regulation Basics
Transport Refrigeration Units (TRUs) are refrigeration systems powered by diesel internal combustion engines designed to refrigerate or heat perishable products that are transported in various containers, including semi-trailers, truck vans, shipping containers, and rail cars. Although TRU engines are relatively small, ranging from 9 to 36 horsepower, significant numbers of these engines congregate at distribution centers, truck stops, and other facilities, resulting in the potential for health risks to those that live and work nearby.

The Regulation applies to:

In-use diesel-fueled Transport Refrigeration Units (TRUs) and TRU generator sets that operate in California, whether they are registered in or outside the State.
TRU Brochure
PROGRAM HOMEPAGE ►
Regulation Requirements
TRUs (reefers) and TRU generator sets that operate at all within California are required to meet in-use performance standards by the end of the seventh year after the engine model year or the unit manufacture year (See Compliance Schedule).
California-based reefers are required to register with CARB within 30 days of entering a carrier's control.
California terminal operators that operate TRUs are also required to provide updates within 30 days of changes to any information in Operator Reports.
Compliance Schedule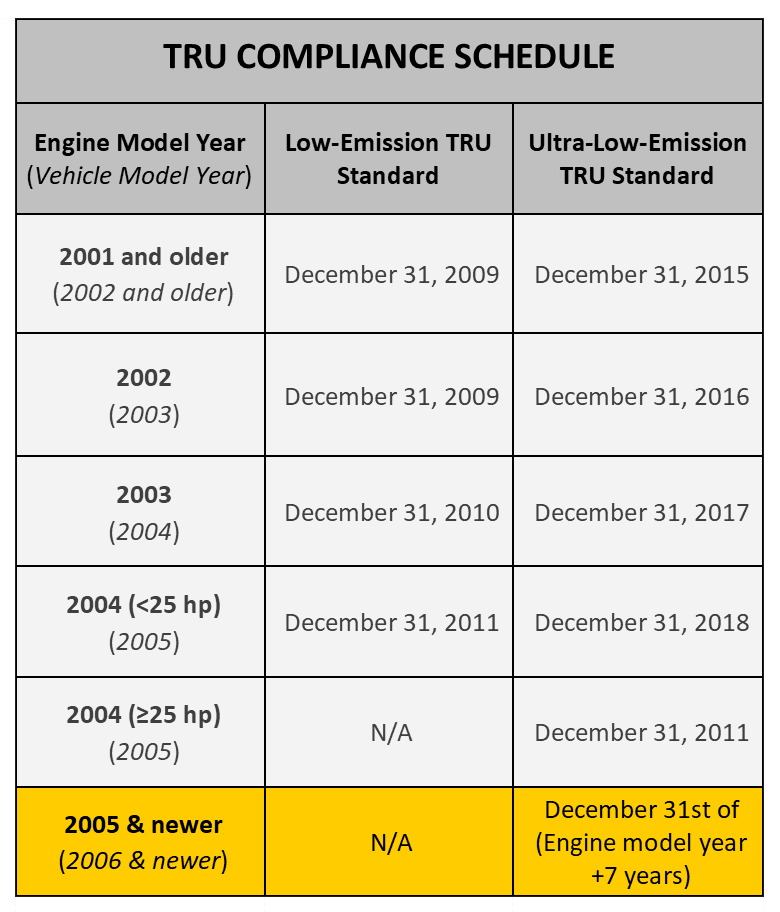 Reporting
If your TRUs are based in California, you are required to register your TRU with the California Air Resources Board. The deadline for registration of existing units was July 31, 2009.

New units must be registered within 30 days of the unit coming into the control of the owner. You are strongly encouraged to apply for California Air Resources Board Identification Numbers (IDN) electronically, on the Internet, using the Air Resources Board's Equipment Registration (ARBER) system, since this is the fastest way to register. If you are the owner of a TRU that is based outside of California, applying for an IDN is voluntary and there is no deadline.

ARBER: Air Resources Board Equipment Registration ►
ARBER Registration Help Page ►
Verify Compliance
Upcoming Deadlines
December 31st, 2022

TRU's with a 2015 engine model year must meet Ultra-Low-Emission TRU Standard