Proposed Amendments to the Commercial Harbor Craft Regulation
Contact
Commercial Harbor Craft Regulation
Categories
Background
There are several types of harbor craft in California, including fishing vessels, ferries, excursion vessels, tug boats, tow boats, crew and supply boats, barges, dredges, and other vessel types.

CARB has regulated commercial harbor craft since 2009. By the end of 2022, the Current Regulation will require Tier 2 or 3 engines on a subset of harbor craft (excursion vessels, ferries, tugboats, crew & supply vessels, barges, and dredges).

The Proposed Amendments, anticipated to be released in late September 2021, are scheduled for initial Board consideration in November 2021, final consideration in early 2022, and would take effect beginning in 2023.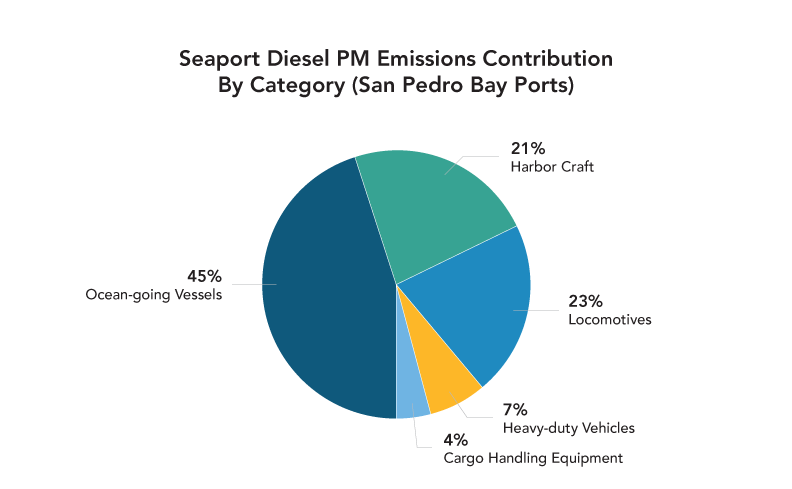 Need for Amending the Regulation
Harbor craft are in the top three emitting categories at seaports, contributing more diesel particulate matter emissions than trucks in 2023 at the San Pedro Bay Ports.
The Current Regulation has accelerated turnover; however, Tier 2 engines still emit 162 times more diesel particulate matter than a 5-year-old school bus.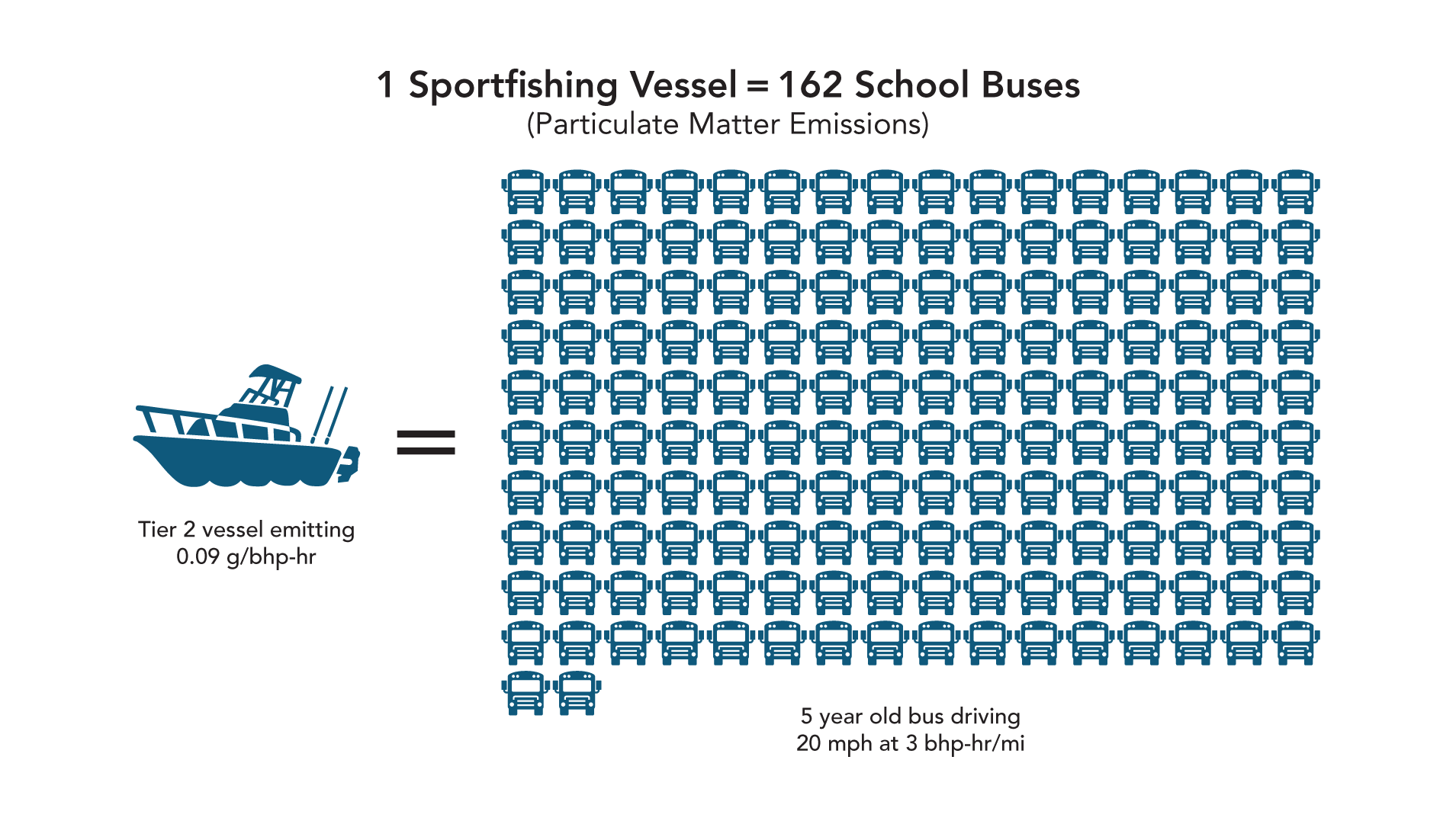 Proposed Amendments are expected to reduce diesel particulate matter by 1,560 tons between 2023-2038, which is equivalent to the emissions generated by 246,000 heavy-duty diesel trucks traveling from Los Angeles to Sacramento every day, for a year.

The Proposed Amendments would push the sector to move toward zero-carbon in line with the state's ambitious goals to be net zero by 2045 and to fight climate change.

Many communities surrounding where vessels operate are disadvantaged communities. Addressing emissions from harbor craft is critical for the state to achieve its air quality and environmental justice goals.
Elements of the Proposed Amendments (2023-2035)
Zero-emission short-run ferries and zero‑emission capable new excursion vessels.

All other regulated vessels: cleanest certified engine (Tier 3 or 4) plus a diesel particulate filter.

Initial compliance dates between 2023 and 2032; with up to 8 additional years in compliance extensions (out to end of 2034).

Requirements expanded to all vessels and engines, with earliest compliance for oldest, highest-emitting engines.

Facilities (such as marinas and ports) must report vessels to the California Air Resources Board (CARB), provide infrastructure for shore power, and support zero‑emission vessel deployment.

Alternative compliance plans and zero-emission credits to encourage zero-emission vessel deployment and/or fleet averaging.

Biennial opacity testing, renewable diesel fuel, annual compliance fees.
Benefits of the Proposed Amendments
Proposed Amendments would reduce diesel PM by 89 percent and NOx by 54 percent at full implementation.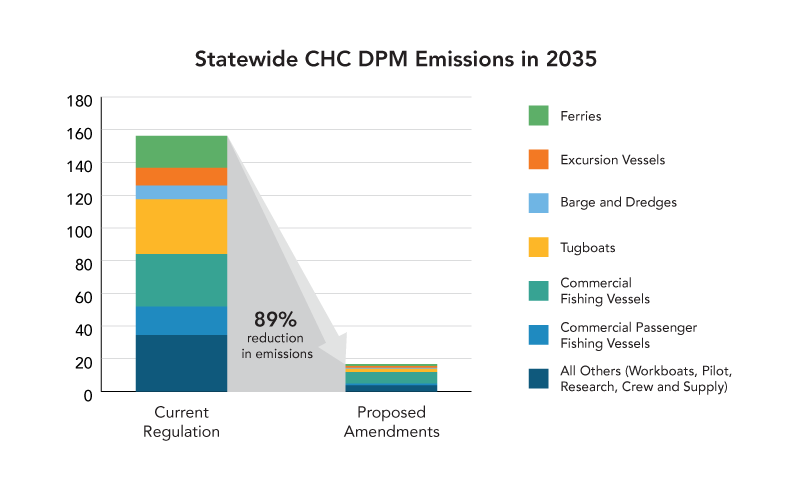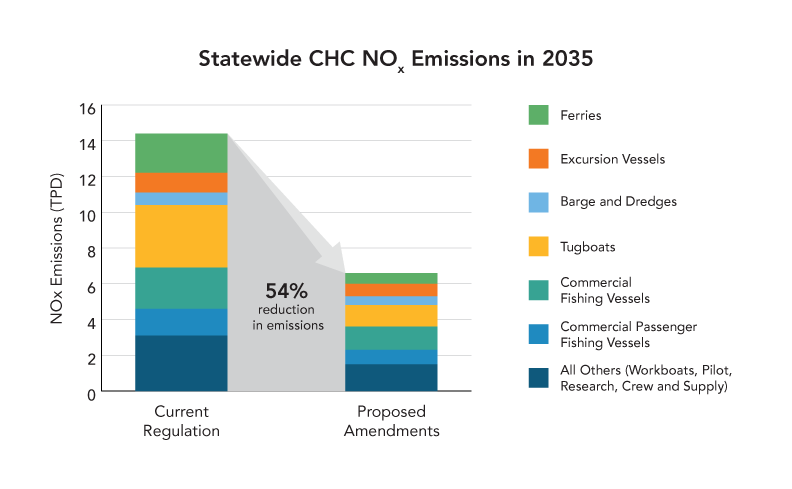 Avoids 531 premature deaths, 161 hospital admissions, 236 emergency room visits, providing $5.25 billion in benefits versus $1.98 billion in costs.

Costs to individuals calculated for selected categories:
| Cost Metric | Increase |
| --- | --- |
| Ferry Trip (per person, one-way) | $1.92 |
| Excursion Trip (per person) | $1.54 |
| Cargo Container (per 20-foot container) | $0.48 |
| Seafood (per pound) | $0.04 |
| One-Day Sportfishing Trip (per person) | $39.78 |
Reduced greenhouse gas emissions by 415,000 metric tons.

The charts show regions of elevated CHC-related cancer risk in the South Coast with the Current Regulation and with the Proposed Amendments in 2038. The Proposed Amendments lower CHC-related cancer risk (>1 in a million) by almost 15 million California residents in the areas evaluated (South Coast and Bay Area regions), reduced from 22 million under the current regulation to 7 million under the Proposed Amendments. The Proposed Amendments eliminate CHC-related cancer risk of 100 chances in a million and above. The charted lines (isopleths) represent the same elevated cancer risk in chances per million residents (as shown in the legend).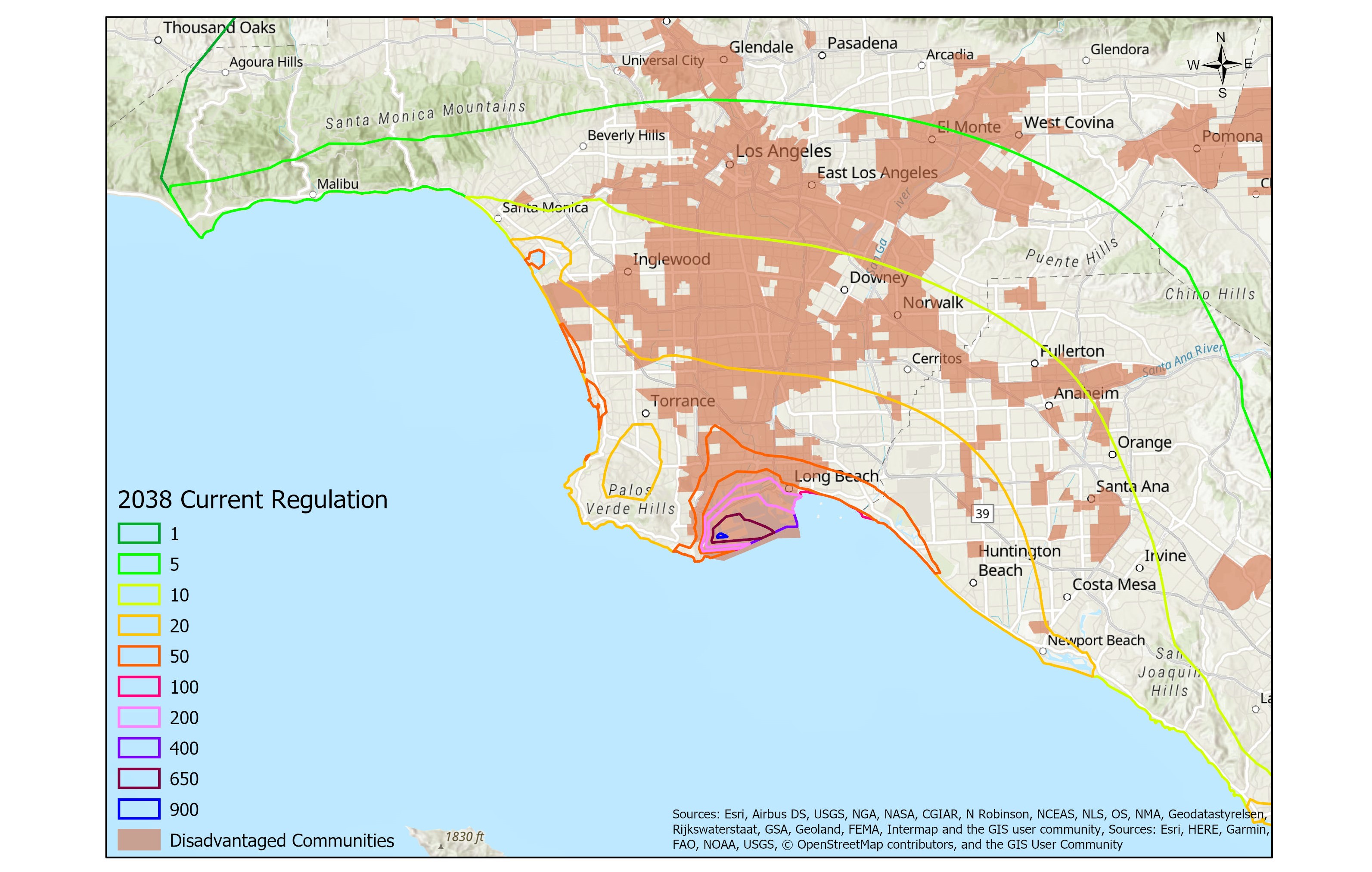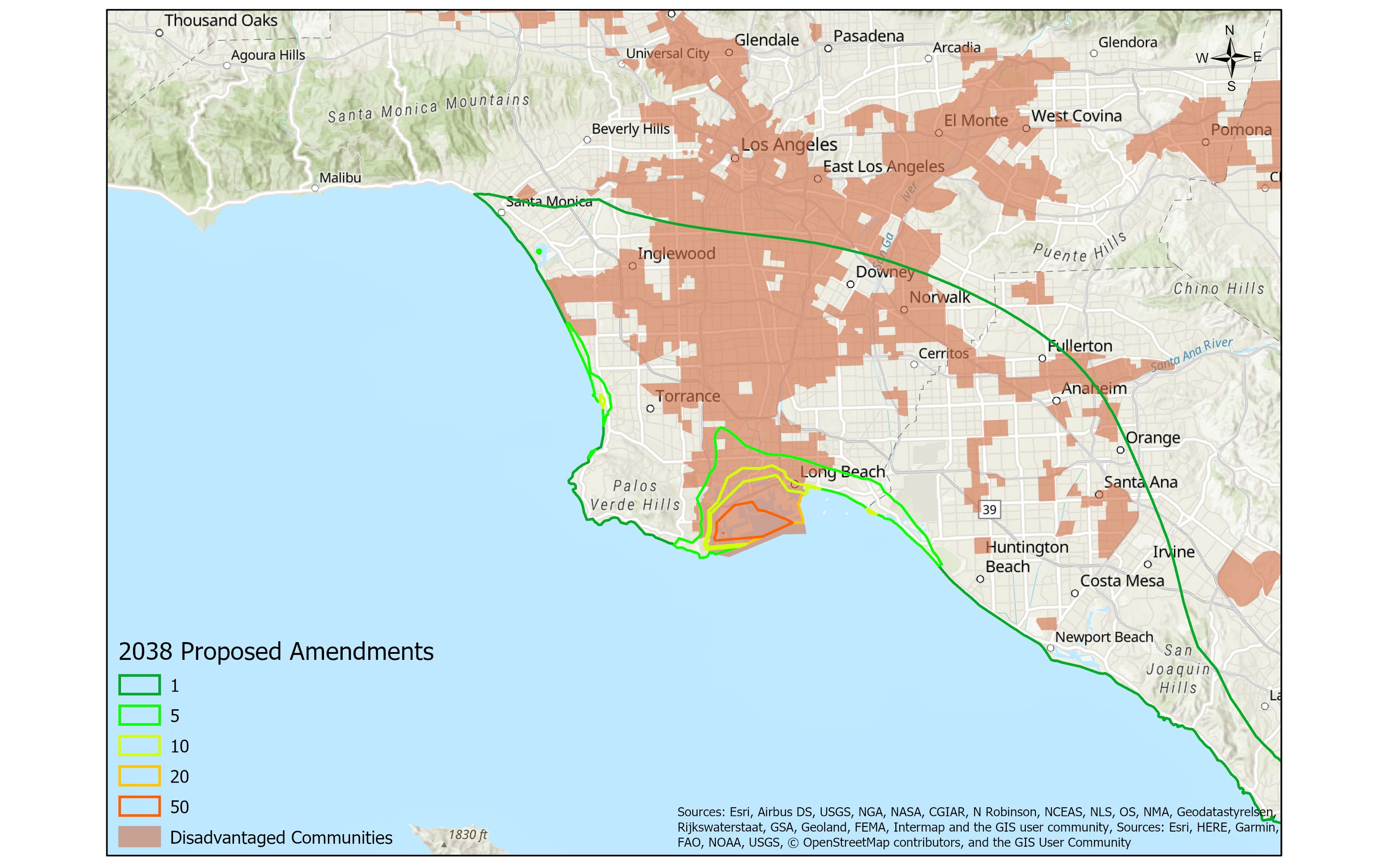 Safety and Flexibility Provisions
Financial extensions available if replacement vessel required cannot be afforded.

Tier 4 engines available today – 22 models certified.

More stringent low-use exceptions for older engines and for vessels operating near disadvantaged communities.

Diesel particulate filters are standard equipment on new cars and trucks.

M

anufacturers of engines and retrofit controls are working with U.S. Coast Guard to ensure safety and meet applicable requirements.
Last updated on October 1, 2021 to reflect corrections to some cost numbers. For more detail, please see the Errata document.