Smoke Inspection Programs
Categories
Division
Mobile Source Control Division
About
The Heavy-Duty Vehicle Inspection Program (HDVIP) and the Periodic Smoke Inspection Program (PSIP) are CARB's existing heavy-duty vehicle inspection programs for in-use trucks and buses. The HDVIP consists of roadside testing by CARB enforcement personnel for excessive smoke, tampering and Emission Control Label compliance, whereas the PSIP requires annual opacity self-testing for California fleets with two or more vehicles.
Effective July 1, 2019, vehicles subject to these programs must meet the opacity thresholds shown in the table below.
Smoke testers who perform opacity testing in the PSIP must meet the minimum training requirements below.
Fleets may submit OBD data in lieu of performing the annual smoke opacity test to meet the annual testing requirements of the PSIP. For more information on this topic, please refer to the PSIP OBD submission alternative section below.
Opacity Limits: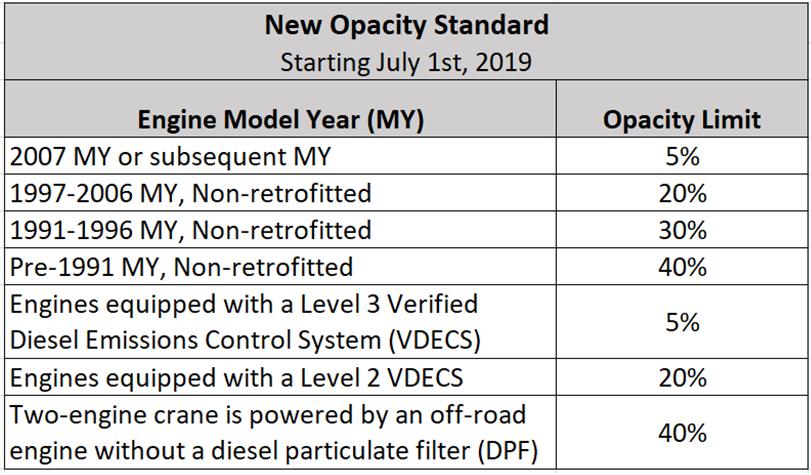 Smoke Tester Training Requirements:
Individuals who perform the annual opacity smoke tests in the PSIP are required to receive training on how to properly administer the test. Contracted testers, those which fleets hire to perform the annual tests, would be required to successfully complete a CARB approved in-person training course on the proper administration of the SAE J1667 smoke opacity test.  Fleets that perform their own PSIP testing have the option to complete a CARB approved in-person training course or complete a PSIP online training course administered through the CARB website (coming soon). Upon successful completion of a training course, a unique smoke tester identification number will be provided to the individual. This smoke tester ID number is required to be recorded upon each PSIP opacity test completed.

Training Classes:
The California Council on Diesel Education and Technology (CCDET) 1: Vehicle / Smoke Inspection course is a CARB approved in-person training course. Other hands-on training courses that receive CARB's approval in the future can be taken to satisfy this requirement as well. The Approved Smoke Tester Training Course Guidance Document below describes the process a new training course must go through to receive approval. A link for the online training course is proved below.

PSIP online training course (coming soon)
Approved Smoke Tester Training Course Guidance Document (coming soon)
Smoke Testing Compliance Advisory

PSIP OBD Submission Alternative:
In lieu of performing a PSIP smoke opacity test, vehicles equipped with 2013 and newer model year engines may submit OBD data to CARB. The guidance document below details this process. Fleets may review OBD data and submit the data to CARB as specified in Title 13, CCR, section 2193(f).

PSIP OBD Submission Guide
The owner and vehicle information forms