Background
California is working to reduce greenhouse gas (GHG) emissions across all sectors of the economy, under the framework of Assembly Bill 32 (2006) and Senate Bill 32 (2016).  In addition, California has established several other mandates to reduce the statewide emissions of greenhouse gases, including Executive Order S-3-05, Senate Bill 605 (2014), Assembly Bill 1496 (2015), and Senate Bill 1383 (2016).  
Although carbon dioxide (CO2) emissions constitute the largest share of California's inventory, nitrous oxide, and short-lived climate pollutants, such as methane, HFCs, and black carbon, are also significant contributors to California's greenhouse gas emission inventory.  
Methane is an important greenhouse gas, which is responsible for about 20 percent of current global warming, and is a contributor to harmful ground-level ozone.  According to the Fifth Assessment Report of the Intergovernmental Panel on Climate Change (IPCC), methane has 28 times greater impact than CO2 over a 100-year timespan, and 84 time greater impact than CO2 over a 20-year timespan.  Methane emissions also continue to increase globally.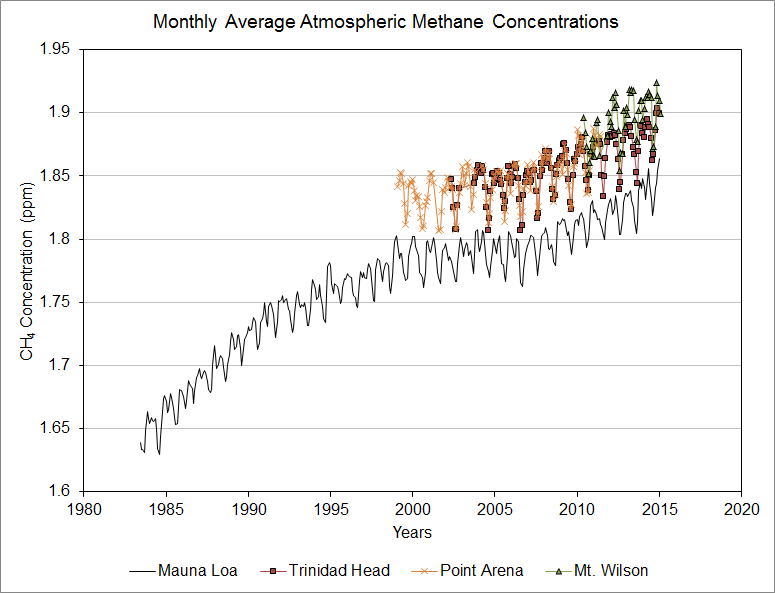 As California implements the climate change mitigation program, CARB has developed a variety of greenhouse gas monitoring and measurement capabilities to support California's short- and long-term climate goals.  Measurements of these gases can help identify sources, evaluate the emissions from these sources, identify new emission reduction strategies, and track progress in reducing emissions.  These efforts provide crucial information to help inform various elements of the program, including information to understand source characteristics; evaluate and inform CARB's greenhouse gas emission inventory; identify, implement, and validate effective emission mitigation strategies; evaluate program effectiveness; as well as track greenhouse gas emission trends in the state.

Research Efforts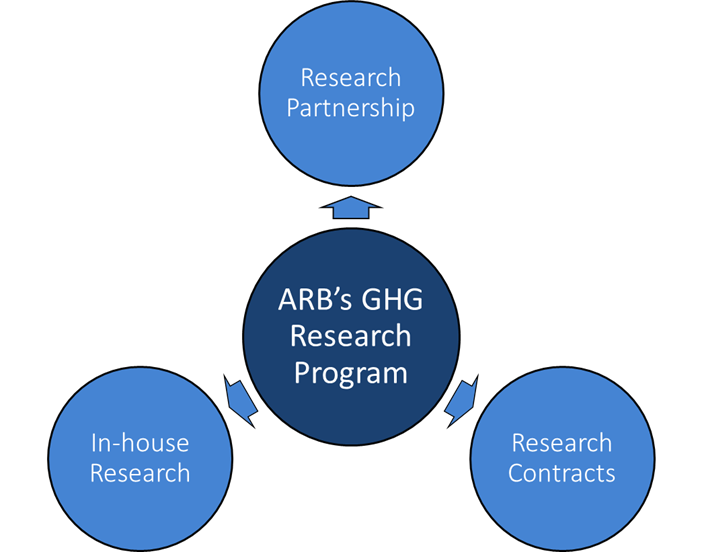 California's Greenhouse Gas Research Program utilizes regional, local, and source-level monitoring and measurements to inform California's climate protection program.  These efforts are critical for the success of AB 32 and SB 32 programs, and provide useful information for policy analysis and program inputs.  CARB utilizes three major components to advance the state of knowledge:
Research and Measurements: 
Research Contracts:  
Research Collaborations: