California Methane Surveys
California Methane Survey
A key component of CARB's methane research effort was a large-scale statewide aerial methane survey conducted by NASA's Jet Propulsion Laboratory (JPL), through funding from CARB and CEC. This first-of-its-kind statewide survey utilized an imaging camera, called Airborne Visible InfraRed Imaging Spectrometer - Next Generation (AVIRIS-NG), capable of seeing methane to visually identify large methane plumes throughout the State. The study was conducted in two phases from 2016-2018, and surveyed over 10,000 square miles.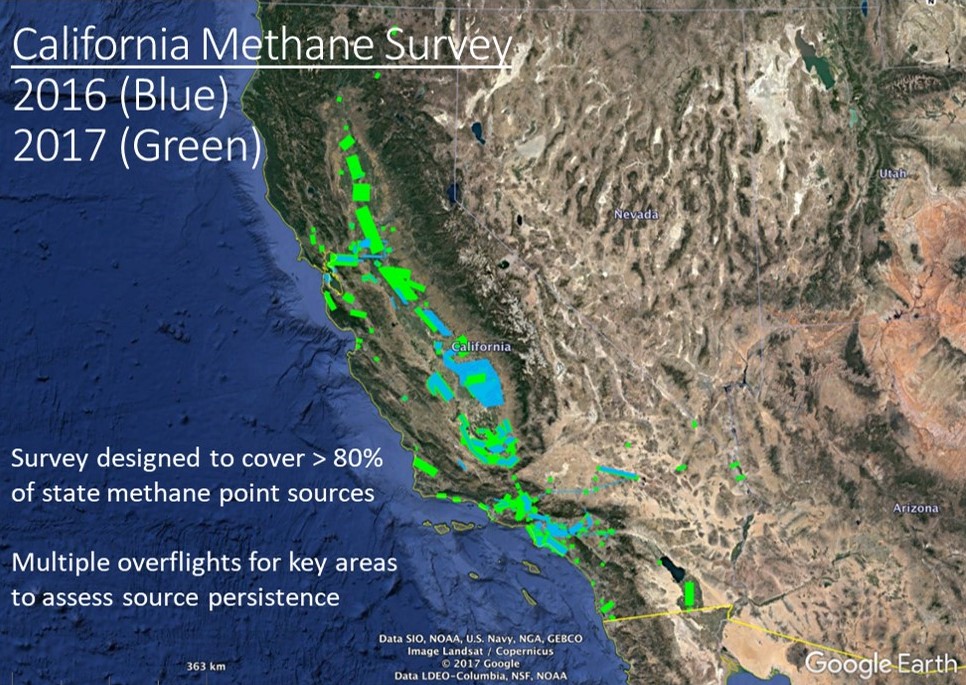 The survey identified 564 point sources emitting plumes of highly concentrated methane, and was able to pinpoint source locations within 3 meters. The survey captured sources in all methane source sectors, including:
Oil and Gas - production/processing, storage, transmission, distribution
Agriculture - dairies, manure management
Waste - landfills, waste water

The result of this research effort highlighted the need for and the mitigation potential of consistent observations of methane emissions at the facility level. The research laid the foundation for the development of a satellite observational platform that will enable the identification of large methane plumes across the world on a continuous basis, and will aid in the control of these emissions.
Resources
Additional campaigns
In 2020, CARB, NASA/JPL and the University of Arizona conducted another airborne campaign as a 'dry-run' to prepare the data pipeline for the potential satellite observational platform and to further quantify the mitigation potential of the data stream. CARB worked with industry partners (oil and gas, utilities, and wasteoperators)toshareinformationon large methane leaks with the operators in near­ real-time, and the industry partners deployed boots on the ground to investigate the identified methane plumes, mitigate observed leaks, and report back to CARB on their findings. Preliminary results suggest that more than half of the identified methane can be mitigated, similar to what other studies have found. The final results will be available in the summer of 2021.