MEDIA ADVISORY: Cap-and-Trade money brings 10 zero-emission, all-electric buses and infrastructure to San Joaquin Valley community
California Climate Investments awards $9.5 million to City of Porterville to support equipment purchase
PORTERVILLE - On Friday, June 2, the State of California and the City of Porterville will celebrate the award of $9.5 million that will bring 10 zero-emission battery-electric buses and supportive infrastructure to serve disadvantaged communities in and around Porterville in the San Joaquin Valley.  The clean buses will be manufactured by GreenPower Motor Company.  In addition to the buses, the project will include the installation of charging stations and solar panels.  Funding is from California Climate Investments, the state's climate change-fighting, cap-and-trade program.  

WHO:       
California State Senator Andy Vidak
California Air Resources Board Member Alexander Sherriffs, M.D.
Porterville Mayor Milt Stowe
San Joaquin Valley Air District Air Pollution Control Officer/Executive Director, Seyed Sadredin
Porterville City Councilman and SJVAPCD Governing Board Member Monte Reyes will serve as Master of Ceremonies.

WHAT:  California Climate Investments representatives will present a giant check for $9.5 million to the City of Porterville for purchasing 10 new zero-emission fuel cell buses along with charging stations to be installed at Porterville Transit's Maintenance Facility and Transit Center.  GreenPower Motor Company will also break ground on its planned manufacturing facility that will bring much needed jobs to the region.

WHEN:  11 a.m. Friday, June 2, 2017

WHERE:  Porterville Airport, 1700 Hope Avenue, Porterville, CA

VISUALS:  Presentation of giant check; all-electric double-decker bus ride-alongs; groundbreaking ceremony for planned GreenPower manufacturing facility

BACKGROUND:  
The City of Porterville in the southern San Joaquin Valley entered into a grant agreement with CARB to add 10 new battery electric buses to Porterville Transit's existing fleet and install charging stations and solar panels.  The buses will be manufactured by GreenPower Motor Company, Inc. with the final phase of bus build occurring at GreenPower's planned manufacturing facility in Porterville.  The project will help advance the commercialization and competitiveness of battery-electric technology in transit and for other heavy-duty uses, and help develop the local workforce needed to support, maintain and increase in-state production of these vehicles.  The new buses will service routes in the disadvantaged communities of Porterville, East Porterville, Strathmore, and the Tule River Indian Reservation, and will provide vital air quality benefits to these areas.  They are expected to be in service by early 2018.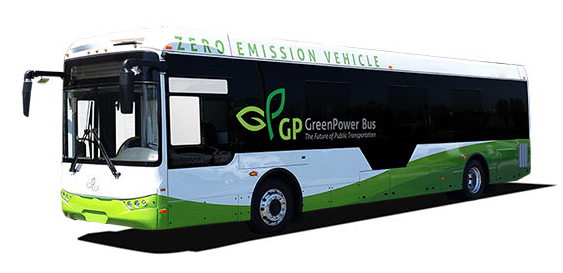 CARB is the lead agency in California for cleaning up the air and fighting climate change to attain and maintain health-based air quality standards. Its mission is to promote and protect public health, welfare, and ecological resources through the effective reduction of air and climate pollutants while recognizing and considering effects on the economy.