CARB includes more California disadvantaged communities in statewide Community Air Protection Program
Thousands of urban and rural residents will benefit from new expansion under AB 617
Contacts
Alberto Larios
Office of Communications
SACRAMENTO – California's relentless fight for clean air continues as the California Air Resources Board approved the addition of three new disadvantaged communities to the Community Air Protection Program. These diverse, urban and rural areas will be able to put into practice lessons learned in the community approach developed under AB 617 over the past three years.
"Breathing clean air is every Californian's right, but unfortunately this hasn't been a reality for low-income communities of color. This program centers community voices in decision-making about how to clean up local air pollution," said Chanell Fletcher, CARB Deputy Executive Officer of Environmental Justice. 
"From the board meeting last night, it is clear that the need is great," she said. "We will use existing resources such as AB 617 Community Air Grants as an opportunity to build capacity, identify areas with the more harmful air emissions, and then take actions to reduce exposure or address the underlying cause of pollution. And, we are committed to creating spaces to engage with community residents directly to listen and develop ways to partner together to address the challenges that California is facing."
Under the Community Air Protection Program, community members work with local air districts to conduct air monitoring and prepare community emissions reduction programs. These include a mix of strategies to reduce air pollution or exposure at the community level, including new regulations, targeted incentive funding, enhanced enforcement, and coordinating efforts with other agencies based on community priorities.
Arvin – Lamont in the San Joaquin Valley Air District, and South Los Angeles in the South Coast Air Quality Management District (SCAQMD) will be new communities with air monitoring and Emissions Reduction Programs. Richmond – San Pablo, one of the original 10 communities in the program, will move forward to develop a Community Emission Reduction Program based on its previous air monitoring plan.
---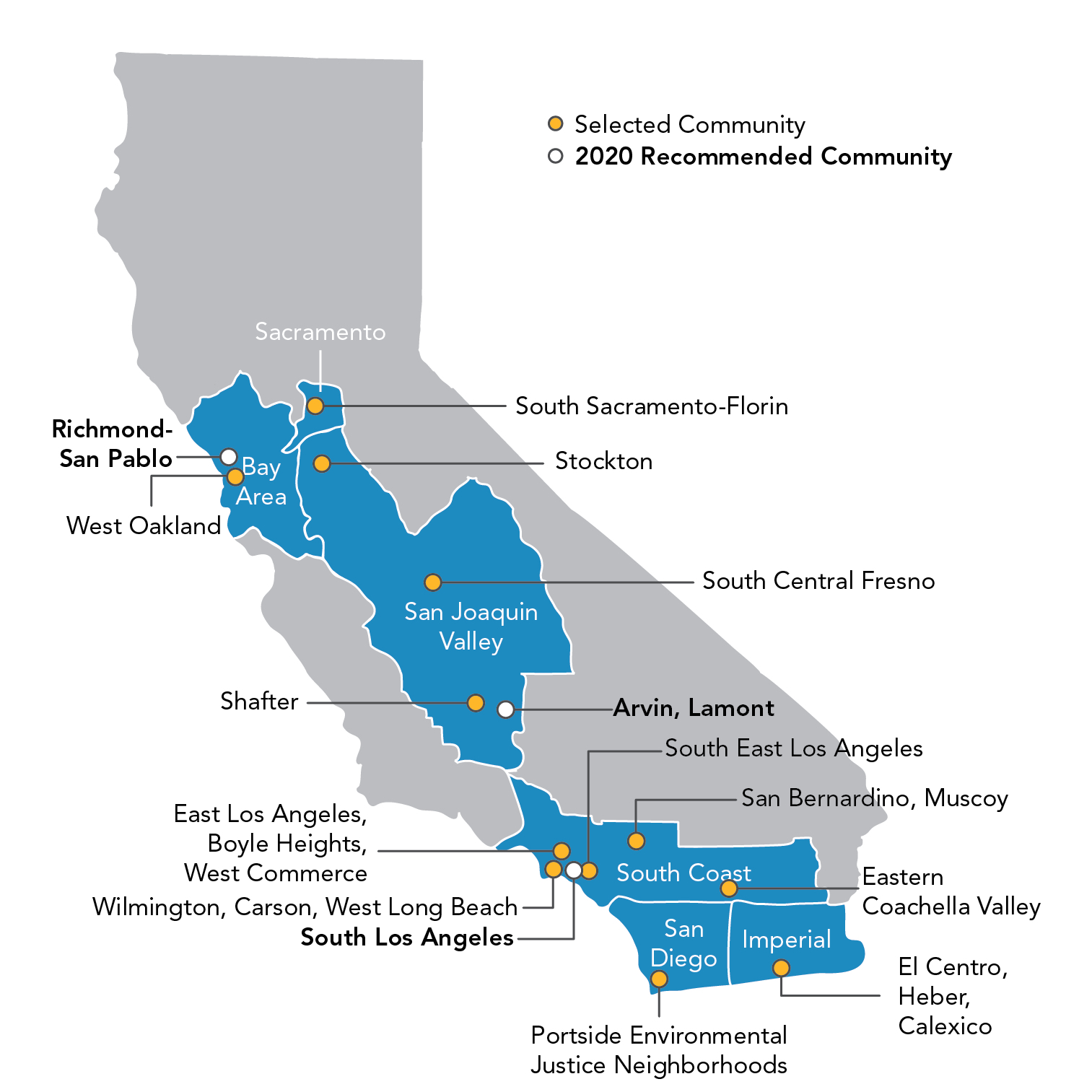 ---
The three communities selected this year for targeted emissions reduction actions were chosen based on recommendations received by CARB, taking into account nominations from community members, local air districts, community based organizations and other stakeholders.
Since the implementation of AB 617, 13 unique community steering committees have been formed, seven Community Emissions Reduction Programs were approved by the Board, and several strategies have been developed to fight air pollution generated by agricultural activities, heavy duty trucks, railyards, and industry.
Statewide Efforts to Benefit All Communities with Community Air Protection Funds
"Lifting up what works in the AB 617 communities to apply across the state is vital to making improvements in air quality more broadly in support of environmental justice." said Deldi Reyes, Director of the Office of Community Air Protection. "OCAP works with air districts and community leaders to learn from experience to date to inform statewide strategies."
Starting in 2017, over $700 million has been budgeted for emission reduction projects in AB 617 communities, and an additional $15 million for almost 50 Community Air Grants projects have been awarded. New community air monitoring has been initiated in all communities selected since the start of the program.
CARB continues statewide efforts to achieve emissions reductions and build capacity in all communities, while learning from what is working in the unique communities in the program. These efforts include:
CARB's mission is to promote and protect public health, welfare, and ecological resources through effective reduction of air pollutants while recognizing and considering effects on the economy. CARB is the lead agency for climate change programs and oversees all air pollution control efforts in California to attain and maintain health-based air quality standards.