California helps low-income families afford the cleanest cars, saving them money on gas, cutting pollution, greenhouse gases
Old, dirty cars scrapped; incentives provided for cleaner cars in California's most polluted regions
SACRAMENTO - In coordination with local air officials, the Air Resources Board is initiating a retire-and-replace pilot program in the Greater Los Angeles area and San Joaquin Valley to help people of low income replace old, polluting cars with cleaner, more fuel efficient vehicles that also cut greenhouse gas emissions.
"What's not to like about a program that cuts greenhouse gases, cleans the air and helps low-income families in the most polluted neighborhoods afford the cleanest, most fuel-efficient cars? And, as icing on the cake, it will put money in their wallets by slashing what they spend at the pump," Air Resources Board Chairman Mary D. Nichols said. "Thanks to the leadership of Senate Pro Tem Kevin de León, the Plus-Up program is a smart investment in California's hardest hit communities, and fulfills the promise that California's efforts to fight climate change will benefit us all."
The air district-administered program provides incentives on a sliding scale, with larger cash payments for the lowest-income families moving up to the cleanest cars. The lowest-income recipient purchasing the very cleanest car receives the highest incentive amounts. Under the program, it is possible for a family that meets income guidelines to receive as much as $12,000 toward the purchase of an electric car. 
Consumers can choose to replace their vehicle with a more fuel efficient conventional gasoline-powered car, a conventional hybrid, a plug-in hybrid or an electric car. Eligible consumers will receive between $2,500 and $12,000, depending on their income and the type of replacement vehicle they choose.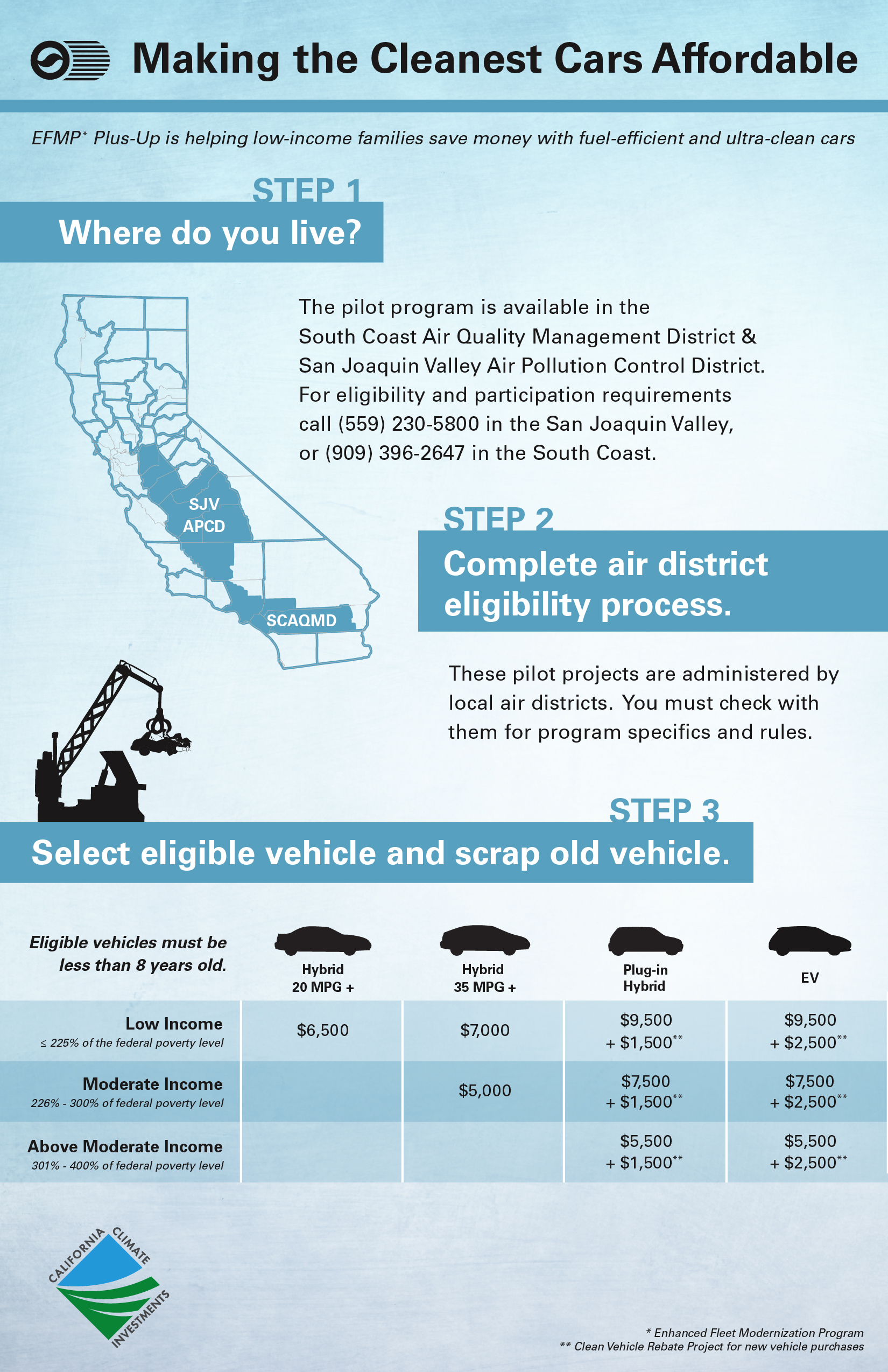 Income and residence
The pilot program is available for three income levels -- those with a household income equal to or less than 225 percent of the federal poverty level (FPL), those between 226 and 300 percent of the FPL, or those between 301 and 400 percent of the FPL. Low-income consumers in either of the two participating regions who would like to replace their dirty vehicle with a more fuel efficient conventional vehicle, a conventional hybrid, a plug-in hybrid or an electric car would qualify to receive up to $4,500. Additional funding is available for low-income recipients who live in a ZIP code that contains a 'disadvantaged' census tract for the purchase of a conventional hybrid, plug-in hybrid or electric replacement vehicle. (SB 535, introduced by State Senator Kevin de Leon, directs funds to provide economic and health benefits to the state's disadvantaged communities -- those that are most impacted by both poverty and pollution.)
Additional incentives 
Eligible consumers also may qualify for:
Up to $2,000 for a charging unit at your single residence or multi-unit dwelling for the purchase of battery electric cars; and
An additional $1,500 and $2,500, respectively, for the purchase or lease of a new plug-in hybrid or electric car from a separate program known as the Clean Vehicle Rebate Project.
Money for transit
Finally, residents who scrap an old, dirty car but choose not to replace it are eligible for public transit passes valued at between $2,500 and $4,500, depending on their income.
ARB worked for more than a year with the South Coast Air Quality Management District and the San Joaquin Valley Air Pollution Control District in support of the development of the pilot projects.  Each air district developed a program tailored to the individual needs of that district. The program (also known as the Enhanced Fleet Modernization Program and Plus-Up Pilot Project) is partially funded by proceeds from cap-and-trade revenue under the California Climate Investments Initiative and AB 118.
Besides SB 535, another bill helping to drive the program is SB 1275, the Charge Ahead California Initiative, also introduced by Senator de Leon, which aims to ensure that low-income Californians, who are disproportionately impacted by air pollution, benefit from California's transition to a clean transportation sector. 
Governor Jerry Brown issued an Executive Order in March 2012 calling for 1.5 million zero-emission vehicles on California roadways by 2025. And in January, Governor Brown made climate change and carbon pollution a core part of his agenda, calling for California to cut in half petroleum use from cars and trucks by 2030.
For more information on the program, click here for the fact sheet.
For more details, contact the San Joaquin Valley Air Pollution Control District at (559) 230-6000 or the South Coast Air Quality Management District at (909) 396-2647.
CARB is the lead agency in California for cleaning up the air and fighting climate change to attain and maintain health-based air quality standards. Its mission is to promote and protect public health, welfare, and ecological resources through the effective reduction of air and climate pollutants while recognizing and considering effects on the economy.